The Thin Supply Chain Line for April 30, 2020
Six weeks ago, I wrote a column titled "The Thin Supply Chain Line," which argued that we are seeing supply chains that for now are mostly managing to keep grocery store shelves filled with food and other products - with the once exception of course of toilet paper, but now that problem appears solved and the question has become "Where's the beef?"
But it is a complex process across numerous supply chain functions, from global sourcing to store replenishment, to keep that flow of goods happening - and right now the supply chain line is stretched very thin indeed, with many pressure points and risks.
So for a while in this weekly column I am going to report on the past week's news and developments in the thin supply chain line - because who can think of anything else right now?
GILMORE SAYS:
US sales of new Class 8 trucks fell dramatically in April to just 4000 units, down from almost 18,000 in January. It may well be worse in May.


WHAT DO YOU SAY?
In following the coronavirus crisis, there are three primary threads: health/spread related; economic impact related; and supply chain related.
All three of course are interrelated. Greater spread of infections or improvements in those numbers drive stock market reaction and the pace and even possibility of opening up parts of the economy, which impacts the level of economic damage and misery. And we well know now the level of infection can directly impact the ability of the supply chain to perform, ala the greatly troubled meat sector.

Right now, the direction in the health dimension is uncertain, even as many states are "opening up." But prior to that, models predicting infections and deaths of the have thus far been very off, with a headline in the Herald Mail newspaper asking this week "If coronavirus predictions keep changing, what good are they?"
A study this week in New York found surprising 66% of infections were for people staying at home and not travelling to work. But a similar study in San Francisco found 90% of infected were people going to jobs in healthcare, grocery stores, etc. Go figure. A new model this week from University of Pennsylvania's Wharton School predicts 350,000 COVID-19 deaths by the end of June if all states lift lockdown measures. Is that really right? No one knows.
On the economic front, we know some 33 million people have lost jobs in the past seven weeks. GE's aircraft engine unit, headquartered in a giant manufacturing complex north of Cincinnati, furloughed nearly all of its 13,000 workers, as demand for engines from plane makers and nearly shuttered airlines is non-existent. I am sure others shoes like this will drop soon.
But both Goldman Sachs and Morgan Stanley economists both said this week there is evidence the world economy is starting to recover, and has or is "bottoming out." Goldman Sachs predicted advanced economies will contract an average 32% in the current quarter before growing 16% in the next three months and 13% in the final quarter of the year. We pray they are right.
Retail outside of grocery, drug and home improvement sectors is beyond in the dumps. The stores are simply not allowed to open yet in nearly all states, causing some smaller apparel chains and others asking why they have to remain closed while shoppers can easily purchase similar items at a Walmart or Target stores.
Good question.
Apparel chain J Crew did file for bankruptcy protection Monday, thought it hopes to keep going with what I am confident will be a much lower number of stores. Amid questions about whether the department store model is even viable post-crisis, the nearly 200-year old Lord & Taylor chain is widely reported to be planning to liquidate all merchandise at its 38 stores. Seems likely few if any will ever re-open for normal business, though perhaps the brand stays alive as an ecommerce company, a fate which seems likely for many chains.
Theirs is also havoc with both retail and apparel brands relative to orders for merchandise made in many cases months ago – and are now showing up, but the retailers/brands won't take the goods – or pay for them. In our Supply Chain by the Numbers feature, we recount the story of one apparel maker in Bangladesh that shipped $400,000 worth of jeans to a US brand company – the vendor has not received any payment, and has no idea where the jeans are.
Neiman-Marcus is said to be close to a deal with its creditors, who would take control of the company.
In better news, Macy's says it plans to reopen most of its 775 of its stores by mid-June – after closing many stores earlier in the year. Nordstrom said it will open most of its stores in phases in coming months.
But both say there will be many operational changes, from shuttering most changing rooms to no longer taking cash to quarantining items a customer has tried on and more.
How all this will go over remains to be seen. I cannot say I am optimistic.
On the supply chain side, it was all about the meat – and a few other product categories as well. Numerous processing plants across beef, pork and chicken were closed, with the Smithfield pork site in South Dakota reporting more than 1000 workers have been infected at the temporarily shuttered site.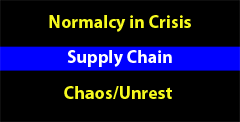 And illustrating how tricky this situation is, nearly 400 asymptomatic employees tested positive for COVID-19 at a single meat packing plant owned by a company called Triumph Foods in Missouri, in tests launched after a couple of workers died.
As you probably heard, fast food chain Wendy's ran out of burger meat at many outlets. Nearly all major grocery chains were rationing meat purchases, down to just one meat package per meat type per member at some Sam's Clubs and Costco's this week.
Some meat plants are re-opening, I am sure with new procedures. Whether the new protections will work is of course the key question, especially if states open up and workers are more at risk for infection from so-called community spread.
The economic downturn has naturally led to a major drop in freight volumes, severely impacting most carriers and related companies.
Last Friday, a few dozen mostly independent trucks drove by the White House in Washington DC, letting their air horns blare to send a message to the White House that truckers need help. Interestingly, the leader of the protest singled out freight brokers as a key element of the problem, accusing them of "reverse price gouging" in the form of below cost rates they were offering for moving loads.

Maybe yes, maybe no. Robert Voltmann, the head of the Transportation Intermediaries Association, a trade group for brokers, said the rates reflect the state of the economy.
"There is a dearth of freight. In a market economy, when too many trucks are chasing too little freight, rates go down. And, that's what's happened," he said.
Meanwhile, US sales of new Class 8 trucks fell dramatically in April to just 4000 units, down from almost 18,000 in January. It may well be worse in May. Just ponder the impact this is having on truck and parts makers such as Navistar, Kenworth, Cummins, etc.
On the container shipping side, Hapag-Lloyd CEO Rolf Habben Jansen said that all carriers are in financial jeopardy, but that if volumes start to recover by the third quarter, all of the 10 largest lines should "still be standing" at year's end.
If it takes longer than that: expect major bankruptcies and acquisitions.
Think I will end it here - once again, I could have filled up two more such columns.
What are you thoughts on the "thin supply chain line?" Is it the right term for the times? Let us know your thought at the Feedback button below.