Trip Report: MHI Annual Conference 2015


We are almost at the end of the Fall conference season, and I am back for just the second time ever from the new and improved 2015 MHI (formerly the Material Handling Institute) annual conference in Ponte Vedra Beach, FL.


I attended this event for the first time last year after long time MHI proponent John Hill (now of St. Onge) wouldn't relent until I said Yes. It was a good event in 2014, and I was back this year as both an attendee and session panel moderator.


All told it was very good again, though as always with some room for improvement, as I shall suggest at the end of this column.
GILMORE SAYS:
"Anyone else out there get a new set of objectives before you even had the chance to finish the ones you've been working on?"

Patrick Murzyn, Caterpillar
WHAT DO YOU SAY?
So why had I never attended MHI before, and why did I say "improved" relative to this event? The conference has been around I believe for decades, but until last year was almost exclusively for MHI members, who range from WMS software vendors through DC automation solution companies to racking and fork truck battery charging equipment providers - quite a range indeed.


But under relatively new MHI CEO George Prest, the organization has become much more aggressive, and is clearly swinging for the more general supply chain fences. That manifests itself, for example, in the bi-annual MODEX show in Atlanta, which MHI has had some success in positioning as a true supply chain event, versus the historical focus of the other year ProMat show on traditional materials handling.


The name change to just MHI is of course also reflective of this strategy, as was the development in 2014 of the US Roadmap for Material Handling & Logistics, which clearly has an overall supply chain orientation despite the title.
So MHI wants to make this conference a "world class supply chain event," attracting attendees beyond its own MHI members. In the past, the conference had some good content from outsiders, but was at least as much dominated by meetings by the numerous MHI industry groups. Starting last year, that aspect is somewhat downplayed, and the external speakers and content are much on the rise.


To cross this bridge will not be easy or cheap, but I believe MHI is in strong financial position right now, with both the ProMat and MODEX shows bringing in a lot of cash, and the environment for most of its company members is strong, likely meaning membership is also likely healthy. MHI seems very willing to invest to make this a more general conference, including for example having as a keynoter this year Mike Rowe of "Dirty Jobs" fame, who I am sure commands a hefty fee.


That said, while I saw a few interesting "end user" badges at this year's event, they were a small minority of the 550 or so attendees. We will just have to see going forward. Moving to a new market is never easy.


Again this year, the keynote presentations were almost all excellent. On Sunday was the "executive summit," which featured entrepreneur and "disruptive innovation" expert David Roberts. Unfortunately, I missed the first half of his session, and catching up with the flow is often hard.


That said, he made the interesting point that China's Alibaba is one of the world's leading retailers but carries no inventory, taxi company Uber has achieved this giant market valuation yet owns no taxis, while Airbnb has a huge valuation as a hotelier but owns no hotels.


Roberts sees huge opportunity in the virtual reality world, including in the supply chain, and I will note at last year's ProMat show we featured a Euro company that offered a very cool virtual reality platform for training fork truck drivers. So as I putt this together, could you perhaps become a leading toy company and actually make no physical toys? Maybe yes.


He also provocatively forecast that when Tesla reaches its goal of a third generation electric car that will sell for some $35,000 it will likely dominate the market and put many current auto OEMs out of business.


Our good friend David Simchi-Levi from MIT was there to present his excellent supply chain Risk Exposure Index (REI), much of which saw its first public airing either in Supply Chain Digest or our Supply Chain Television Channel.


To greatly simplify, developing the REI for a given supply chain involves calculating the time-to-recovery (TTR) in each supply chain node if a major disruption is encountered, and the financial impact of that disruption. Add in to that the concept of time-to-survival (TTS) - how long a company can continue to meet market demand if a given node goes down, generally through pipeline inventories plus how long it would take to switch production (internally or from a supplier) to another facility.


If TTS is greater than TTR (i.e., you can survive longer than it takes the node to recover) you are in good shape - except there may be hundreds or thousands of nodes to analyze. How do you do that? Well, Simchi-Levi uses analytics to determine TTS and the financial impact of a disruption, greatly narrowing the field of which nodes need more detailed analysis to, for example, calculate and perhaps reduce time-to-recovery.

One critical insight: rarely, contrary to what most companies think, are the most worrisome risks with suppliers with which the company spends a lot of money. Nearly always the real danger is with suppliers with which a company spends relatively little money, and thus escape much scrutiny. But these firms are bottleneck suppliers that could bring production to its knees in a relatively short time after a disruption. Simchi-Levi, some colleagues and Ford won first prize in 2014 for a program using this REI approach at the prestigious INFORMS operational research conference.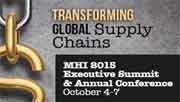 Patrick Murzyn of Caterpillar gave another in what have been a series of excellent presentation by CAT execs in recent years on the company's on-going value chain transformation. I liked this comment early on: "When I come into the office I often don't know what to focus on. Whatever I was working on yesterday is trumped by something else new that has happened in the meantime."

And this one too: "Anyone else out there get a new set of objectives before you even had the chance to finish the ones you've been working on?" he asked to audience, receiving many raised hands.

Visibility is key to much supply chain improvement, Murzyn said, and can in effect reduce the need for complex planning processes, showing some slides that summarized the incredible visibility Caterpillar has built for inbound logistics across its huge supply network. It is beyond impressive, providing very early warnings and dashboards for potential issues with inbound inventory needed for production.

It was quirky to say the least, but perhaps the most interesting and for sure the most non-traditional keynote presentation was from David Butler, with the excellent title of VP of Innovation and Entrepreneurship at Coca-Cola - though his outfit and style are almost the exact opposite of a button-downed corporate type.

Butler noted that the innovation goals depend on whether you are small or large, either as a company or as a group/initiative within a company. When you are small, the goal is to reach scale, where you can achieve efficiencies, standardization, etc. When you are large already, the mission is to become flexible, so you can react faster than the competition to changes and opportunities.

Well said. But most cool is Coca-Cola's program to fund new age technology companies to solve vexing problems the company won't get to on its own. Success from this innovative program include a system for addressing out of stocks at retail shelves using Uber-like freelancers, and another system that improves sales from vending machine by some 17% though advanced analytics.

I have largely seen it before, but Paul Dittmann of the University of Tennessee gave a great presentation on supply chain strategy and transformation. He estimates that only about 18% of even large companies have a formal, documented supply chain strategy.


His 9-step process: (1) Assess current and future customer needs; (2) Audit internal supply chain capabilities against those customer requirements; (3) Evaluate supply chain game changers (trends, technology); (4) Analyze competitive supply chain capabilities (easier than you might think); (5) Survey current/emerging supply chain technologies; and (6) Incorporate supply chain risk planning.

After those six foundational steps, then: (7) Develop plans to build those supply chain capabilities; (8) Relook at what is needed in terms of performance metrics; and (9) Build the business case. This is a great place to start if you lack a supply chain strategy. Dittmann is a fine joke teller, by the way.

There is a lot more, but I am out of space. Will do separate, longer summaries on some of the above presentations over time. This was a very interesting conference for the second year in a row. The keynote presentations were all excellent, and I think very well received by attendees.

The breakout sessions (not covered here) were not of the same quality, with a few that were OK (including I hope the one I moderated), a few that left me a bit disappointed. Virtually every one of them was a panel - that means you need to pay a lot of attention to the skill of the moderator, and that you have a lot less certainty about what you are going to get than a traditional presentation.

MHI's annual conference - good now, still a work in progress, but certainly an event to keep an eye on.

Did you attend MHI? What were your thoughts? Do you think it can attract a general supply chain audience? Let us know your thoughts at the Feedback button (email) or section (web form) below.