Earlier this week, SCDigest ran a story summarizing new research from the Hackett Group, which said leading procurement organizations, almost maxed out at achieving new levels of efficiency in traditional processes, were seeking to drive more value by building tighter relationships with business managers and becoming "trusted advistors" to their stakeholders outside of procurement. (See Procurement Success Today Requires Getting Closer to Business Managers, Hackett Group Says.)
In that Hackett Group report was also the graphic shown below, not in our original summary. It illustrates what you might call procurement's pyramid of value, as in any individual company supply management hopefully evolves from lower level skills and value-add to higher level capabilities and results.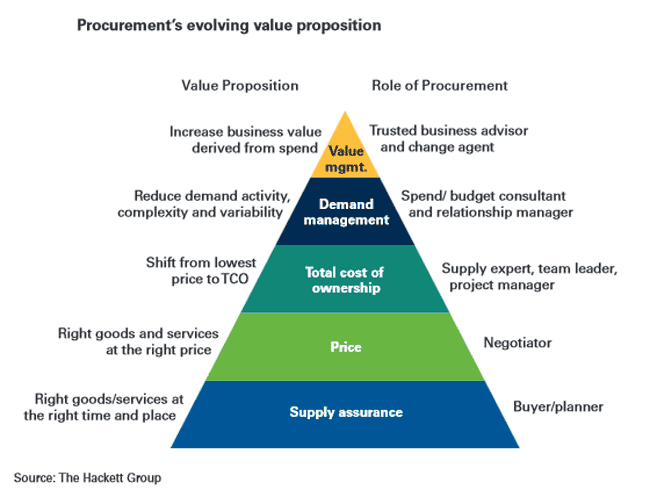 We like the progression from the lowest level - basically just ensuring consistent supply of needed goods and materials, through a focus on price to the more advanced total cost of ownership, then to demand management and ultimately "value management" - though we expect some procurement managers and executives wonder what that term really means.
Earlier this year Hackett did identified some skills sets around becoming a trusted advisor, which it said include:


• Having an executive presence at the table during planning and budgeting.

• Enabling business execution through forward-looking market insights/intelligence addressing business concerns.
• Being perceived as having a sincere interest in helping stakeholders achieve their business objectives (e.g., alignment with business objectives, supportive of top-line growth and cash management).
• Understanding each stakeholder's business and organization and tailoring procurement's message/approach accordingly.
• Being perceived as a change agent and facilitator
• Having the right set of skills (e.g., program management, communication)
Hard to argue that those aren't all good things. Where do you and/or your company's procurement organization stand on the pyramid?
Any Feedback on our Supply Chain Graphic of the Week? Let us know your thoughts at the Feedback section below.