Recently, I had the opportunity to do a long filmed interview with Kevin Smith, recently retired SVP of Supply Chain for retail giant CVS Caremark, for a keynote presentation for our on-line Distribution Management Expo 2010 conference.
I had met Kevin briefly a couple of times after he made conference presentations while at CVS, but didn't know until this recent discussion he had also spent a many years prior to that role in the consumer packaged goods industry at Heinz, General Mills, and other companies over a 37-year career. He retired from CVS at the end of 2009, and is quite busy now doing consulting with companies and helping a number of industry associations.
First, as I have noted before, I am simply amazed at how often those that have reached the top levels of supply chain management are not just smart, knowledgeable men and women, but also genuinely nice people. Accomplished, but humble. Quick to point to the help from subordinates and their whole teams in terms of how they have achieved their accomplishments.

Gilmore Says:




"The key is quickly recognizing when supply chain "devolution" is starting to set in and being able to quickly change course."

What do you say?

Send us
your Feedback here

I've mentioned some of these names before, but people like Mark Holifield (Home Depot), Mark Jamison (Kimberly Clark), Tom Dadmun (Adtran), Matt O'Connor (Rockline Industries), Keith Harrison (Procter & Gamble), Doug Baker (totes Isotoner) and many others I have spent some time with all fit this mold. I've certainly met a few supply chain execs that didn't come across this way, but among senior supply chain leaders those types are definitely the minority.
The lesson for all of us – being "great" actually also means being "good."
I think you will enjoy some of the highlights of my conversation with Smith. The full video is available here: Kevin Smith Interview.
I started with a very basic question: What is a supply chain strategy? (More on this actually quite interesting question soon from SCDigest.)
"Supply chain strategy is very hard to get your arms around," Smith agrees, "in part because it never really ends."
At first, he said that there also isn't really a right or wrong answer for a supply chain strategy, implying there may be several paths to the same goal, but then he qualified that thought: "It doesn't have to do with all the tactical stuff we need to get done every day to run our businesses. A strategy is not about describing how we keep getting boxes out the door. It's a 3, 5 or 10 year lookout that is coordinated with your business so that the supply chain is servicing the business effectively."
Key to that is a chief supply chain officer that is able to articulate and sell that strategy to the top.
"If you can demonstrate to the CEO or CFO that you have a good plan that is going to add to the bottom line, you'll go a long way. Let's face it, today the top lines are shrinking for most companies. If you can show how supply chain can add profit to the bottom line, you'll get their attention."
Smith also described the common cycles he sees of company supply chain performance:

Evolution: a period of gradual but continuous improvement.

Devolution: when performance is stagnating or even regressing, where you reach a "lesser state of performance" than you've had in the past.
Revolution: a transformational phase when supply chain performance rapidly accelerates, usually as a result of a dramatic change in strategy, network design, use of automation, etc.

Smith believes almost every supply chain goes through these three phases. The key is quickly recognizing when supply chain "devolution" is starting to set in and being able to quickly change course, and also recognizing when times, business needs, or supply chain opportunities have changed enough that "revolution" is required.


"It can be a very powerful narcotic when you start to think you're good enough and you don't really need to change," Smith said. "People start thinking we've been running well for ten years, why would we need to change?"

Smith said he sees two main drivers of moving into a "revolutionary" supply chain phase. The first is recognition that competitors are simply starting to eat a given company's lunch (in other words, real financial and/or operational pain). The second is simply visionary leadership – a chief supply chain officer who sees an opportunity for a step change in performance.

Relatedly, Smith is a big believer in being a supply chain leader, submitting that supply chain leaders really can gain competitive advantage versus the followers - even at the potential price of some increase in risk.

"In the California gold rush of the 1800s, it was the first prospectors to the field who made out the best," he noted, as there wasn't nearly as much easy gold available for those who followed later. He says it is much the same in supply chain, though he acknowledges there is also a case for being a "fast follower," especially in terms of things like automation.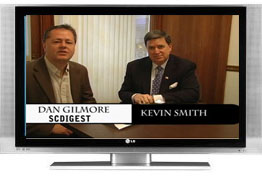 Not for the slower followers and laggards: "They are always working on version 2.0 when the leaders are operating in version 4.1." Over time, those laggards are going to get "eaten up, sold, or just go out of business."

Smith also has spent a lot of time thinking about the people side of the supply chain equation, which in my experience is almost a universal characteristic of great supply chain leaders.

Organizational development is an imperative, Smith says – and something many supply chain organizations don't well understand.

"When we talk about developing supply chain managers, a lot of companies will say they have a succession plan," Smith said. "A succession plan is no good if it isn't backed by supply chain leaders in place who are really committed to bring managers along for the good of the organization. Just having a list of people and what you think they might do some day is interesting – but not very effective."

Organizational development is something that must be dynamic, and that supply chain leaders are working on all the time, he says.
He has six guidelines, a few of which I will summarize here:
Honesty is the best policy: If a subordinate has a performance or personal issue that is hampering their abilities and potential, they need to be told that, in a positive way, but quickly. Too many managers let these issues fester for a long time, hurting both the employee and the organization.
Tell people what you know when you know: Holding back the truth, even if it's bad news, is not right or fair, Smith says. He said, for example, that when there are plans to close down says facility, he has gone in as early as two years before the closure is expected and told the staff the plans. There are some legal limitations that must be adhered to, but beyond that, Smith says that in the end the results are better for the company and the employees when the truth is out in the open.
Many companies, of course, don't see it that way.
Wish I could write more, but I am out of space. Watch the video for the rest.
It was a fine conversation from a very thoughtful supply chain exec - hope you enjoyed it.
Have any reactions to Kevin Smith's observations? Agree or disagree? Let us know your thoughts at the Feedback button below.