Well, as usual, the middle of the year has snuck up on us, and we are already in Q3.
So, it's time for our review of the first half of 2012 in supply chain.
The supply chain of course operates in the context of the larger business and economic environment, and that story seems to be stuck: sluggish growth, endless worries from Europe that might take the whole world economy down, and signs of weakness that might indicate we are back in recession (as most of Europe already is).
GILMORE SAYS:
"Gartner once again announces it top 25 supply chains. Apple comes out on top for the second straight year, followed by Amazon, McDonald's, Dell, P&G. Let the debate begin."
WHAT DO YOU SAY?
US GDP came in at a weak 1.9% growth in Q1, and noted economist Joe LaVorgna just this week lowered his Q2 estimate to an even weaker 1.4%. (Actual number released in a few weeks.)
The financial/debt crisis in Europe just never seems to end, and could linger for years, putting a damper on economies elsewhere, especially China. It is clearly slowing, as are many other emerging economies such as Brazil and India, bringing into question their roles as the growth engines for Western companies.
In June, the US Purchasing Managers Index fell below the 50 level that separates expansion from contraction for the first time in 35 months, though just barely at 49.7, as announced last week by ISM.
It's been another wild ride for oil prices, after 2011 saw the highest average oil prices for a year ever (yes, even higher than 2008 in total). As seen in the chart below, we started the year at about $102 per barrel for WTI, hit a high of about $110 in February and stayed about there for a good long while. That sent diesel prices rising for many consecutive weeks, only to then fall dramatically with perceptions of a sinking economy and lower demand from China all the way to $78 (a drop of about 30% from the top) on June 27. It is now back to $86 or so currently. (The more globally priced Brent crude followed a similar pattern at about 10% higher costs per barrel, as usual).
Oil Prices 1H 2012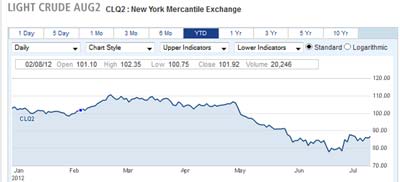 What price should you plan your budgets for in the second half? Might as well buy a Magic 8 Ball someplace -it will be as accurate as anything.
Overall commodity prices took a similar wild ride, rising sharply through Q1 or so before drops of 20% or more in areas like copper and some agricultural products. The midwestern drought though is sending corn and some other ag prices soaring back up in the past few weeks. Still, overall, input costs are down.
The US trade deficit has been on the rise most of the year, with soaring imports, though it fell a bit in May, the latest month available. The US trade deficit with China is on pace to be over $300 billion this year, another new record.
So far in 2012, overall freight volumes and truckload rates are basically flat (up about 1% each), according to the ATA and Cass Info Systems, respectively.
The industry lost two giants in the first half. Don Schneider, son of the founder of now giant Schneider National, led a number of innovations in the trucking industry. He died in January at age 76. Bill Copacino, former CSCMP Distinguished Service Award Winner and head of Accenture's supply chain practice for years, among other accomplishments, sadly died rather suddenly in May at age 61.
Some of the top stories of the first half include:
The first quarter supply chain news was dominated by a series of stories on-going saga of Apple and the labor conditions in its outsourced supply chain. It started in January, when Apple released an extraordinary and unprecedented Supplier Progress Report, which was based on 229 audits of suppliers across multi-tiers, relatie to the company's supplier code of conduct for labor, environmental, and other areas of behavior.

That led to an audit some factories run by contract manufacturing giant Foxconn, which makes the iPads and iPhones for Apple, by the Fair Labor Association. The subsequent report was positioned by many media sources as being quite damning, but in reality the "violations" were quite mild - and most workers actually wanted more overtime, for example. The issue has greatly quieted down, though another labor group has recently charged conditions are sill not good in those facilities.
After the half year disruption that the 2011 earthquake and tsunami in Japan had on its supply chain, costing the company huge sums of money and its place as the world's largest auto producer, Toyota announced sweeping changes to its supply chain strategy in February. The goal was to reduced time to recovery (TTR) to just two weeks from a similar disaster in the future.
That came following a multi-month effort to fully map its supply chain, down to tier 2 and 3 suppliers, many of which the company did not have visibility to before. It is using that map to first identify what is says are hundreds of risk points it did not know it had before, and to work with suppliers to add inventory, second production facilities, and other strategies to get to that two-week TTR goal. That Toyota had control of its supply chain was "an illusion," one company exec said.

Also in February, shipper organization NASSTRAC led a contingent of members to Washington DC to lobby generally against "the war on trucking" generally, and specifically in favor of measures to increase the allowable weight and length of trucks. I really expected the weight rule to be changed (up to to 97,000 pounds for vehicles equipped with an additional (sixth) axle). Alas, if you think these are smart moves for all of us, both measures were tabled for further study amid savvy lobbying efforts by rail carrier interests which opposed the changes.
In March, Amazon.com surprised everyone by announcing that it was buying Kiva Systems, a "hot" maker of a unique robotic picking system, for $775 million. Kiva's solution has largely been deployed in dot com facilities, including Zappos, Soap.com, and Diapers.com, which Amazon itself later acquired. How this will play out remains to be seen.
In April, news broke relative to a scandal of sorts involving Walmart, where allegations arose that executives at the company's now highly successful Mexican division had used bribes to obtain permits and exceptions much faster than would normally be the case, allowing it to rapidly build out its store network there to dominant status today. As usual, it was questions about a possible "coverup" that perhaps involved top Walmart executives that seemed like it might put some of them in legal jeopardy and harm the company. But the story has largely faded from view, and I noted at the time that I think Walmart's efforts in sustainability, healthy food, etc. had given it some immunization protection in Washington, especially versus the days when it was "hated" in many liberal circles.
In May, software giant SAP announced it was buying "spend management" leader Ariba. It remains to be seen how SAP will mesh its existing procurement solutions with Ariba's portfolio and "buying network."
Also in May, Procter & Gamble, who has been a clear leader in opening up markets in virtually every country on the globe, often using innovative approaches to logistics , was pulling back a bit from that strategy, focusing on 10 or so key emerging markets and letting some of the others go. Interesting. Earlier in the year, P&G announced it was moving the headquarters of its personal care division to Singapore.
Again in May, Homeland Security head Janet Napolitano announced she was delaying for two years requirements for 100% container scanning on goods headed to the US, over a myriad of technology and process concerns, to the relief on many in global logistics.
The VICS organization announced in May a major new guideline on connecting the store shelf all the way back to the vendor's factory. Think "store-level DRP." I think this might be the one that really drives big changes in the consumer goods to retail supply chain.

In June, Gartner once again announces it top 25 supply chains. Apple comes out on top for the second straight year, followed by Amazon, McDonald's, Dell, P&G. Let the debate begin.
Also in June, the Annual State of Logistics report from CSCMP was released, with the headline news that overall US logistics cost were modestly up in 2011, rising just 2.6% to 8.5% of GDP. That after a 10.6% rise in 2010, which in turn followed two years of logistics cost decline driven by the recession.
There was much more, of course, but we're out of room, and these were the top stories in my opinion. I hope to report sometime by the end of the decade the European financial crisis has been resolved.