From SCDigest's On-Target E-Magazine

- May 20, 2015 -

Logistics News: Old Dominion Once Again Blows Away the Field - Q1 US LTL Results and Trends
Profits Up 56% over 2014 in Continued Strong Rate Environment

SCDigest Editorial Staff
US less-than-truckload (LTL) carriers posted generally improved but still somewhat shaky results for Q1, while Old Dominion once again blew away the field.
SCDigest Says:

Old Dominion's operating ratio of 85.1%
was more than seven percentage points ahead of next closest Saia, which had an OR of 92.8%.

What Do You Say?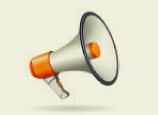 We're back as usual every quarter with our review of the results and trends across freight modes. We started lwith US rail carriers, which enjoyed a generally positive Q1. (See Q1 2015 Rail Carrier Review.)
Last week, we covered the US truckload sector, which posted blow out type results in Q1, with net income up 56.9% on strong rate increases. (See US Truckload Carriers Blow It Out in Q1.)
This week, it's time for a look at the LTL sector and the five public carriers we follow. We'll note that does not include two of the largest LTL providers - UPS and FedEx - because neither UPS nor FedEx breaks out their numbers in a way that allows the LTL portion to be isolated out from other freight business such as truckload carriage (FedEx) and supply chain services (UPS).
Normally, we summarize both the current quarter and year to date results, but as in Q1 those are one in the same, just the Q1 numbers are needed.
All told, it was a rather week freight environment, with four of the five carriers reporting tonnage was down in Q1. The major exception was Old Dominion, which went strongly the other way, with tonnage gains of 11.4%. Maybe all the other carriers simply lost market share to the seemingly invincible Old Dominion.
But a strong rate environment partially made up for that. Revenue per hundredweight excluding fuel surcharges were up a very strong 8.6% at Con-Way Freight, for example. The same measure was up 6.6% at Old Dominion.
All told, profits for the group were $91.6 million in Q1 - and that includes a $21 million loss at still struggling YRC Worldwide. That's up from a $20 million loss for the group in Q1 2014, driven by an $88 million loss at YRC last year.
Old Dominion saw it operating ratio, or operating expense divided by operating revenue, a key transport sector metric, fall to just 85.1% in the quarter, down from 87.1% in 2014. That put it more than seven percentage points ahead of next closest Saia, which had an OR of 92.8%.
You'll find all that data and more in the table below.
LTL Sector Q1 2015 Operating Results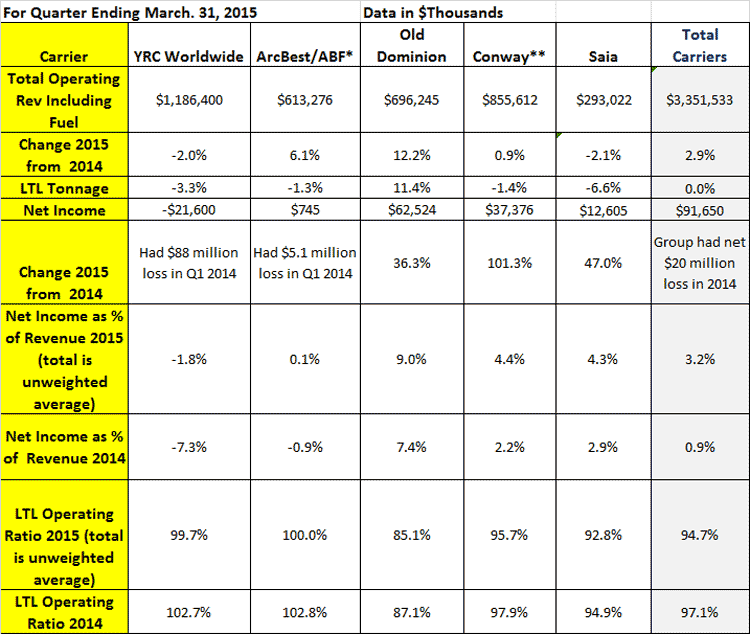 Source: SCDigest
(Transportation Management Article Continued Below)