From SCDigest's On-Target E-Magazine

- Dec. 1, 2014 -

Supply Cain News: Oil May Fall to Below $40 per Barrel, Experts Say, but Diesel Costs Much Slower to Respond
Stunning Oil Price Decline Likely to Continue, Experts Say, as OPEC Keeps Pumping; What is the Price Floor?

SCDigest Editorial Staff
The stunning collapse of world oil prices comes at an opportune time, as trucking costs have risen sharply in recent months, with tight capacity combining with growing freight volumes to push linehaul rates way up - but shippers are waiting for a bigger decline in diesel prices.
Oil prices have dropped almost 40% this year, with international Brent crude currently trading somewhere around $69 per barrel, and US West Texas Intermediate somewhere around $64. The latest phase of falling prices came as OPEC members voted last week to not cut production levels, in a move seen as a challenge to growing US oil production, hoping to push prices down below where it is profitable to drill for oil in the US.

SCDigest Says:

If diesel prices continue to drop, perhaps at an even faster rate, another impact may be to slow down trucker interest in natural gas or other alternative fuel vehicles.

What Do You Say?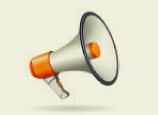 All this of course has sent gasoline falling sharply as well, putting more disposable dollars in the pockets of consumers . However, diesel prices have been stubbornly slow to shrink on pace with declining oil prices. In fact, diesel prices were rising in early November, according to US government estimates.

Last week, average on the road diesel prices were around $3.60 a gallon, according to the US Energy Information Administration. While that is down from around $4.00 per gallon earlier in the year, it is nowhere near the decline seen in oil itself or the percentage decline in gasoline.
The falling oil prices also have a number of important geopolitical ramifications, as countries such as Russia, Iran and Venezuela - none exactly friends with the US - see their economic prospects weakening substantially with the drop in oil prices, with oil revenues dropping 40% or so and more if prices continue to head south. How these geopolitical tensions may play out if oil prices stay low for a prolonged period is the subject of much speculation.
In general, it is believed there is a floor to oil prices that roughly equals the cost of getting the commodity out of the ground. Paul Stevens, distinguished fellow for energy, environment and resources at Chatham House in London, a UK policy group, told Bloomberg that some US shale oil producers may break even at as low $40 per barrel or less, some $20 below where US breakeven costs are often estimated.
So with no floor at say $60 per barrel, Canadian Natural Resources Ltd. Chairman Murray Edwards said crude may sink as low as $30 before rebounding to stabilize at $70 to $75 a barrel, the Financial Post reported. Oil did briefly fall to about the $40 level during the bottom of the recession in 2009, though it rebounded quickly not long after that. (See chart below.)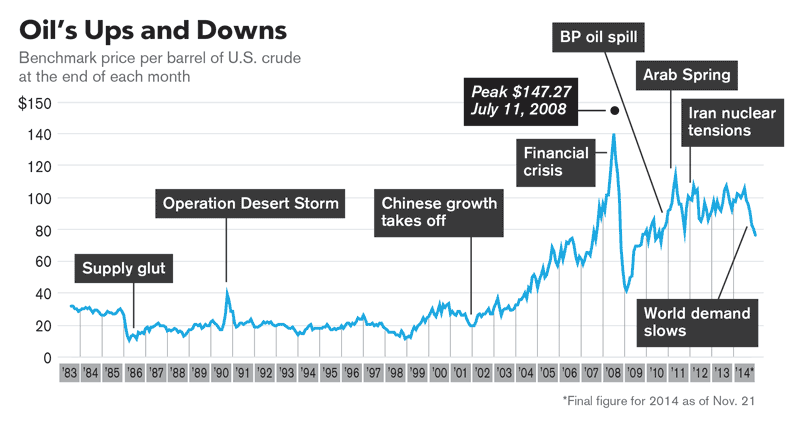 Source: Bloomberg
Of course, even at $75 oil and therefore gas and eventually diesel prices would remain some 25-30% below where they have been give or take for the past several years, with oil prices having stayed a bit above or below the $100 level for most of that time.

(Transportation Management Article Continued Below)