From SCDigest's OnTarget e-Magazine
- Aug. 19, 2014 -
Supply Chain News: Busting Myths about Voice Technology in the DC
Noisy Environment? No Problem Today, Experts Say, Debunking that and Other Myths
SCDigest Editorial Staff

Voice technology in distribution has clearly moved well into the mainstream, with thousands of companies across virtually every sector gaining benefits from the hands- and eyes-free capabilities Voice technology provides in order picking and beyond.
What keeps even more companies from jumping on the Voice bandwagon? Often, it is one or more myths surrounding the technology, says SCDigest editor Dan Gilmore. Gilmore and Jay Armant, VP of product management at Voice solution providers Vocollect by Honeywell, served as Voice "myth busters" during a recent Video thought leaders discussion.
SCDigest Says:

Voice provides an excellent middle ground, Gilmore said, and could allow a picker to simply count off into the Voice headset each case that is picked.

What Do You Say?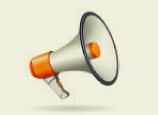 The first myth discussed was the belief by some that Voice won't work well in noisy DC environments – and what DC doesn't generate a lot of noise today, from horns beeping to conveyors rolling to pallets slamming to the concrete?
Such noisy environments may have caused Voice providers some challenges 10 years ago, Gilmore said, either making it hard for the Voice recognition software to understand a user's Voice response, or causing the system to think there was a response when there wasn't one (an "insertion").
But those days are long gone, Gilmore said, especially with technology developments in recent years. To support that claim, he played a video clip that SCDigest had taken at the MODEX show in Atlanta this past March, which featured a "Sound Booth" demonstration at the Vocollect exhibit.
Vocollect used a tablet-based application that contained a number of common noises found in a DC. The app allowed a Vocollect manager to bring in those sounds and increase their volume, to the point where it was quite noisy inside the booth, as booth visitors could see from monitors tracking the decibel level inside.
But despite all the noise inside the booth, the Vocollect manager was able to respond to Voice prompts perfectly, and speakers outside the Sound Booth played the Voice commands quite clearly, with almost none of the replicated DC noises from inside the booth coming through.
How is this possible? In Vocollect's case, the answer is the company's new SRX2 headset, which features multiple microphones along the outside of the headset that capture these extraneous noises and filter them out, so that the user's Voice comes to the recognition systems nice and clear. That microphone technology is augmented by software in the Vocollect system that also does filtering and significantly reduces the amount of insertions from DC noises.
"We design our solutions specifically for industrial environments, high noise environments," Armant told Gilmore.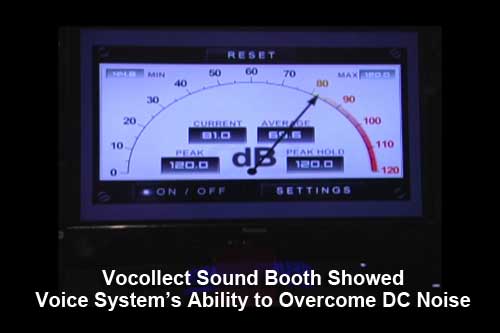 Voice Won't Add Much Benefit after Advanced WMS Deployment
The second myth addressed was that the potential Voice benefits are diminished if a company deploys an advanced WMS and using sophisticated techniques, such as cluster picking, something Gilmore said he has heard distribution managers say.
This is simply not true, Gilmore says, noting that the productivity benefits of hands- and eyes-free operation are there regardless of what level of underlying WMS support a company has.
"You will often see double digit productivity gains even if you are using very advanced picking methodologies," Gilmore said.

(RFID and AIDC Story Continued Below)