From SCDigest's On-Target E-Magazine

- August 4, 2014 -
Supply Chain News: Gartner Announces Top 10 Industrial Supply Chains
Just Three Industrial Manufacturers Made the Overall Top 25: Caterpillar, 3M and Cummins
SCDigest Editorial Staff


In recent years, Gartner has taken its "top 25 supply chains," brand - a company ranking program originally developed some 10 years ago by AMR Research (later acquired by Gartner) - and found numerous ways to extend it.
So now we have the top 25 European supply chains, the top industrial supply chains, and more.

SCDigest Says:

SCDigest would have liked to have Gartner be more specific about what makes the leaders' Lean Six Sigma programs better than those of the rest of the pack.

What Do You Say?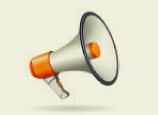 After releasing the core top 25 list at its supply chain executive conference in May, Gartner has in the past few weeks also named its top 10 "industrial manufacturing" supply chains list, developed using the same methodology as its overall top 25.
That methodology works like this: On the objective side, Gartner uses three pieces of financial data: Return on Assets (ROA), inventory turns, and revenue growth. ROA and revenue are based on three-year averages. The total weighting for the three financial areas are 25%, 15%, and 10 % respectively, or 50% of the total score between them.

Of course, this approach does not really consider the different characteristics of various industry sectors, where metrics such as inventory turns and return on assets can vary dramatically. So, there is certainly some merit in breaking out separate lists for different sectors.

25% of the overall rating is then based on the opinion of Gartner's own analysts, and another 25% is based on "peer" opinions, coming from a survey of supply chain professionals. This year, 188 such peer responses were received, a bit above the total for 2013. (See Gartner Releases Top 25 Supply Chain List for 2014.)

Just three companies Gartner classifies as industrial manufacturers made the overall top 25 supply chain list this year, and all somewhat near the bottom of that list:

• Caterpillar: #18

• 3M: #19


• Cummins: #23
This is not surprising, as industrial companies tend to have relatively low annual revenue growth, return on assets and inventory turns compared to many other sectors. In addition, industrial companies are typically not cast as supply chain leaders versus many consumer goods, retail and high tech companies, and thus likely would suffer in the relative Gartner analysis and peer review process.
All that said, the graphic below shows the top 10 industrial supply chains for 2014 (based on 2013 performance data).
Gartner Top 10 Industrial Supply Chains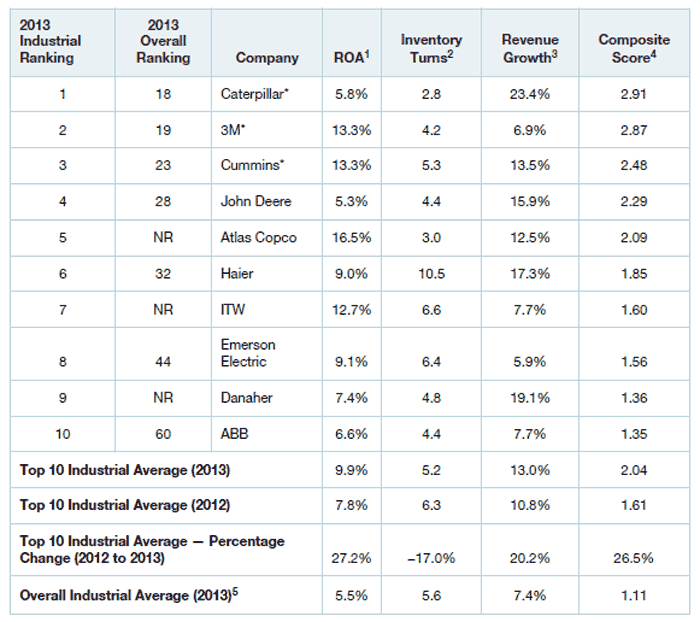 We suspect but aren't sure that the reason it is a top 10 and not a top 25 is because there are not 25 industrial companies in the "rankings pool" that are part of the Gartner analyst and peer review process.


(Manufacturing Article Continued Below)