From SCDigest's On-Target E-Magazine

- April 9, 2014 -

Supply Chain News: Walmart Unveils New WAVE Concept Truck - a Very Different Design for Sure


20% More Aerodynamic, Hybrid Engine, Carbon Fiber Trailer


SCDigest Editorial Staff
In late 2012, Walmart announced a prototype new truck it called Supercube, which it said could hold as much as 30% more volume than traditional trucks. (See Walmart Will Test Potentially Breakthrough New Supercube Truck in Canada with 30% more Capacity.)


SCDigest Says:

It has generally not been thought that a full Class I tractor and trailer could be powered by an electric motor, so how this hybrid engine approach works in practice remains to be seen.

What Do You Say?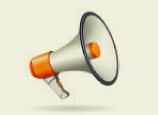 Now the retail giant has unveiled something it calls its WAVE truck, which stands for Walmart Advanced Vehicle Experience.
It's a concept truck and trailer that previews the future of long-haul freight, and was designed by Walmart in partnership with Peterbilt, Great Dane Trailers, and Capstone Turbine.
The design of the cab is unusual to say the least, sitting on top of what some are saying looks like the back half of a Corvette.
That low profile, however, is key to making the Wave truck 20% more aerodynamic than a standard truck and trailer. The driver sits in the middle of the cab, rather than on the left side.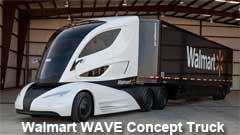 Also new is that the 53-foot trailer is made entirely of lower weight carbon fiber, with the company saying it is the first time that a 53-foot side piece has been built entirely from the material in one panel.

The approach reduces unloaded truck weight by some 4,000 pounds. That means either better mileage from the lower weight, or the ability to add more freight to a truck that otherwise would weigh out.
The trailer also has a convex shape in the front to further enhance the aerodynamics, as well as adding a small amount of additional cargo space.
The WAVE truck uses a turbine-powered, battery-electric hybrid drivetrain, and the combustion engine can run on diesel, natural gas or biodiesel.

"It may never make it to the road, but it will allow us to test new technologies and new approaches," says Walmart president and CEO Doug McMillon.

You find a short video of the truck below.


Even if the design as is doesn't stand, it certainly seems that WAVE could still point the way forward for the future of long-haul hauling.


(Transportation Management Article Continued Below)