Largely similar results for the full year, except YRC had a big loss of $83 million, though again down from $136 million for 2012. That helped actually increase total profits for the group by 39% for the year.
And even YRC managed to get its full year operating ratio under 100% for the year, though just barely, at 99.4%. The group average was 94.7%, with Old Dominion at just 85.5%.
The table is below.
US LTL Carrier Q4 2013 Results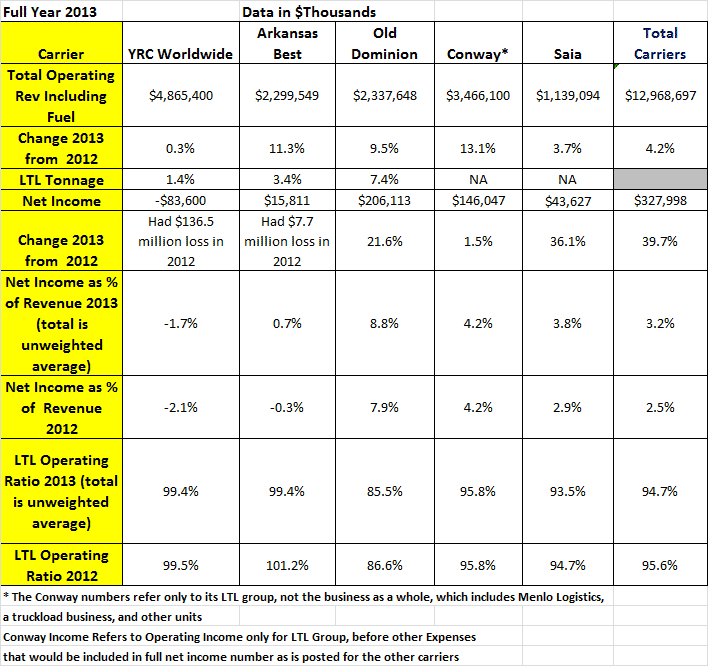 Comments from the LTL carriers in their earnings releases are generally quite pithy, but we share a few below.
YRC Worldwide
Consolidated operating income in Q4 increased $4.3 million to $28.4 million.
Noted that its "2013 operating performance was slightly improved compared to 2012, and though better, we were hampered by execution challenges of the YRC Freight network optimization in the second and third quarters of 2013, driver shortages during the summer months and tough winter weather late in the fourth quarter."
After a surprising call for the Teamsters union to extend previous concessions set to expire in 2015 through 2019, the union at last acquiesced, and YRC was able to restructure much of its debt, so that "for the first time in the last five years, we do not have the overhang of any near term debt maturities."
The company's regional unit continues to far outperform in national LTL business. The OR for national was 1015, versus 95.4% for the regional division.
ABF Freight
Noted that its new five year agreement with Teamsters has been key to improved results and more flexibility to operate in the market. Also cited" improve account pricing" as key to LTL results.
Its Panther Expedited unit, acquired a couple of years ago, brought in $247 million in 2013 revenue vs $1.7 billion for AB Freight.

Old Dominion
Said its continued growth came from "continuing to win market share by providing our customers with an unmatched value proposition of superior on time, claims-free service at a fair and equitable price."
Added that it "will continue to be disciplined with respect to our yield management process, as we believe yield improvement has been a key driver of our financial success and is critical for funding the ongoing investments necessary to provide best-in-class service."
Conway
Said that in 2013 it had completed the rollout of several transformative projects designed to improve revenue management and operating efficiencies, and that "We expect these foundational initiatives to contribute to improved results in 2014."
Revenue per hundredweight, or yield, increased 0.9% from the previous-year fourth quarter. Excluding the fuel surcharge, yield rose 1.5%.

Saia
Noted that "Investments in technology, equipment and continuous on-going employee training have allowed Saia to post its ninth consecutive quarter of 98% on-time service."
Truckload carriage continues to grow faster than LTL, up 19% in tonnage versus 2.9% for LTL in the quarter. TL represented 15% of total tonnage.
Any reaction to the rail Q4 and year-end 2013 results? Let us know your thoughts at the Feedback button (for email) or section (for web form) below.