From SCDigest's On-Target e-Magazine
- Feb. 26, 2014 -

Supply Chain News: Input Costs Likely to Decline Again in 2014, World Bank Says
Prices in Most Commodities to Fall Again after 2013 Drop, and Risk is Mostly to the Downside, Agency Says
SDigest Editorial Staff
Commodity prices are likely to continue to remain weak throughout 2014, the latest analysis from the World Bank predicts - continuing the sharp break from the commodity price bubble the word saw prior to the recession starting in 2008.

SCDigest Says:

Just one thing relative to commodity price predictions is clear, and that is that no one really knows, but companies need to place their bets nevertheless.

What Do You Say?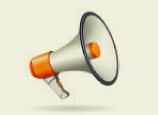 With the exception of energy, the World Bank says all the key commodity price indices declined significantly in 2013 versus 2012:

• Fertilizers: -17.4%

• Precious metals: -16.8%

• Agriculture products: -7.2%

• Basic metals: -5.5%
Crude oil prices, however, have been remarkably stable on average during the past three years, though with some decent swings within any given year. Oil (Brent crude) averaged $104 per barrel during 2013, just below the $105 barrel average of 2012.
Most non-energy commodity prices, notably grains, followed a downward path during 2013, as shown in the graphic below. After rebounding from recession-driven lows in 2009, commodity prices across all categories started flatlining in 2011 and then declined in 2012 and 2013, according to World Bank data.
Below are some predictions from the World Bank by commodity category.
Energy
The World Bank expects oil prices to average $103/bbl during 2014 (down from $104/bbl in 2013) and decline to $100/bbl in 2015. In the longer term, prices in real terms are expected to fall, due to growing supplies of unconventional oil, efficiency gains, and (less so) substitution away from oil. The key assumption underpinning these projections reflects the upper-end cost of developing additional oil capacity from Canadian oil sands, currently estimated at $80/bbl in constant 2014 dollars.
In natural gas, the World Bank expects prices in the US to remain low relative to crude oil as well as relative to European and Japanese natural gas prices, though it does expect some level of "convergence" to take place. Right now, natural gas sells for around $4.00 per thousand cubic feet in the US, versus about $12.00 in Europe and some $16.00 in Japan.
World Bank Commodity Price Index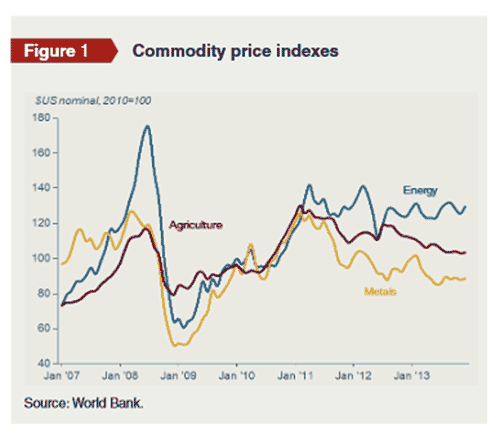 Basic Metals
The overall metal price index is expected to decline 2% in 2014 and 1% in 2015 as more supplies come on board. However, this average masks variations among individual metals. For example, the prices of aluminum, copper and nickel are expected to decline the most in 2014, very little change is expected in iron ore and lead, while tin and zinc prices are expected to increase 1 and 5%, respectively.

Most price risks are on the downside, however, and depend mostly on the path of the Chinese economy, the World Bank says.

(Sourcing and Procurement Article Continues Below)