From SCDigest's OnTarget e-Magazine
- Feb. 5, 2014 -
RFID and AIDC News: Research on the Present and Future of Voice Technology
Will Voice Continue to Take Market Share in the DC? What about In-Store Fulfillment?
SCDigest Editorial Staff

Voice technology in distribution has made dramatic gains over the past decade, moving from a somewhat niche technology focused largely on the grocery and food service sectors to powerful mainstream solution used in virtually every industry.
SCDigest Says:

What may be even more intriguing with the extreme current focus on omni-channel fulfillment is whether Voice should play a role in retailers who want to use their brick and mortar outlets as fulfillment points.

What Do You Say?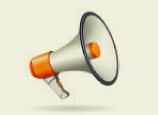 What has been driving that growth? Will Voice continue to take market share from other technologies, such as traditional radio frequency terminals and pick-to-light? How do an array of different distribution technologies compare in terms of productivity gains, process improvement and ROI?
These are important questions SCDigest hopes to answer in an upcoming report, based in part on a major survey on "The Present and Future of Voice Technology in Distribution." Both current voice users and non-users are encouraged to take the brief questionnaire, which can be accessed here: The Present and Future of Voice Technology in Distribution Survey.
"We're especially interested in understanding why non-voice users have not deployed the technology," said SCDigest editor Dan Gilmore. "Do they have different perceptions than Voice users do about the Voice solutions? Are there operational differences? These are among the interesting questions that we hope to answer."
Another pertinent issue is whether Voice will significantly expand within the DC outside of the order picking area where it is most heavily adopted, specifically for piece and case picking, into areas such as replenishment, receiving, truck loading and more.
"We are seeing some of that, and replenishment is a natural additional process to Voice-enable, since it is so similar to case picking in many operations," Gilmore added. "But is Voice moving into any of these other areas as well? That's what Voice solution providers certainly hope, but we want to look at the data from this survey to understand what is going on."
eCommerce is a big driver of Voice right now - and maybe be even more so in the future. Almost by definition, eFulfillment involves lots of "piece" picking - selecting individual items for customer orders, rather than cases or pallets as is more common in B2B commerce.
Voice generally has a great fit for piece picking applications (due to its "hands-free approach"), and the cost savings Voice can deliver (15+%) can be critical in eCommerce operations, where many etailers have struggled to make a profit.

(RFID and AIDC Story Continued Below)