From SCDigest's On-Target E-Magazine
Feb. 16, 2011
Supply Chain News: Understanding the "Operations Rules"
Excerpt from First Chapter of Simchi-Levi's New Book Describes Promise of "Engineering" the Supply Chain
SCDigest Editorial Staff
Operations Rules: Delivering Customer Value through Flexible Operations, is the best selling new book by Dr. David Simchi-Levi of MIT. Below we incpiude an excert of the first chapter of the book, which summarized key concepts and insights that are detail in the subsequent chapters, and how Simchi-Levi believes the supply chain can be much better "engineered" by following a set of mathematically-based rules that link product, market and supply chain strategies. More information about the book can be found at www.operationsrules.com.
In early 2005, Pepsi Bottling Group (PBG) approached the Massachusetts Institute of Technology (MIT) with a daunting challenge: consumer preference was shifting from carbonated drinks to noncarbonated drinks and from cans to bottles. At that time, PBG produced these newly preferred products in a limited number of plants, resulting in half of the plants operating at capacity and leading to service problems during periods of peak demand.1 What did PBG do to address the problem? Did it invest in more manufacturing capacity or outsourced production?
Not even close!
SCDigest Says:

Low-cost country sourcing strategies and lean practices have helped companies reduce costs but have significantly increased exposure to all sorts of risks, from operational problems to man-made and natural disasters.

What Do You Say?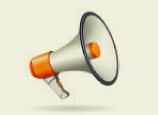 MIT-PBG's approach to the challenge was surprisingly simple. It focused on a flexiblemanufacturing strategy that matched production sourcing decisions with consumer preferences on a quarterly basis. In this strategy, quarterly sourcing decisions are based on total supply chain costs including manufacturing, transportation, and warehousing costs as well as customer service requirements.
This strategy, which emphasizes cost, service, and customer preferences, improved supply chain performance by significantly reducing out-of-stock levels, effectively adding one and a half production lines' worth of capacity to PBG's supply chain without any capital expenditure.
The PBG story would be incomplete if we did not mention how the new strategy affected a potentially catastrophic supply disruption. In August 2005, a fire at a Detroit chemical plant near one of PBG's suppliers threatened to shut down PBG plants, which would have led to significant financial losses. Within twenty-four hours, PBG identified lower-cost alternative production sites and prevented a supply disruption, demonstrating the power of its supply chain flexibility.
Other companies have not been as successful as PBG in coping with supply disruptions or operational problems. Consider, for example, Foxmeyer, which began the year 1996 as the second-largest wholesale drug distributor in the United States (with $5 billion in revenue) and ended it with the sale of its main operating division to its largest competitor, McKesson (for $80 million). The problem was the implementation of a new information system and automated distribution center that did not work but instead created a snowball of operational problems.
As if this were not enough, cost savings built into client contracts based on anticipated efficiency gains from the new systems did not materialize and generated huge financial losses.4 Undoubtedly, operational or supply problems can affect stock prices and shareholder wealth many months after the initial disruption. In this respect, the Mattel product recall of August 2007 is a tale worth telling.
Over a period of two weeks, Mattel, the world's largest toy maker, recalled 18 million toys made in China because of hazards such as lead paint. Mattel's stock went into a free fall after its recall announcement and had not recovered even a year after the disruption. These stories are at the heart of this book. Without question, they demonstrate a link between a company's value proposition and operations strategy. The book, however, is not on any one company. Rather, it is about the link between the customer value proposition and operations strategy and the principles, frameworks, and processes that allow companies to align the two while addressing today's business challenges.
Although there are no guarantees that firms adopting these principles will always outperform the competition or will be able to overcome any source of risk, following these important principles and frameworks significantly increases the likelihood of success. Indeed, many of the principles and methods described in this book were implemented in numerous projects that I have been involved in, either as an adviser or as a member of the implementation team. These experiences, which allowed me to observe the successful transformation of many organizations, are the origin of the book.
Today's Business Challenges
Operations and supply chain pundits have long emphasized the importance of strategies such as just-in-time, lean manufacturing, off-shoring, and frequent deliveries to retail outlets. However, with the recent changes in the global economy, rising labor costs in developing countries, and huge volatility in oil and other commodity prices, some of these strategies may imperil the firm's supply chain and its ability to compete successfully.
For example, in the current economy, companies face an unprecedented level of volatility in demand forecast, commodity prices, and exchange rates that threatens their ability to control operations costs. Consider, for example, the figure below, which shows the number of days that the price of oil changed by 5 percent or more. As you can see, in normal years, the daily oil price changed by at least 5 percent only 5 to 20 times. But in 2008 it changed 39 times—definitely not a normal year! That year was the most volatile year since the recession of 1990.
Substantial Increases in Oil Price Volatility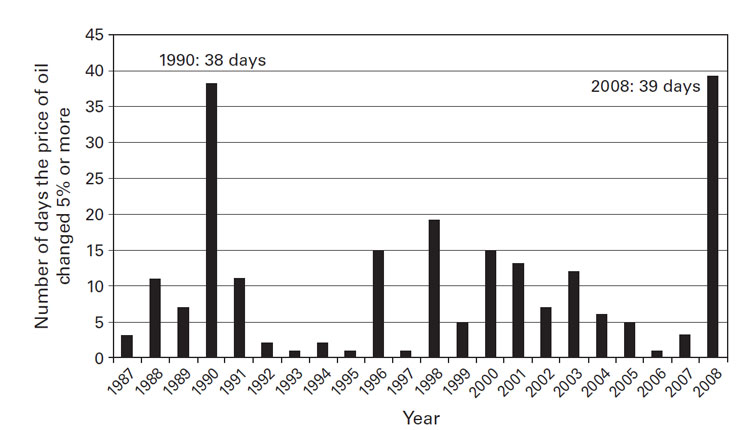 Source: Operations Rules, Dr. David Simchi-Levi
The effect of oil-price volatility and upward trend is exacerbated by changes in labor costs in developing countries. Between 2003 and 2008, labor costs in developing countries increased significantly, much faster than the increase in labor costs in the United States or Mexico. During this period, average annual wages increased in the United States by 3 percent, in Mexico by 5 percent, and in China by 19 percent. These wage differences and the changes in oil prices suggest that off-shoring and outsourcing decisions that were made a few years ago may not be appropriate in the current environment.
Offshore Labor Costs are Rising

Source: Operations Rules, Dr. David Simchi-Levi
At the same time, low-cost country sourcing strategies and lean practices have helped companies reduce costs but have significantly increased exposure to all sorts of risks, from operational problems to man-made and natural disasters. Similarly, globalization has increased the risk of counterfeit components and products entering the supply chain with severe consequences to the economy, public health and safety, and national security. Finally, new and future regulations around low carbon manufacturing and logistics activities may pose enormous challenges to overcome if business is to contribute to the sustainability agenda.
Interestingly, in the last few years, sustainable and green supply chains have increased in importance because of financial incentives in Europe, expected new regulations in the United States, demanding customers and supply chain partners, and the relationship between carbon footprint and supply chain efficiency. Indeed, manufacturing related logistics is a large and growing emitter of carbon dioxide that contributes about 5.5 percent of the total greenhouse gas emissions generated by human activities. Of that figure, transportation is responsible for 89 percent, and warehouses and distribution facilities are responsible for the rest. And logistics is only one—not necessarily the largest—contributor of greenhouse gas during the product lifecycle. Manufacturing, for example, contributes around 18 percent of the total greenhouse gas emissions. With all these challenges, it is no longer clear how companies should design, manage, and operate their supply chains. Equally important, it is not obvious what the relationship should be between a company's customer value proposition and its operations strategies.
The Need to Focus
Consider Zara, the large Spanish clothing company known for fashion, stylish designs, and product diversity. Since 1974, when Amancio Ortega Gaona, Zara's chair, opened his first store, the company's objectives have been to provide customers with trendy fashion products at a reasonable, not necessarily low, price. These goals require a business model that is quite different from Zara's competitors, such as Gap Inc., one of the world's largest specialty retailers.
While retailers such as Gap reduce costs by outsourcing manufacturing (mostly to Asia), Zara owns its entire supply chain—from manufacturing through distribution centers to retail outlets. Because of its focus on fashionable, trendy products, for which demand is highly uncertain, Zara procures capacity from its fabric suppliers but does not commit necessarily to a specific color or print until it has a clear picture of consumers' preferences. Retail stores provide direct feedback to the company headquarter through its information technology (IT) infrastructure, allowing designers to identify trends and new styles.
(Supply Chain Trends Story Continues Below)