You are Bruce Welty, and you are CEO of a 3PL (Quiet Logistics) that is dependent on use of the Kiva System robots. What do you do when you learn in early 2012 that Amazon has acquired the Kiva, and is likely to consume all production and deployment resources for its own sprawling DC operations?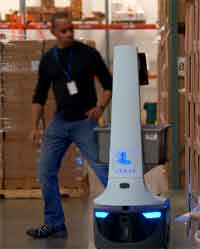 Well, you build a better robot system, that's what you do.
Welty started a new company called Locus Robotics near Boston that has developed a new system that is similar too - but yet importantly different from - the orange Kiva robots.
Both systems really use what might be more accurately called a form of automated guided vehicle (AGV). In Kiva's case, it really ushered in the concept of "goods to person" systems in order picking.
Welty says the Locus system instead uses what he calls "task to person" concepts - which can drive even more productivity.
What does that term mean?
You'll learn that and more in the video below, excerpted from this week's Supply Chain Video News from our Supply Chain Television Channel and partner CSCMP.