Larkin Says:


Truckload demand has been tracking below the 5 year moving average after staying above the average for most of the first quarter of 2015

What Do You Say?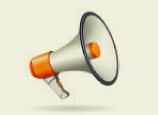 New Expert Insight Column on SCDigest: We have partnered with StifelFinancial Corp. to publish its weekly recap of the week in transportation, written by well-known analyst John Larkin. Check the SCDigest home page each Monday morning for the latest edition.
Takeaways from This Week's Fundamental Research
This past week wrapped up the majority of earnings within our coverage space and a few so far this year three themes are becoming evident:
1. Those with a high degree of exposure to less diversified commodities found themselves subject to the wild swings of the macroeconomic economy; currently steel, crude, and coal remain some of the top commodities contributing to downward guidance and/or earnings misses.
2. M&A is still en vogue; since the beginning of the year about a dozen deals had been initiated in our space from various participants including Genesee & Wyoming (Freightliner), XPO Logistics (Norbert Dentressangle, Bridge Terminal Transport, UX Specialized Logistics), Echo Global Logistics (Command Transport), FedEx (TNT), Celadon (Taylor Express), Forward Air Corporation (Towne), Quality Distribution (sold to Apax Partners), L.B. Foster (Chemtec, TEW Engineering, Inspection Oilfield Services), and Wabtec (Railroad Controls L.P.). In addition, Heartland and USA Truck filed secondary offerings.
3. Janet Yellen claimed this past week that equity valuations look high, but actions speak louder than words and we've yet to see the anticipated token interest rate increase out of the Fed.
Despite unemployment being at very low levels the participation rate also remains at historical lows, leaving decision makes with conflicting indicators. Furthermore, a strong dollar has rippled through the profits of the S&P 500, and shifter some of the import/export market against domestic producers. Despite a sharp contraction in transports over the past few months we anticipate PE multiples in the broader market will continue on their current trajectory, leaving transports looking undervalued.

Previous Columns by John Larkin
Key Insights from the Analysis of Industry Data Feeds
Trucking & Logistics:

In week 17, spot demand was mixed across indicators. The ITS Market Demand Index (MDI) measured 14.24 in W17, up 5.8% from W16 (after falling for the three consecutive weeks prior). Load-to-truck ratios on DAT were relatively weak on a sequential basis. The flatbed segment and the reefer segment decreased by 6.8% and 3.8%, respectively, while the dry van segment increased by only 0.5% this week..

Looking closely at DAT spot rates, refrigerated remained flat for the second week in a row. Flatbed fell 0.9% this week and dry van fell 0.5% this week. This week continued a longer trend for both of these as well—it was the third consecutive week that flatbed had fallen and the fifth consecutive week that dry van had fallen. ITS Market Rates showed a rare increase in all segments from last week for a total weekly increase of 2.4%. Notably, the reefer rate increased this week by 4.1% and the specialized rate increased this week by 3.7%.

Demand has been tracking below the 5 year moving average after staying above the average for most of the first quarter of 2015. Demand also seems to be continuing to normalize to similar levels seen in 2013 - still nowhere near the inflated comps seen in 2014. To compare W17 of 2016 is up y/y from 2013 by 18.6%, but down 6.5% from the 5-year average y/y, and down much more significantly by 36.2% from 2014 y/y.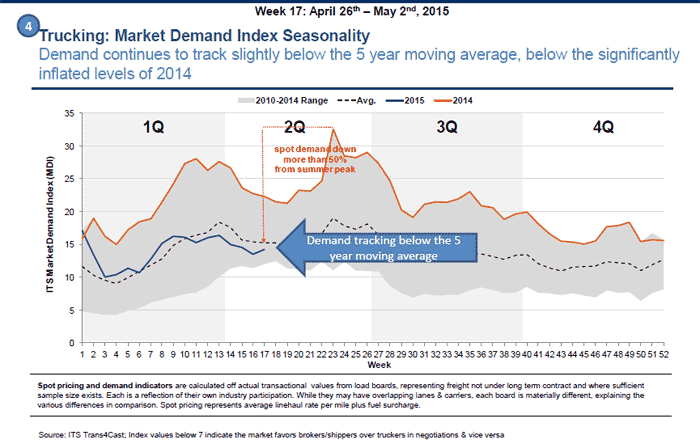 Rail:
Total unit volume (i.e., commodity carloads and intermodal units) in W17 increased by around 1.6% this week. In fact, all Class I rails increased total unit volume this week with the most notable leaders being KSU (5.1% weekly increase in W17), CSX (2.3% weekly increase in W17), and UNP (2.1% weekly increase in W17).

Total commodity carloads (up 1.4% sequentially this week) showed strength across most rails (notably KSU at a 7.5% increase). The only Class I rail that showed a decrease in total commodity carloads this week was CN with a 1.0% decrease. Total intermodal carloads (up 2.0% sequentially this week) were also encouraging—all Class I rails increased their intermodal carloads this week. The leaders of this group were UNP (3.6% increase this week), NSC (2.7% increase this week), and KSU (2.6% increase this week).

• Across Class I's as a whole - intermodal containers, metallic ores, and motor vehicles were up the most this week y/y. The only Class I rail that did not show an increase in intermodal containers this week y/y was CP. The intermodal story has been continuing throughout most of 2015, but a relatively newer trend has been the softness in coal volumes. Most Class I rails have suffered from the weak coal volumes, which have persisted for the last several weeks due to regulations and a soft U.S. dollar. BNSF and the CP were the only major railroad unit combinations to not see significant y/y declines.

• Class I performance metrics showed mixed results this week and remain relatively unimpressive. On a weekly sequential basis, most Class I rails increased their velocities (except for the Eastern rails) for a total 0.6% increase. NSC and CSX decreased their velocities by 2.9% and 1.0%, respectively. Terminal dwell fortunately decreased by 0.8% in W17 as operations are becoming more efficient. Out of the Class I rails, CP showed the largest decrease in terminal dwell this week y/y (a 5.6% decrease). Sequentially this week, the rails have kept their cars on-line flat. In y/y terms, the rails have decreased their cars on-line by approximately an incremental 2,500 .


Any reaction to this week's note? Let us know your thoughts in the Feedback area below.