Larkin Says:

Demand also seems to be continuing to normalize to similar levels seen in 2013 - still nowhere near the inflated comps seen in 2014.

What Do You Say?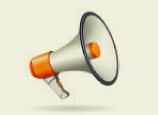 New Expert Insight Column on SCDigest: We have partnered with Stifel Financial Corp. to publish its weekly recap of the week in transportation, written by well-known analyst John Larkin. Check the SCDigest home page each Monday morning for the latest edition.
Takeaways from This Week's Fundamental Research
This week began with a large downward revision from Norfolk Southern regarding bottom line figures, followed by a large tradeoff in the rail space.

Less than 24 hours after CSX reported a beat, though rail stocks have yet to return to their pre-NSC guidance figures. We see the news from NSC as a less meaningful read-through for the broader Class I space given their large export coal exposure and extensive challenges dealing with a winter that hampered NSC's network fluidity with velocity, dwell, and cars on-line all moving in the wrong direction (-8.0% y/y, +18.2% y/y, +10.6% y/y).
The impact of the weather had not been as negative for CSX but still velocity, dwell, and cars on-line moved in the wrong direction (-2.0% y/y, +4.2% y/y, +4.8% y/y). To put the magnitude of the difference in context CSX's efficiency of asset utilization had been far better as a 4.8% y/y increase in cars on line enabled a 0.9% growth in volume, which is a 5-to-1 rate.

NSC on the other hand, required a 10.6% y/y increase in cars on line to move a 1.4% y/y increase in carloads, which is a 7.6-to-1 rate. This indicates that CSX's incremental asset utilization had been approximately 50% more effective than NSC's.

We see this large downward revision as less meaningful for UNP given they have less risk in the coal space given their lower exposure to the export market, and that the mines found in the Powder River and Illinois Basin (where UNP plays) general have lower cost structures than those found in the Appalachian Basin (where NSC and CSX play).
Previous Columns by John Larkin
Key Insights from the Analysis of Industry Data Feeds
Trucking & Logistics:

In week 14, which was the first week of 2Q15, spot demand was down across most indicators. The ITS Market Demand Index (MDI) measured 14.96 in W14, down significantly at 8.7% from W13 (W13 was the highest the index has been since the first week of the year). Load-to-truck ratios on DAT were weak on a sequential basis. The flatbed segment increased by 6.7% sequentially from last week, continuing its upward trend for the eighth consecutive week, while both reefer and dry van segments fell drastically by 21.3% and 11.4%, respectively.

Both DAT and ITS rates showed relatively little movement in W14. For DAT spot rates, refrigerated remained flat, flatbed increased by 0.5% and dry van decreased by 0.5% - leading to a total of no change from last week. ITS Market Rates showed decrease in all segments (except flatbed, which remained flat) from last week for a weekly total of 1.5%. This comes after W13 showed increases across the board for ITS Market Rates.

Demand has been tracking slightly below the 5 year moving average for most of 2015. Prior to this week, spot had seemed to be recovering, but as we mentioned last week, the trend was likely to be short-lived as foretold by the 5 year moving average. Demand also seems to be continuing to normalize to similar levels seen in 2013 - still nowhere near the inflated comps seen in 2014. To compare, W14 of 2015 is up y/y from 2013 by only 0.8%, but down 14.9% from the 5 year average y/y, and down much more significantly by 43.9% from 2014 y/y.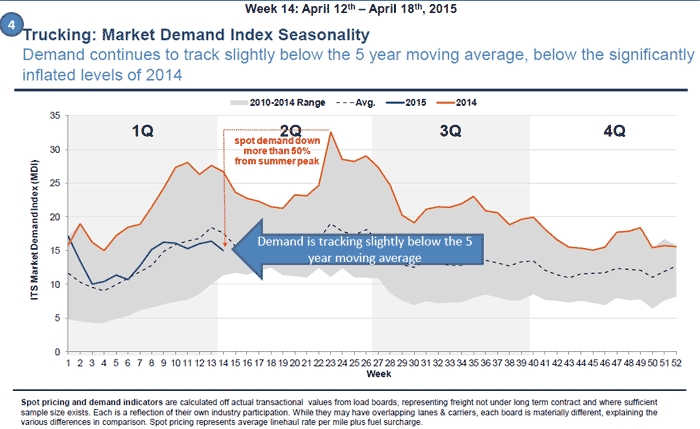 Rail:
Total unit volume (i.e., commodity carloads and intermodal units) in W14 increased by around 0.8% this week, after showing declines straight across the board last week. Out of the Class I rails, the only sequential laggards of the group were CSX and BNSF with decreases of 0.1% and 0.4%, respectively. On a y/y basis, however, the only increases were in CN (3.6% y/y increase) and BNSF (2.5% y/y increase).
.
Total commodity carloads (up 1.8% sequentially this week) showed strength within some rails (notably CP at a 7.5% increase and NSC at a 4.1% increase). KSU and CN, however decreased at 1.0% and 1.1%, respectively. Intermodal carloads were down 0.5% sequentially this week. The largest increases in W14 came from the laggards of commodity carloads: KSU and CN (7.1% and 4.1% weekly increases, respectively). The largest weekly decrease in intermodal carloads (CP with an 8.7% decrease) was also the strongest in commodity carloads in W14.

Across Class I's as a whole - intermodal containers, metallic ores, and petroleum products are up the most this week y/y. Intermodal no longer seems to be the main topic of interest, as softness in coal volumes persist. Coal volumes from the BNSF and CP were the only major railroad unit combinations to not see significant y/y declines. For the rest of the Class I rails (notably UNP and NSC), coal volumes continue to suffer due to regulations and the strong U.S. dollar.

Class I performance metrics showed mixed results this week and remain relatively unimpressive. On a sequential basis, all Class I rails increased their velocities, resulting in a total 0.7% increase from last week. On a y/y basis, there were increases for every Class I except for NSC (5.4% decrease). The y/y leader is CP with a large 32.7% increase. Terminal dwell fortunately decrease by 1.6% in W14 as operations are becoming more efficient. KSU and UNP were the only rails to increase their dwell this week (by 3.6% and 1.1%, respectively). In y/y terms, the rails have decreased their cars on-line by approximately an incremental 3,600.

Any reaction to this week's note? Let us know your thoughts in the Feedback area below.