Larkin Says:

For the 1Q15-to-date, rail velocity is down 2.9% sequentially and down 0.8% year-over-year. Terminal dwell is up 5.8% sequentially and up 3.1% year-over-year.

What Do You Say?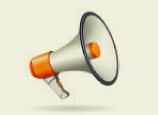 New Expert Insight Column on SCDigest: We have partnered with Stifel Financial Corp. to publish its weekly recap of the week in transportation, written by well-known analyst John Larkin. Check the SCDigest home page each Monday morning for the latest edition.
Takeaways from This Week's Fundamental Research
West Coast ports tighten on labor disputes and are impacting freight movement across the continent. This past week the Burlington Northern Santa Fe and the Union Pacific's intermodal volumes were down 22.5% and 20.7%, respectively. Kuehne + Nagel commented on their earnings call this week that they had been forced to begin moving goods through the Port of Lázaro Cárdenas, Mexico and Prince Rupert, Canada, but because of an overnight shock in demand those ports became immediately congested; when rerouting through the Panama Canal to the East Coast better luck had yet to be found.
Key takeaways from this are that 1.) American port traffic, if not routed through the West Coast, will congest all of North America 2.) The Mexican ports that claimed to have substantial headroom for growth do not yet have sufficient infrastructure to support material increases in demand 3.) The completion of new locks in Panama or Nicaragua is a precursor for the thought of rerouting traffic from the West to the East Coast, unless it moves through the Suez Canal 4.) Intermodal Marketing Companies who had been extremely thankful the winter of 2013/14 was over may not yet be out of the woods as demand is being forced down by externalities.
The keystone pipeline is vetoed, long live crude by rail; for now. This past week President Obama vetoed the keystone pipeline after a great deal of deliberation in Congress. From a transportation perspective this helps further secure revenue for crude by rail as well as oil & processed water on bulk tankers. This prevents a demand bump for specialized and flatbed carriers who may have been moving the pipe and equipment required to physically constructing the pipeline (likely the rails would have been involved, too).
Previous Columns by John Larkin
Key Insights from the Analysis of Industry Data Feeds

Trucking & Logistics:
Spot demand was up on a sequential basis in week 7 across all indicators. The ITS Market Demand Index (MDI) measured 12.73 in W07 (up 19.3% sequentially). Load-to-truck ratios on DAT were up across the board. Dry van, refrigerated, and flatbed load-to-truck were up 28.6%, 27.4%, and 2.7% sequentially, respectively.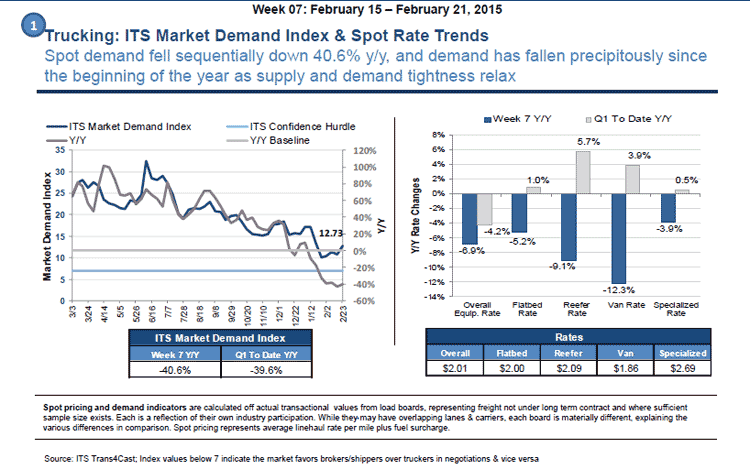 Editor's Note: This chart seems to be dated by one week, and thus doesn't match the text, but is still of interest to see overall trends so far in 2015.
Spot rates were flat to slightly up in W07 with DAT pricing showing stagnation given the mild winter and loosening supply & demand. ITS' rates have seen a slight increase sequentially. Dry van rates on DAT were up only 0.5% sequentially and down 5.1% year-over-year, while on ITS rates were up 3.9% sequentially, and down 12.3% year-over-year. The refrigerated segment shares the same story with sequential rates flat at 0% but down 1.4% year-over-year on DAT; and up sequentially by 2.0% and down year over year by 9.1% on ITS.
Spot stayed flat after its precipitous drop during the rest of 2015. After a full year of generously inflated year-over-year comps it looks as if demand is normalizing back to levels seen in 2013. We don't expect demand to fall below any such level; however, we are simply not seeing the dramatic overflow demand coming out of railroads stuck in a wintry tundra as this winter has been relatively mild during the first half of this quarter. Yes, we know the Northeast has seen a severe winter but it is less critical to the transportation network than a city like Chicago which had been the eye of the storm this past year.
Rail:
Total unit volume (i.e. commodity carloads & intermodal units) showed large sequential and year-over-year declines, down 9.8% and 9.5%, respectively, as all seven players in our data showed sequential declines. CP and CSX were the sequential laggards of the group (down 17.4% and 15.8% year-over-year, respectively). All seven rails, except CN, also showed a year-over-year decline (CN showed only a 1.1% sequential increase).
Total commodity carloads also showed a sequential decline for each Class 1 measured, with the aggregate down 9.2% sequentially. Similarly, we saw a 5.9% decline in year-over-year total commodity carloads, with increases in only CN (2.5%), and BNSF, which gave a large increase of 11.4% year-over-year. In intermodal carloads, we saw a total sequential decline of 10.6% accompanied with a year-over-year decline of 14.2%. Much like commodity carloads, we saw double digit decreases across half the board, both sequentially and year-over-year. Notably, CN and CP intermodal carloads fell sequentially 16.3% and 15.0%, respectively, and BNSF and UP fell year-over-year by 22.5% and 20.7%, respectively. Across Class I's as a whole - stone, sand & gravel, motor vehicles & equipment, and chemicals are up QTD year-over-year.
Class I performance metrics still remain at depressed levels. The low carload demand has been too short-lived to sustain a correction in service. For the 1Q15-to-date, velocity is down 2.9% sequentially and down 0.8% year-over-year. Terminal dwell is up 5.8% sequentially and up 3.1% year-over-year. Cars on-line are down 0.3% sequentially but up 1.3% year-over-year. While these numbers don't sound dramatic, it is important to keep in mind that we have now lapped 2014's winter service impact so these numbers are in relation to what one could generously call a soft baseline.


Any reaction to this week's note? Let us kow your thoughts in the Feedback area below.