Supply Chain and Logistics Stocks Performance 2022
Last week, this column took a look at the top and most interesting supply chain stories by month in 2022. (See Top Supply Chain Stories by Month 2022.)
I had planned this week to publish our popular look at 2022 in numbers and charts but it is a lot of work and frankly I just didn't get it all done.
So instead, I am taking a look this week at the results from our weekly supply chain and logistics stock index for the past year. The year 2022 in numbers and charts will be delivered next week.
GILMORE SAYS:
WHAT DO YOU SAY?'
You might think markets would snap back in 2023, but with growing signs of recession I am not counting on that.
In 2021, SCDigest re-launched our weekly supply chain and logistics stock market index, which tracks the market performance of more than 20 publically traded companies across freight carriers, logistics service providers/3PLs, and supply chain hardware and software providers.
We ran this feature weekly a number of years ago, but discontinued it for reasons I can't really recall. But I think it was smart to bring it back - it's intersesting and drives a lot of web site visits.

As an amateur investor like many/most of us, I thought it might be interesting for you to see how supply chain stocks are faring on Wall Street.
Of course, 2022 was a wicked one for both stocks and bonds, with the biggest annual market declines since 2008, as well as a late year collapse of crypto currencies.
Below you will find our supply chain stock index for the week ending December 30, 2022.
Supply Chain and Logistics for Week Ending December 30, 2022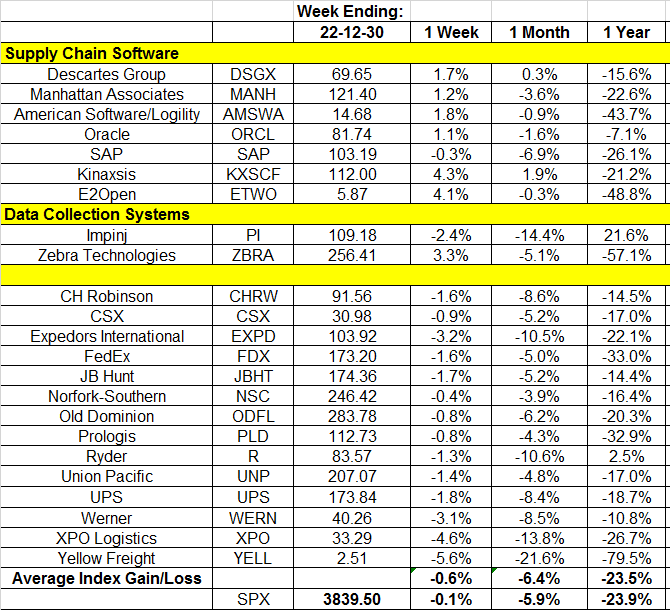 Source: SCDigest Analysis
As can be seen, in 2022 the S&P 500 Index was down 23.9% - while our supply chain and logistics index dropped fell about the same, at 23.5%.
So investing in supply chain and logistics stocks did not appear to provide any shelter from the Wall Street storm.
In fact, just two of the 23 stocks in our index were positive in 2022: RFID firm Impinj, up 21.6%, and 3PL Ryder, which rose 2.5%.
As can also be seen, it was a tough last year for supply chain software stocks, with all in our group in negative territory, led by e2Open, down 48.8%, while Amercan Software (parent of Logility) dropped 43.7%.
Data collection firm Zebra saw its stock have a tough year, falling 57.1% after soaring during the pandemic. In an earlier column on our stock index, I recommended investors take some profits when the share price soared above $500. Now at around $250, it looks like a good value.
But the largest decline in 2022 was for perennially financially challenged Yellow Freight, down almost 80%, with a heavy debt load depite controversially receiving $700 million in government COVID stimulus money last year.
FedEx was another big loser, falling 33% for the year, compared to an 18.7% drop for rival UPS.
Think I will leave it at that, and let you peruse the table on what interests you.
Thinking of adding carrier Schneider to the index - please let us know any other suggestions.
You might think markets would snap back in 2023, but with growing signs of recession I am not counting on that.
Any reaction to supply chain stock performance for 2022? Let us know your Feedback button (email) or section below.