State of the 3PL Union 2023 Part 2
Last week, I did my high-level review and comment on the 27th annual 3PL study, led once again as he has done from the start by Dr. John Langley of Penn State University. (See State of the 3PL Union 2022.) and released at the CSCMP Conference in September.
In that column, I overviewed some basics of the report, its history and structure, and some of the key survey results from 3PL and shipper participants, including the dreaded "IT Gap" that perennially finds shippers view 3PL technology capabilities as being of critical importance to outsourcing success, but rate those capabilities of 3PLs generally as not very strong.
GILMORE SAYS:
WHAT DO YOU SAY?'
I am OK with the seven principles, though one could imagine many others as add-ons or replacements, but felt the commentary for each could have used some more meat.
I mentioned last week that there were a large number of the "special topics" presented in this year's report, a figure that goes up and down depending on the year (and I think the sponsors). The special topics are presented after the main data section, but this year are generally supported some data from focused survey questions on each topic.
That special topics coverage kicked off with a long section on "back-to-basics," a notion that also served as the theme - or at least sub-title - of the full report.
The idea is that after a couple of years of strangeness relative to COVID and endless supply chain disruptions, we're at or approaching a return to some level or normalcy, so it's time to get back to operational excellence.
And interestingly if somewhat oddly, the report uses an article Langley authored a long time ago titled"The Seven Immutable Laws of Collaborative Logistics," which the report says it "updated" into "Seven Immutable Laws for Supply Chain Success." It's a bit of a stretcThh e report then connects the seven laws in the context of shipper-3PL relationships.
The immutable laws (really more like practices) are as follows:
1. Customer Focus: That includes not only direct customers but the customer's customer (e.g., consumers). "Demand-driven supply chains may be a more contemporary concept but ensuring that the supply chain delivers value for all supply chain participants is a foundational principle and should be considered a high priority," the report says.
Then there was this chart, which plots shipper responses along two dimensions for each principle, importance and adoption (implementation), on a 1 to 7 scale, with 1 being not important and 7 highly important or low adoption and high adoption.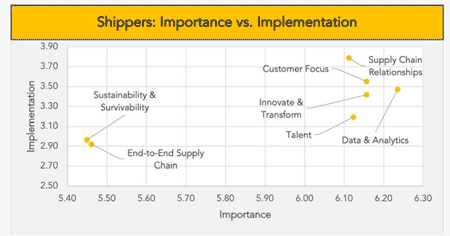 Source: 3PL Study 2022
As can be seen, "talent" scores high on importance but middling in adoption, while "survivability and sustainability" (which should not have been combined, in my opinion) and "E2E supply chain" score at the lower end of both dimensions.
There was a similar chart for 3PLs.
"Leveraging the back-to-basics principles, shippers and 3PLs will need to work together to enhance both their supply chain relationships as well as ensure they are both mutually focused on the end customer," the report notes near the end of this section.
I am OK with the seven principles, though one could imagine many others as add-ons or replacements, but felt the commentary for each could have used some more meat, though recognizing likely space limitations in what is already an 85-page report.
I think I will wrap it up right here, and milk another column out of the report with a review/highlights of the rest of the other special topics sections.

Any reaction to this data/comment from the 3PL report? Let us know your thoughts at the Feedback section below.