Trip Report: Gartner Supply Chain Symposium 2022
I am back after three days at the Gartner Supply Chain Symposiumt his week - an event that continues to gain some momentum.
The pereptive might note there was a name change for the conference.
The Gartner conference is rooted in the same basic event that was started by AMR Research as the Supply Chain Executive Forum back in the 1990s. After Gartner acquired AMR in 2009, it infused additional organizational and marketing muscle into the conference, largely to the good.
The success led to the confenence moving up in the Gartner event hierarchy, where for the first time it was named as a Symposium, and with that moved to the Disney Swan and Dolphin complex in Orlando, from its longtime home in Scottsdale, AZ.
GILMORE SAYS:
WHAT DO YOU SAY?'
I will note in closing that Chadwick said that "The cumulative impact of many smaller offsets will change the game" in your favor.
There were some 2700 attendees, and the event felt packed. It continues to grow, and is well organized, with support staff everywhere and high quality meals.
This week, I am simply going to review the day 1 keynote. More on the conference next week.
That opening keynote was by Gartner analyst Ken Chadwick and titled "Recalibrating the Great Reset."

I will tell you what I think Chadwick means by that in the next few paragraphs.

Chadwick said the key word is actually "offset," which he said is "a strategy that addresses the accelerating changes that are facing all us," and that an offset "changes your position to a more favorable footing."

And here I thought an offset was a modest adjustment you make when you didn't measure quite right. Or planting a tree to compensate for CO2 emissions.
Continuing, Chadwick said an offset strategy is something meant to counteract a force that cannot be controlled, and for which you are unlikely to win with traditional approaches.
What I guess the core of what this really is about is that these are "unconventional" or "untried" actions - so there seems to be some connection to out-of-the-box thinking to the offset concept.
But at this point, I am not sold yet.


Chadwick recommended using offset strategies in 5 areas:

• Cognitive overload
• Customer expectations
• Technology
• Supply chain cyber risk
• Energy instability


Chadwick said if you use offset strategies to get just one win in each of these five areas then you'll gain competitive advantage.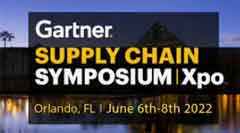 Chadwick then also introduced a simple paradigm of "sense, shift, steer," which respectively refers to recognizing the opportunity/challenge, choosing the offset strategy, and then managing the change.
Circling back to "cognitive overload," Chadwick says Gartner Research finds big majorities of supply chain managers believe complexity is growing and will get worse, and 83% of them feel overwhelmed.
The offset strategy? Simplify. And do that by constraining decision-making processes, along four key dimensions: time to make a decision, how much information is required, how much escalation is allowed, and how many people are involved in the process.
Chadwick says research shows tightening such constraints not only results in faster decision-making, but better decisions too.
Chadwick noted that AI can be used to reduce the amount of complexity by shifting some of the decision-making to the computer rather than the human. Whether this is what the human really want is another question.

So I am not really sure what makes this an offset strategy, other than not many companies really look hard at how to improve and simplify decision processes. Is it just that?

I did like this example. Mercado Libre, the top on-line market in Latin America, allows more individual decision-making the more the decisionch is easy to reverse, won't cost much to reverse, and has little impact on the overall ecosystem. That makes common sense, but I don't think many companies have formalized such thinking.

Then speaking directly to supply chain execs, Chadwick challenged them to build a culture of simplicity in their organizations. Easier said than done, for sure, but I think there is something there. That includes "ruthless prioritizing projects that will deliver the most business value."
Chadwick then went through a similar exercise with the other four focus areas.
Under customer expectations, Chadwick predicted that supply chain execs will soon move away from a focus on fire fighting and cost reduction to a role "in the center of the business, with you having the mission critical role of delivering customer value."
This as customers demand more customized products, from more socially responsible companies - even if it costs more. The center of supply chain attention will shift from cost to customer, Chadwick said.
I think I generally agree with that - but we've been talking about this for many years. Procter & Gamble has been promoting the "customer-driven supply chains" and multiple consumer "moments of truth" for something like two decades.
But I will also add one more thing. At a small conference I attended maybe eight years ago, a supply chain exec at Coca-Cola Bottling said that while all this business value stuff sounds good, it is very hard to measure, while it's relatively easy to measure costs, so that where you wind up.
I am going to wrap it up here rather than going through the other three areas. But I will note in closing that Chadwick said that "The cumulative impact of many smaller offsets will change the game" in your favor.
Let me say this: First, Chadwick delivered a fine presentation from a style perspective - he has a very smooth delivery.
But I am not sure what really differentiates offsets from normal process and technology innovation. I am also dubious "offsets" will enter the supply chain vocabulary in any meaningful way.
It's innovate or die right now - and it's been that way for quite a few years.
I will be back next week with some highlights of the breakout sessions.
I would welcome your thoughts on this keynote whether you were at the conference or not.
What do you think of the Gartner offsets thinking? Let us know your thought at the Feedback section below.