Why are Gas and Diesels Prices So High?
In April 2008, the price per barrel of West Texas Crude oil soared to an unheard of $140 per barrel, naturally sending gasoline and diesel prices up dramatically.


But it didn't last very long
GILMORE SAYS:
WHAT DO YOU SAY?'
Some transportation pundit said carriers could somehow navigate $4 diesel, but that $5+ would be a whole other matter.
Impacted by an economic slowdown that it had in part been the cause of, by October it was down all the way to just $44 dollars, as the Great Recession began.
Now we have another crisis in oil and its derivative fuels, delivering economic pain to consumers and truckers, and creating inflation that affects everyone and almost everything.
"Energy, in a way, is the tail wagging the dog here," Bob McNally, president at Rapidan Energy Group, said Wednesday on CNBC.
Perhaps the most interesting and scary story on this topic this week was the news that the "76" gasoline station chain has started programming its pumps to support double digit gas prices - meaning $10 or more per gallon. Can you imagine?
So what is going on? It might be tempting to blame the Ukraine-Russian war are sending oil prices soaring, which usually geo-political issues do. But the reality is prices were already rising before the invasion.
Borrowing a bit from an article on CNBC.com, even before the pandemic oil companies were cutting back on drilling and production. With a price hovering about $60 per barrel in 2019 to early 2020, returns on drilling weren't great, and boards pushed oil companies to focus on the most profitable projects, starting a supply constraint.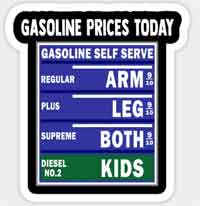 With the start of the pandemic, drilling was cut back even more, as most expected demand to shrink dramatically, with a severe recession that would reduce economic activity, and a stay-at-home/work-at-home economy that would together reduce miles-driven by truckers and consumers.
In fact, at one point early in the pandemic, with demand tanking and almost no oil storage available in the US, prices for few crazy days went negative, meaning if you owned a tanker of oil you had to pay someone off your hands.
But the economy recovered faster than expected - and demand ramped up much faster than supply could be turned back on. I will note some boards, major shareholders and even some company shareholders want oil companies out of the oil business due to CO2 concerns, further reducing the interest in investing in more oil output.
So oil started a steep march up, moving from around $17 per barrel in April 2020 to a hefty $93 in early February.
Then Russia's invasion of Ukraine at the end of that month sent an already fragile energy market reeling.
US oil shot to the highest level since 2008 on March 7, topping $130 per barrel. It's pulled back to about $112 right now - a level high enough to send gas and diesel prices to record levels. At this time last year prices were closer to $63.
Add to that US refining capacity is constrained, putting more upward price pressure on diesel and gas. In fact, there is a "diesel crisis" globally right now, with inventories at multi-year lows. The spread between what it costs a US refiner to buy the oil versus what it sells for is also at record high levels.
Also know the most recent refinery built in the US with significant capacity came online in 1977. NIMBY concerns, regulations and more work together to make building new refineries very difficult. You can add investor concerns that gas/diesel demand will perhaps soon drop sharply with the rise of electric trucks and other anti-fossil fuel forces.
So now every state has an average gas price of more than $4 per gallon for the first time on record, while California's average is now north of $6.
How many can afford that? Low income consumers and small and independent truckers are getting whacked financially. In April some transportation pundit said carriers could somehow navigate $4 diesel, but that $5+ would be a whole other matter. This week, diesel was above $5.50 per gallon on average.
So there you have it, how we got here. That and five bucks will get you a gallon of unleaded. It will take a recession to get prices back under control, but that sadly may be here soon enough.

What do you think Gilmore's column? Let us know your thoughts at the Feedback button (email) or section below.