Ukraine, the Economy and the Supply Chain Week 5
I must admit this week that I was somewhat less caught up in the Russian invasion of Ukraine and its impact on the economy and supply chain in the near and longer term, as things seem to be at something of a stalemate.
Let's start with this:
Writing in the UKs Financial Times this week, chief foreign affairs commentator Gideon Rachman said there were three ways the Ukraine-Russia war can end.
1. The war continues for many months.
2. There is a peace settlement.
3. There is some sort of political upheaval in Russia, involving the overthrow of President Vladimir Putin and a new approach to Ukraine.
GILMORE SAYS:
WHAT DO YOU SAY?'
Next, in a fine bit of irony, a giant Russian tank manufacturer shut down production this week due to supply chain disruptions.
Rachman says #1 is most likely; there is maybe a 30% chance for #2; and just a 10% chance for #3.

Why this is important is this: Rachman says that "As well as causing terrible casualties, a prolonged war would steadily increase the risk of escalation. The pressure on western leaders to intervene would increase as atrocities get worse. The US and European governments are likely to continue resisting that pressure. But stepped-up military assistance to Ukraine may blur the line between intervention and non-intervention - raising the risk of a direct clash between Russia and the West."

This is how a world war starts. Could Putin even engineer that by using chemical or biological weapons, after President Biden said Thursday the US would respond "in kind" if such weapons were used?

Also this week, Larry Fink, CEO of giant asset manager BlackRock, said Russia's invasion of Ukraine is reversing the long-running trend of globalization and upending the world order that had been in place since the end of the Cold War.


The war has "left many communities and people feeling isolated and looking inward," Fink said in a letter to shareholders, saying that is accelerating existing anti-globalization trends.
The obvious question: is this just in the short term or more permanently?
Oil prices were back up again this week, jumping to $118 per barrel for Brent crude at end of day Thursday, from $108 end of last week and $98 before the start of the war.
Consumers and truckers are of course paying the price at the pump for gasoline and diesel. The national average for a gallon of gas was $4.23 mid-week, and incredibly over $5 and $6 dollars in some parts of the country. As we reported last week, there is a growing diesel shortage world wide, and rising prices.
But of course, it's not just the price of fuel that is effected by rising oil prices.
"Oil trickles down to everything," Josh Lee, the financial chief for chemical distributor CJ Chemicals, told the Wall Street Journal this week.
As a example, oil of course is the basis of the many varieties of the still ubiquitous plastic, after it is first refined to something called naphtha.
The Journal article said Sumitomo Chemical Co., one of the biggest makers of raw-material plastics in Asia, is raising prices an amazing 20% on some products in April.
As others follow suit, or raise prices even more, the cost of everything from food packaging to automobile parts will surge, costs that will eventually be passed on to consumers in the end.
In other news and developments this week:

The FBI warned energy companies to be on the lookout for unusual scanning activity from Russian IP addresses.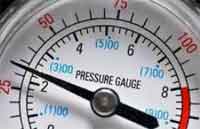 In an alert, the FBI posted 140 IP addresses it has identified that have scanned five US energy companies and at least 18 US companies in other sectors, including the defense, financial services and information technology.

''Present activity of these IP addresses likely indicates early stages of reconnaissance, scanning networks for vulnerabilities for use in potential future intrusions," the FBI alert said.
Next, in a fine bit of irony, a giant Russian tank manufacturer shut down production this week due to supply chain disruptions.
State-owned company Uralvagonzavod appears to have run out of parts to make and repair tanks. That according to a Facebook post by the General Staff of the Armed Forces of Ukraine, citing "available information."
Western allies, including the United States and the European Union, have ordered a complete halt to the export of certain components like microchips and more to Russia as part of an escalation package of sanctions.
Finally, as we've reported previously, Russia is a major producer of metals and minerals including palladium, cobalt, copper and nickel. A combination of Russia not selling or Western companies not buying has sent prices for these metals, used in cars, electronics and more, soaring.

While mining companies outside Russia are sitting on huge reserves of commodities that the world needs, years of underinvestment in new mines means they don't have additional production that can be brought on quickly. Look for upward pressure on prices for many items.


And as I say each week, it now seems clear that a return to somewhat normal times after two years of pandemic-driven supply chain disruptions, wild price swings and more is now unlkely any time soon, prolonging these strange supply chain times for who knows how long.


Any reaction to Gilmore's comments? Have any of your own? Let us know your thoughts at the Feedback button (email) or section below