Ukraine, the Economy and the Supply Chain Week 2
I am back for a second week with a latest look at the Russian war on Ukraine and the impact on the economy and the supply chain. Everything else kind of pales in comparison for me again this week.
And there is certainly no lack of material - the news is non-stop, and sometimes a little strange. For example, I did not know that the current star at New York's Metropolitan Opera was a Russian woman named Anna Netrebko. Or at least she was. Netrebko was forced out of the opera Thursday for not complying with the Met's condition that she repudiate her public support for Vladimir Putin.
GILMORE SAYS:
WHAT DO YOU SAY?'
"Supply chain leaders need to evaluate vulnerabilities based on different scenarios now, so they can start to create redundancies and alternatives," Gartner says.
That as almost anything connected Russia is being cancelled. More on that in a minute
It hard to know how significant the impact on oil and natural gas is going to be, after both were soaring in price before the invasion. Brent crude oil ended the day Thursday at about $110 per barrel, up from around $98 before the invasion. Most seem to think it will go higher - maybe much higher. Gasoline and diesel price are naturally also surging.
The oil analysts at Wall Street firm JP Morgan forecast this week that oil prices are likely to rise to $185 per barrel if Russia was to cut it oil exports in half - or various sanctions reduce the amount countries buy by from Russia by a similar amount.
Either scenario seems reasonably likely.
Then there is this: well-known oil industry expert Daniel Yergin of IHS Markit warned this week all this could lead to an energy market disruption on the scale of the major oil crises in the 1970s - not coincidentally a decade of economic stagnation.

"This is going to be a really big disruption in terms of logistics, and people are going to be scrambling for barrels," Yergin said. "This is a supply crisis. It's a logistics crisis. It's a payment crisis, and this could well be on the scale of the 1970s."
Is Yergin just exaggerating to get the coverage that kind of warning can drive? Let's hope so, but I doubt it - he is a very respected oil sector analyst.
Meanwhile natural gas prices are down from a brief recent high in late January, and also well below prices seen last September through most of December. But all those prices, including the current price, which is up modestly since the invasion, have risen an incredible four times the costs of a year ago.
What is that going to do? Because natural gas is a key ingredient in fertilizers, it means costs for farmers are also going to soar this growing season. And there is really know alternative to using fertilizer. And that means costs for food are also going to soar, after already rising rapidly in the past year.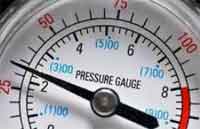 Most consumers I expect have any idea this next wave of food price hikes is coming.
Some other related news:
Oil companies BP and Shell - both based in the UK - each announced this week they were pulling out of joint ventures with Russian oil and gas companies. The moves are costly ones - as much as $25 billion for BP, and $3 billion for Shell. Also, Exxon Mobil said it is halting operations at a multibillion-dollar oil and gas project in Russia.
Global container shipping giant Maersk announced that it would temporarily suspend all shipments to and from Russia by ocean, air and rail, with the exception of food and medicine. Other major ocean carriers, have announced similar suspensions. These moves will hit imports and exports and damage the Russian economy.
DHL suspended transport of inbound shipments into Russia.
Caroline Bain, chief commodities economist at Capitol Economics, said financial sanctions against Russia were halting the trade of metals and agricultural commodities, exacerbating existing strains in global supply chains.
Ukraine and Russia are both substantial sources for palladium and platinum, used in catalytic converters for automobiles, as well as aluminum, steel and chrome.
By the middle of this week, nearly a dozen global auto makers had suspended business in Russia, some shutting factories indefinitely.
My question: Will all these companies return to Russia once the ruthless invasion is over?
After closing for now two factories in eastern Germany, Volkswagen has said production would soon be affected at its flagship plant in western Germany because of missing parts from Ukraine, notably electric harnesses.

The analysts at Gartner said this week that they see six supply chain issues organizations will face if the war in Ukraine continues on:

• Key material shortages
• Material cost increases
• Production capacity impacts
• Demand volatility
• Logistics route and capacity constraints
• Cybersecurity breaches
"Supply chain leaders need to evaluate vulnerabilities based on different scenarios now, so they can start to create redundancies and alternatives," Gartner added.
There is a lot more, but think that is it for this week. I sure hope I am on a different topic next week.
And as I said previously, it now seems clear that a return to somewhat normal times after two years of pandemic-driven supply chain disruptions, wild price swings and more is now unlkely any time soon, prolonging these strange supply chain times for who knows how long.
Any reaction to Gilmore's comments? Have any of your own? Let us know your thoughts at the Feedback button (email) or section below.