State of the Logistics Union 2021
The Council of Supply Chain Management Professionals (CSCMP) and partners Kearney and Penske Logistics are out yesterday with the 2021 State of Logistics Report, looking at 2020 data.
It is a mammoth effort, and one which takes six months from the end of the preceding year to produce the report in mid-June. The result of that time lag, seemingly unavoidable, is that the review of what happened in the previous year halfway through the current one makes the data modestly stale.
GILMORE SAYS:
WHAT DO YOU SAY?'
Since 2011, US logistics costs have ranged between jut 7.36% and 7.83% of GDP, rather remarkable stability, it seems to me.
But this year that impact is especially impactful given that the recovery from the pandemic is accelerating, off a very strange year in 2020.
The oddness in part relates to a year in in 2020 which overall logistics costs and volumes were down due to deep drops for a few months at the start of the pandemic, while by the end of the year transport costs, especially for ocean shipping, were soaring, making the full year numbers somewhat misleading.
That said, the headline news: what the report several years back started calling US Business Logistics Costs (USBLC) fell sharply on an absolute basis in 2020, down 4.0% to $1.55 trillion.

With a smaller decrease in US GDP (-3.5%) than logistics cost fell last year, that took the relative cost of logistics as a share of GDP to 7.44%, down bit from 7.57% in 2019.
As shown in the graphic below, that put logistics's share of GDP back to 2017 levels, after a bit of a run-up in 2018 on rising freight costs.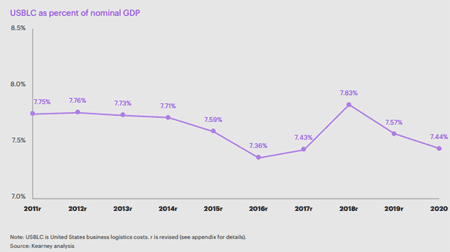 See Full Size Image
Since 2011, US logistics costs have ranged between just 7.36% and 7.83% of GDP, rather remarkable stability, it seems to me.
That said, I guess you could say we are seeing some progress in driving logistics costs down. Despite the modest jump in 2018, costs as a share of GDP in general have been trending down over the past decade, and that seen even with the high costs of rapidly growing ecommerce fulfillment embedded in the numbers.
To get to this key ratio, you take the amount of US logistics costs - from trucking to pipelines - and divide it by annual nominal (not real) GDP numbers. Voila, logistics costs as a percent of GDP emerges. The methodology must use nominal not real GDP as the denominator because the costs for the year are compiled in nominal terms, not inflation adjusted.
The peak in the past 15 years was 2007 (not on chart), when logistics costs hit 8.59% of GDP, close to where it was in 2008 (8.5%) before taking a steep drop in the recession year of 2009 to 7.4%. I will note the 2007-08 numbers were calculated using a somewhat different methodology than is being used now, meaning that the comparisons of those numbers to recent years is somewhat flawed, though I doubt by much.
This is now the sixth report produced by consulting firm Kearney. Six Kearney consultants are cited as the report's authors. Usually, a number of contributors from industry are also called out too, but I cannot find that list this year, and there are usually too many to call out in this column anyway.

This is actually the 32th edition of the State of Logistics report, which was launched in 1988 by the late Bob Delaney and sponsored by his company, Cass Information Systems. Somewhere along the way, CSCMP took over the sponsorship.
Again this year, Penske Logistics funded the report development. For many years, the results were released at a major media event at the National Press Club in Washington DC. As in 2020, that didn't happen again this year, with a web event launching the report on Thursday.

Kearney says the average annual growth in logistics costs - again including inflation - is 2.4% over the past five years. My calulation is that nomnal GDP growth over the past 5 years is 2.8%, suggesting logistics cost have been rising a bit below the growth in the economy.
Underneath the overall logistics cost number, transportation costs - the largest single component of USBLC at 68% of the total (versus 65% in 2019) - was up just 0.8%, and again an average of 3.0% annually over the past five years.
The second component, inventory carrying costs (24.5% of the total, versus 27.8% in 2019), was down 15% last year under the report's calculation, which includes the cost of warehousing and inventory levels but also the cost of capital (which drives the cost of holding inventory). Usually, there is some commentary of what factors drove the change in carrying cost, but I cannot find such explanation in the short time I had this week to put this review together. I do know the US inventory-to-sales ratio fell sharply starting in May last year, and I will thus assume inventories were down overall, sending carrying costs down.
Not sure on cost of capital, but believe short term  interest rates were down too.
"Other" costs - always somewhat vague and mostly related to certain IT expenses and some services such as freight forwarding - were down 4.9%, though this is by far the smallest of the three main categories at just 7.5% of the total number (versus 7.9% in 2019).
You can find the full breakdown by logistics cost bucket in the chart below: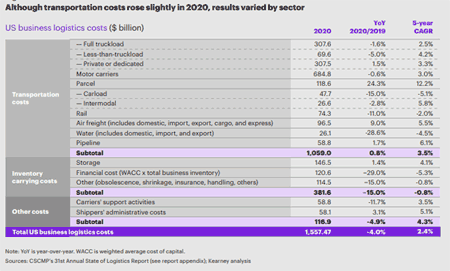 Within transportation, trucking-related spend (including private fleets but excluding parcel) comprise 64.6% of total transport costs and 44% of total logistics spend, up from 41.7% in 2019.
Parcel shipping costs were estimated at $118.8 billion, up an incredible 24.3% over 2019. That represented 11.1% of total transport costs and 7.6% of total logistics spend. Over the past five years, parcel costs have risen by 12.2% on average. That's a bit below ecommerce growth, but remember historically B2B shipments have been the majority of the US parcel business.

At $74.3 billion in 2020, rail comprised 7.0% of transportation spend - down from 7.9% last year. Rail was also 4.7%, of the total logistics costs, down from 5.1% in 2019.
The US thus spent about $44.3 billion more in parcel shipping than it did in rail transport last year - way up from a delta of $30.5 billion in 2019.
In terms of growth in spending by these various categories, the 5-year average annual growth rate in costs by mode or cost category are as follows, according to the report:

• Truckload: 2.5%
• LTL: 4.2%
• Private/dedicated fleet: 3.3%
• Trucking combined: 3.0%
• Parcel: 12.2%
• Rail: -2.0%
• Air freight: 5.5%
• Waterways: -4.5%
• Warehousing: 4.1%

There are some significant changes in some of these CAGR numbers from the 2020 report, and I am not sure what caused these changes in just one year. I suspect the issue is actually revision of the prior data.
With overall tranport costs rising 3.5% per year over the past five years, comparing the rise in any specific areas versus that 3.5% overall number will indicate whether a category gaining or losing share of total spend (note: that is not the same as tonnage share changes, though I suspect the numbers would be similar).

The report has a lot more detail on each mode and cost bucket, as well as on the overall economic and logistics environment, which I don't have room for here.
The report also includes special sections on supply chain resilience, control towers and sustainability. I will review these in a follow up column. But my first reaction is that there is less of this add-on material than in recent years.
My bottom line view: The report is usually released on a Tuesday, giving me a few days for an end of week review. This year, I had only one day, so I am still sorting through all the material.
That noted, Kearney and CSCMP continue to improve this report, and it is well worth a read. It continue to improve in integrating current trends and data with last year's numbers that are the heart of the report.


CSCMP members can already download a copy for no charge, and others purchase one for a modest fee. I recommend it.

Any reaction to our summary of this year's State of Logistics? How could the report be improved? Let us know your thought at the Feedback section below.