A Look at the 2021 MHI Annual Report
Not that many years ago MHI - formerly the Material Handling Association of America, a trade organization for materials handling related vendor of all kinds, from fork truck makers to robots to warehouse software and much more - used to produce an annual report that focused on the state of the equipment market.


Meaning the emphasis was on the size and growth of the market for all those types of equipment individually and overall, using in part a model for the very cyclical nature of the material handling system market.

GILMORE SAYS:
WHAT DO YOU SAY?'
It seems to me categories such as cloud computing, drones, wearable technology and others have relatively impact on resilience.
After George Prest oved up to CEO of MHI in 2011, he led a clear move to position MHI as a source of thought leadership and to connect materials handling to the broader supply chain. A few years later, MHI, in partnership with the consultants at Deloitte, changed the annual report dramatically, consistent with the broader thought leadership bent. That continues under still relatively new MHI CEO John Paxton.

Whatever the style, the reports have been issued at the time of each year's major MHI trade show, ProMat in odd number years (held virtually just a few weeks ago for 2021), and the MODEX show in the even years. I just downloaded my copy this week.

Here is a summary of that report, this year titled "Innovation Driven Resilience" I hoped to find just what that meant.
You get some idea right away, with the report noting that "To better position themselves for an uncertain future, leading companies are aggressively applying lessons from the past year to improve their supply chain resiliency."
It adds that this year's survey found that 49% of supply chain leaders have accelerated spending in digital technologies to make their operations more responsive and forward-looking. Just where companies are making those investments is illustrated in the chart below, presented in the introduction to the report.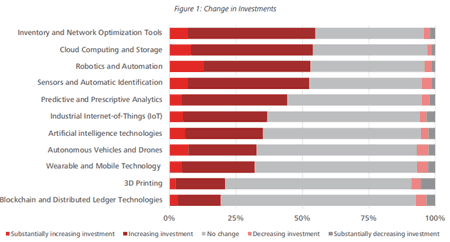 Source MHI
As can be seen, "inventory and network optimization tools" (not, I will note, the same thing at all), got the highest percent of investment, with about 55% of respondents saying those areas are seeing increased spend. That was ahead of number 2 cloud computing and number 3 robotics and automation, both with just over 50% of respondents saying investments were increasing.


I have no doubt the survey data is largely accurate. My question is this: are these investments really geared towards increasing resilience, or were the real drivers what they have always been - cost reduction, improved customer service, etc.? It seems to me categories such as cloud computing, drones, wearable technology and others have relatively little impact on resilience.
Network design tools and artificial intelligence can certainly impact resilience, but again was that really the catalyst?

And here is a possibly a controversial view: I think the whole supply chain resilience movement is overdone. More on that in these pages sometime soon.
That said, still in the introduction section, there was this chart on the top supply chain applications for so-called predictive analytics: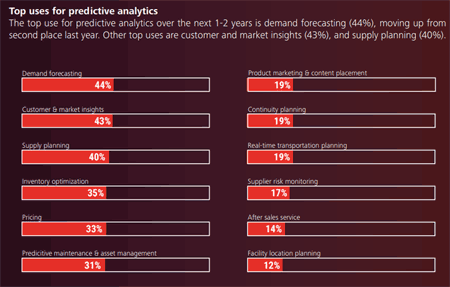 Source MHI
Nothing too unexpected there.
That takes me through the report introduction, so I will end it here for this week. I'll be back next week with part 2 and the rest of the MHI report.

What are your thoughts on the MHI 2021 report? Let us know your thoughs at the Feedback section below.