The all-digital ProMat DX 2021 event was held on-line this week. It's actually still going on, running through Friday April 16.
There is a certain amount of irony in that.
ProMat is a decades old and very large trade show produced by MHI, formerly the Material Handling Institute of America, an industry association that represents the interests of the materials handling vendor community, which ranges from conveyor and similar hardware vendors to software providers in areas such as Warehouse Management Systems to fork truck makers to consultants in the sector and many more.

GILMORE SAYS:
WHAT DO YOU SAY?'
I have heard MHI is really pushing MODEX 2022 and that demand for booth space for what everyone assumes will be a physical show is strong.
ProMat is normally held about this time every other year (odd number years) at giant McCormick Place in Chicago. A sister MHI show, now called MODEX, is held in held in the even years in Atlanta, which in 2020 brought some drama.

MODEX began March 9, 2020, literally just a week or so after news of the coronavirus hitting the US was just breaking, first at a nursing home in Washington state, followed next by reports of some spreading to other areas.
Material handling giant Dematic and a few other exhibitors announced they were pulling out of the show, just days before it started. I frankly thought there would be many more.
MHI had to make a tough call on the show. In what must have been a very interesting discussion, they decided the show will go on. And it did, in a sort of eerie environment, with the number of attendees way down, and elbow bumps or head nods instead of handshakes (but no masks yet), and no one sure if this was such a good idea, with lots hand sanitizing and washing. I was thrillled to get back home.
That had to have made MODEX one of the very last U trade shows or conferences of any type or sector held in person in 2020. From that point on, all such events were cancelled - or held as virtual events.
Fast forward to December 2020. MHI again has to make a call on ProMat 2021. But this time it's a pretty easy decision. The pandemic is still raging. State and local laws wouldn't allow the event anyway.

So the news was it would be ProMat DX - for "digital experience" - an on-line only show. This in itself is challenging and problematic, because a key driver of ProMat's physical show attendance (30,000+) is the chance to see material handling and other automation equipment in person, with large vendors sometimes spending hudreds of thousands of dollars to create booth with large working sytems.
And the slight bit of the irony mentioned above: MODEX went on with a physical show just as the pandemic was exploding, while ProMat is a virtual event only just as we seem to be getting on the other side of the virus.
For now almost 20 years of Supply Chain Digest, I have covered shows and conferences of all sorts under the banner of "Trip Reports." Last year, as I covered some events from the comfort of my home office or living room, I changed that to "Couch Reports" instead.
So as I did last fall in my Couch Report for the virtual CSCMP Edge conference, I am going to provide some sense of the experience through a series of screen captures from the show.
I will say this: from a technology perspective the on-line show was impressive. I am not sure what combinations of virtual show platforms MHI used, but it was the best tecnology I have seen, as the virtual show sector continues to advance.

For those not attending ProMat DX or on-line shows generally, at this event once you logged in you navigated the show through this screen plus the menu bar across the top.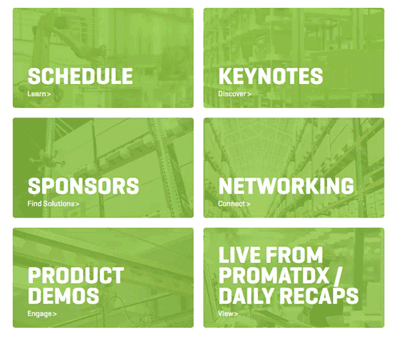 Click on "Schedule" and you went to the page below, where you could see a schedule for each day's single keynote presentation, vendor virtual "booths," educational seminars, short vendor video "demos" and more. At the bottom of this image, you see the time and description of one of the many seminar sessions.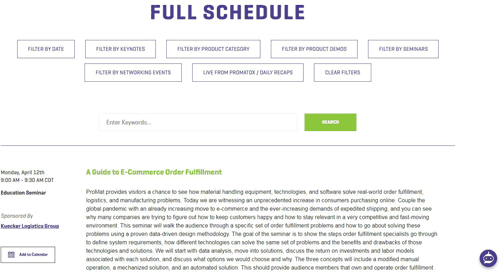 So I will first say the organization effort here was massive. There are usually about 900 exhibitors at a ProMat show. I don't know many signed up for the virtual version, which was more of a vendor "showcase" than looking like a digital trade show booth, as most platform do, but it was surely hundreds of companies. At the showcase page for each vendor, you could download brochures, white papers, etc., watch vendor videos, and have live chat sessions with vendor personnel during specified hours.
While vendors themselves do most of the work on this, much support and handholding from MHI was surely needed.
All the keynotes, hundreds of educational seminars (all from vendors) and the short demos were pre-recorded, and set up in "pseudo-live mode, meaning that even though they were actually on-demand videos that started at a specified time. The vendors themselves created and uploaded videos, incorporating slides if they wanted. Many appear to just have recorded zoom presentations.
The four keynote not videos were professionally edited and looked very polished.
Coodinating and scheduling all this video content have been a major effort.
I will also note there was attempt at "matchmaking," in a function where you could in effect register your presence and requet meetings with others at the show, as seen below: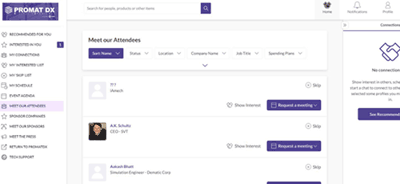 Given all that, my summary ProMat DX thoughts:
• Again, highly impressive show technology, with what must have been a super-human effort to pull t all together.
• As with other virtual shows I have attended, I am not sure the vendor exhibits/showcases saw much traffic, with a mediocre experience at the virtual booths, and I am not sure what can be done about that.
• Also don't believe the matchmaking service was much uses- tough to drive activity. Most registrants appeared to be vendor personnel.
• MHI did as best as it could, but especially for this show, obviously virtual just isn't the same as physical.
I have heard MHI is really pushing MODEX 2022 and that demand for booth spacef or what everyone assumes will be a physical show is strong.
That said, I predict virtually all re-opened physical conferences and shows will have a virtual component going forward. How that will affect phyiscal show attendance will be the huge question for event producers and exhibitors.
Did you attend ProMat DX? How was your experience? Any recommendations on virtual shows? Let us know your thoughs at the Feedback section below.