The Long Term Supply Chain Impacts from COVID-19
Are we near the end of the COVID-19 era?


That is still far from clear, with many reasons to optimistic (e.g., vaccine development and growing distribution, declining infection rates) but also concerns new virus strains may not be stopped by those vaccines and also might be even more contagious than what we've already seen.
Predictions in this regard are all over the map.
GILMORE SAYS:
WHAT DO YOU SAY?'
Cost reduction and increased throughput continue to be the main drivers of automation - but the virus also led companies to realize the machines don't get sick.
That said, I believe we are near enough to an end of sorts that we can assess now the permanent impact of COVID-19. Many of the changes are simply accelerations of existing trends, but a few new supply chain impacts appear to also be in play.

Here's the most important changes I see:
Focus on Supply Chain Resilience - Maybe: There is certainly no shortage of punditry pushing the idea that companies need to improve resiliency in the of face of wide swings in supply and demand under than the pandemic. Just search "supply chain resilience" or similar phrase and the slew of results will speak for themselves.
A recent survey by Gartner found that 87% of respondents plan investments in supply chain resiliency within the next two years. Another 89% said they would invest to increase supply chain agility, though the difference between the two is not clear.

"Supply chain executives overwhelmingly recognize the necessity to make their networks more resilient and agile," said Gartner analyst Geraint John in commenting on the results.
I'll take these survey results as accurate, and accept most companies do intend to increase resilience - however that might be defined.
Here's the rub: resilience is generally far from free. So if we soon get on the other side of the pandemic, will companies really invest in ways to increase resilience - such as bulking up on inventories, as one example - on the mere possibility of a similar major disruption in years ahead?

This is an unknown, but history suggests No. So whether a focus on supply resilience beyond what was being done before the pandemic is a possibility, it is far from a certainty.
Changing Consumer Behavior: As consumers change their behavior, the supply chain must adjust.
It's no secret that on-line sales soared during the pandemic, up 44.5% in Q2 2020, 36.6% in Q3, and 32.1% in Q4, according to data from the Commerce Dept. That at one level is simply an acceleration of an existing trend - but there is a huge difference between what seemed like robust ecommerce growth of 14-15% each quarter to now 30%+.
Among the ramifications:
• Continued pain and store closings in some retail sectors, notably mall retailers.
• Growing number of brand companies (out of opportunity or necessity) pivoting from sales through retailers to direct to consumer (DTC), a move led clearly by Nike, but with similar moves by Under Armour, Coach, Levi's and more.
• Accelerated need for local delivery/pick up options - Target's acquisition of Shipt in 2017 looks increasingly smart. At my local Kroger, I have to increasingly fight for aisle space with workers and giant carts picking on-line orders, while many large retailers are installing so-called microfulfillment systems in store.
A Move Away from China Sourcing: Obviously related to the focus on resilience, the pandemic exposed additional risks both to companies and the countries in terms of over-reliance on China for supply.
Just last week, President Joe Biden signed an executive order directing a broad review of American supply chains for critical products including semiconductors, pharmaceuticals, automobile batteries and rare-earth elements, which are crucial to tech and defense, aiming to reduce reliance on countries such as China.
Then there's this - according to Willy Shih: of the Harvard Business School, "Manufacturers worldwide are going to be under greater political and competitive pressures to increase their domestic production, grow employment in their home countries, reduce or even eliminate their dependence on sources that are perceived as risky."
Shih notes, however, that reducing dependency on China will be easier for some products (furniture, clothing, and household goods) than others (sophisticated machinery, electronics, precision castings).
We'll see on this one too. The predicted wave of "reshoring" a number of years back never materialized. And moves away from China now may simply be to other low cost countries, not back to Western economies.
Increased Automation: In another acceleration of an existing trend, the pandemic has clearly increased interest in and adoption of robots and other forms of automation in manufacturing and distribution.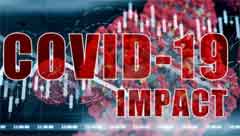 For example, many may not know that demand for materials handling systems in distrbution is so strong right now that there is almost a crisis level lack of controls engineers that write PLC programs that the conveyors need to operate.
Cost reduction and increased throughput continue to be the main drivers of automation - but the virus also led companies to realize the machines don't get sick. Combine that with an on-going labor shortage, and the automation trend will remain powerful.
Amazon Dominance: As ecommerce accelerates Amazon continues to gain share, and where this winds up is hard to forecast. At some point though, someone in government may say that's enough - though consumers hooked on Amazon Prime may push back
There's more: growth in contactless payments, more Amazon Go type stores, work space design in manufacturing and distribution to force social distancing and more.
I believe the world will get back to something like normal by summer - but many supply chain changes wrought by the virus are here to stay.
Any reaction to these permanent virus trends? Let us know your thoughts at the Feedback button below.