Thoughts on MHI Acquiring WERC
About two weeks ago, MHI (formerly the Material Handling Institute of America) announced it was acquiring the Warehouse Education and Research Council (WERC), a professional organization.

At one level, it is minor and not surprising news. But it could have some larger ramifications, and I thought it would make sense to use this news to offer some thoughts on this deal specifically and the supply chain/logistics sector's trade and professional associations more generally.
From a broad perspective, as with almost everything, the virus pandemic has had an impact on such associations, not only in supply chain and logistics but in every domain, mostly to the negative. However, that may also be in part a continuation of trends already in play.
GILMORE SAYS:
if I am right, the MHI acquisition could in the end be a big deal for the industry, depending on MHI's moves from here.


WHAT DO YOU SAY?
So let's review some basics, which many may know but some may not.
At a high level, trade and professional organizations are of one of two types:

1. Organizations driven primarily by individual memberships
2. Organizations driven primarily by company/corporate memberships
Supply chain organizations driven primarily by individual memberships include: the Council of Supply Chain Management Professionals (CSCMP); WERC; the Association for Supply Chain Management (ASCM), formerly APICS; and the Institute for Supply Management.

Organizations driven by corporate membership include: MHI; NASSTRAC; the National Industrial Transportation League (NIT League); and a slew of sector organizations, such as the International Warehouse Logistics Association (IWLA - for 3PLs); the National Retail Federation (NRF) and the Retail Industry Leaders Association (RILA), which both offer supply chain services/education; and many others.
I will also note the recent rise of some women-focused groups, such as the Women in Manufacturing Association and AWESOME, both generally focused on individual membership.
Yes, these lines are a little blurred. Most organizations that are individual membership-focused offer some form of corporate memberships as well, but generally as a side line, or as a way to give companies incentives to acquire multiple individual memberships at a discount.
Another important note: in general, organizations with the individual membership model naturally enough focus on personal education and knowledge, while those focused on corporate members can be focused not only on education but also activities that benefit member companies, such as '"growing the pie" for their sector, and or "advocacy" of various kinds attempting to influence government policies.
Some of the individual-based organizations also maintain local chapters or roundtables of various sorts. But already in decline, and of course with such local meetings suspended in the pandemic, whether that model survives remains to be seen.
There are other hybrid organizations, such as the Health and Personal Care Logistics Conference, which has individual memberships but also does advocacy work for that sector as well.
Got all that?
The organizations that focus on individuals have seen slow but steady declines in memberships for a number of years. That has a direct impact on organization revenues, and an indirect impact by reducing attendance at their annual conferences, through which they drive most of their cash.
Corporate-focused organizations have in general fared better. MHI, for example, has seen strong membership numbers along with the growth in spending on automation in warehouses and factories, and as a result record breaking numbers of exhibitors at its major trade shows.
MHI held its MODEX show in Atlanta the US the second week in March. I believe if the conference had been scheduled to start two or even one day later than it was, it would have had to be cancelled, as the virus was breaking out across the US. But the show went on, albeit with attendance way down – MHI was able to cash all those exhibitor checks.
Even with the so-called retail apocalypse, the NRF show in New York City in January also enjoyed a new record of filled exhibit space.
Meanwhile, WERC, CSCMP, ISM, ASCM, and everyone else had to cancel or revamp their conferences into virtual events, as CSCMP is doing with its EDGE conference in late September, right around the corner.
As with virtually everyone sector, there has been consolidation in the supply chain organization ranks.
It started in 2014, with the then APICS acquiring the Supply Chain Council, which was focused completely on the well-known - at least then - SCOR process model. It was company membership focused. As a side note, I personally at least hear very little of SCOR since then.
In 2018, CSCMP in effect acquired NASSTRAC, an organization focused on education for its mostly large shipper members – but which also provides advocacy services for the shipper community. That now gave CSCMP an advocacy presence for the first time. In 2019, the annual NASSTRAC conference, which was seeing modest declines in attendance over time, was moved to be an adjunct to the much larger CSCMP conference.
And now comes the MHI-WERC acquisition. With CSCMP-NASSTRAC, it was an individual membership organization acquiring a corporate member model. Conversely, company-focused MHI has acquired individual member-oriented WERC – though membership was down to some 750, well below its best days. I have heard with good authority finances at WERC were not good.
So, how is this MHI-WERC thing going to work? How can the divergent models be rationalized? What is the strategy?
I have some ideas on this on this, but first I asked my friend David Schneider of David K. Schneider & Company for his perspective, as I often due on such industry matters: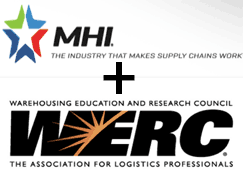 "MHI needs more fresh blood in the membership, the end-users, to complete the virtuous loop of commerce with membership material handling system providers," Schneider said, adding that "WERC has the educational heft that MHI misses."

What does the average WERC member gain from the merger?

"An organization that survives is one answer. Perhaps a more influential organization? I hope so," Schneider also commented.

I have noted a number of times over the years MHI's interest in becoming more of a force with companies and individuals outside its vendor membe base – and with some resources that could be deployed to do so.

A few years ago, MHI started to make a bit of a run at it, revamping its annual conference from one focused around needs of members with a push to get individual supply chain practitioners there, with an agenda and presenters that were pretty compelling.

But to really make that happen would take a lot of spending, and frankly from my view the conference for a couple of years took a step backward, hurting some of the momentum it had gained.

It seems likely to me that two things will happen now:
1. MHI will use its resources to try and rebuild the WERC membership ranks.

2. It will in some way combine the annual WERC conference with its own to connect MHI more directly to companies and individuals beyond its materials handling company base and try to get the numbers up.
I had some questions relative to MHI's strategy into the organization, admittedly at short notice, and they are sending me an email, but too late for the response to make it into this column. I will post MHI's comments in a blog when they are receive.

So, if I am right, the MHI acquisition could in the end be a big deal for the industry, depending on MHI's moves from here. Would love your thoughts.

I wish all our supply chain organizations success. They provide valuable services, and more of us need to participate/get involved in at least one of them.
Any reaction to Gilmore's thoughts MHI acquiring WERC? Let us know your thought at the Feedback section below.