What Companies in the Gartner Top 25 Supply Chains are Doing
The well-known Gartner Top 25 Supply Chains list was released in May as usual, even if its conference where it is usually unveiled was postponed because of the virus until later this fall.
I reviewed the list and explained the methodology in one column (see Understanding the Gartner Top 25 Supply Chains 2020), then raised some questions relative to the methodology - which Gartner itself notes are common - in a second column (see The Gartner Top 25 Supply Chains Part 2).
I am going to take one more bite out of the Gartner apple with a last couple, as follows: Gartner now provides some discussion of what each company in the special "supply chain masters" category and the top 25 are doing in supply that contributed to their selection to the lists.
GILMORE SAYS:
Outside the top 25, crowd favorites include Toyota, Adidas, Heineken, Costco, Target and Dell Technologies.


WHAT DO YOU SAY?
It is quite a bit of material - I will save you some time by summarizing some of the highlights, starting with a few of the five companies in the supply chain masters list.
Gartner says that McDonald's runs innovation days that include suppliers as part of a broader effort to continually improve menu offerings and supporting processes. Gartner also says that McDonald's supply chain is using its scale for good. For example, in partnership with suppliers and non-corporate partners, the company is focused on sustainable sourcing, decreasing packaging waste and reducing carbon emissions.
Gartner says Procter & Gamble is using algorithm-based decisions for product phase-in and phase-out. The new optimization is saving millions of dollars and allowing it to reduce time spent on supply chain initiative planning. The supply chain innovation has boosted analytics efficiency by 90%, reducing the weekly analysis time to less than five minutes. I would like to learn more about that.
P&G rival Unilever is also making planning improvements, Gartner says. More specifically, it is building a more responsive planning organization and using innovative new technologies to enable shorter and more agile planning cycles that shorten lead times and reduce inventory. It is also using database crawlers and AI to comb through millions of deliveries and thousands of suppliers to spot potential risks or shortages.
In the top 25, number 1 Cisco is focused on "circular" design in terms of material use, packaging, energy consumption, repair and reuse. The company has a goal to have all new Cisco products incorporate circular design principles by fiscal year 2025.
Number 3 Johnson & Johnson has something it calls the Supply Chain Innovation Engine, located in New Brunswick, NJ. It's a physical space that allows collaboration between J&J's supply chain team, key partners and external experts. People who work there prioritize disruptive ideas that will improve healthcare.
Interestingly, Gartner cites number 4 Schneider Electric for its openness to share what it is doing in supply chain. "With its presentations in supply chain conferences, YouTube videos and a great number of articles about its supply chain journey, the company embodies the concept of Gartner Supply Chain Top 25," Gartner says. Those companies interested in cracking the top 25 take note to one key to improving your standing. I have for many years commented that presenting at the Gartner supply chain conference will increase your chances enormously.
Chinese ecommerce giant Alibaba came in at number 7, and among other accomplishments, Gartner notes Alibaba's Freshippo (known as Hema in China) grocery-focused concept stores can achieve order picking from store and delivery to consumers in as little as 30 minutes.
Number 10 L'Oreal has focused on master data management (MDM) to enable business intelligence as the key to making supply chain decisions, with advanced analytics and AI to drive supply chain performance improvements. Additionally, L'Oreal is working to accelerate product development through the use of 3D printing, digital simulate and "connected assets" (IoT).
I found this a bit odd: Gartner calls out number 12 HP Inc. for showing "solid financial performance, with revenue up by 0.49% in 2019." Solid performance equals flat growth? Not sure on that one.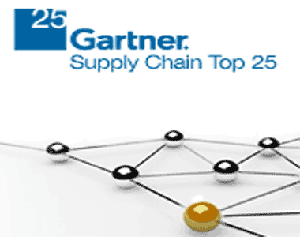 Number 14 Diageo is cited for it progress in procurement, focused on simplification, supplier partnership and business engagement. That includes new best-in-class digital capabilities that allow data-driven analytics, Gartner says. The company has also built a new supplier relationship management framework that is enabling end-to-end supply chain engagement on sustainability and collaboration.

Number 18 automaker BMW is cited by Gartner for being able to offer customers extensive choice and respond to changing market situations and regional demand. For example, more than 20,000 interior variants are possible with the BMW 3 Series. I will note that adds a lot of complexity.
Gartner says that number 19 Starbucks is increasingly using China as a test-bed for new emerging consumer-driven efforts. For example, it has a last-mile delivery partnership with Alibaba's Ele.me that has been used as a model for the deployment of online order delivery in the US that it started in 2019.
Number 20 apparel retailer H&M is going something interesting, Gartner says. It is opening up its global supply chain operations through a newly established B2B service called Treadler. Through Treadler, H&M can offer access to its global supply chain as a service to external companies, which can benefit from H&M's expertise, long-term supplier partnerships and strategic sustainability work. This allows smaller brands that use the service to leverage H&M and its suppliers for everything from product development and sourcing through to production and logistics. I would like to know more.
Number 24 and surprising top 25 member Biogen is called out for pursuing digital technology as a means of creating external connections. Gartner says that at a time when most digital initiatives in the industry are focused on products, Biogen is instead looking to create value by enabling better information flow across its supply chain.
So those are the highlights worth noting - barely enough to fill up a column. I will observe that virtually every company in the lists was cited for various sustainability initiatives. There are probably two reasons for this. First, a growing orientation in the top 25 process to sustainability efforts. Second, most companies happily share publically their progress in this area, while often much more reluctant to go public with core supply chain innovations.
I did not much summarize here those sustainability call outs because there were just too many and they were to an extent repetitive.
Also noteworthy, at the end of the Garner report was this: "Finally, we would like to highlight some of the companies that are not on the global Top 25 list but received higher than average peer votes from the Supply Chain Top 25 peer opinion poll. These crowd favorites include Toyota, Adidas, Heineken, Costco, Target and Dell Technologies."
Once more I will say: The Gartner Top 25 Supply Chains - It's far from perfect, but it's the best we've got.

Any reaction to Gilmore's column on the Gartner Top 25? Let us know your thought at the Feedback button below.