The Thin Supply Chain Line for April 30, 2020
Five weeks ago, I wrote a column titled "The Thin Supply Chain Line," which argued that we are seeing supply chains that for now are mostly managing to keep grocery store shelves filled with food and other products - with the exception of course of toilet paper - and now it appears meat too.
But it is a complex process across numerous supply chain functions, from global sourcing to store replenishment, to keep that flow of goods happening - and right now the supply chain line is stretched very thin indeed, with many pressure points and risks.

So for a while in this weekly column I am going to report on the past week's news and developments in the thin supply chain line - because who can think of anything else right now?
GILMORE SAYS:
"Nobody can survive six months like this," he said. "How can I pay my guys, the payments on trucks, the insurance?"


WHAT DO YOU SAY?
I will start with this: in the past 1-2 weeks, there has been a notable shift in general media coverage of the crisis away from the public health perspective to supply chain and more importantly, the near and mid-term impact on the US economy.
That as the virus numbers to an extent are flattening out - though whether that will continue with many states "opening back up" is the trillion dollar question of the moment. The idea of starting back to beginning of this thing is almost too painful to consider.
Most will have heard by now that Q1 US GDP was in the toilet, down in the first estimate (which often does later change) by 4.8%, the worst since the 8.4% contraction if the first quarter of 2009.
But Q2 is expected to be far, far worse, with some 30 million having lost jobs and most sectors of the economy at a standstill.
Gregory Daco, chief U.S. economist for Oxford Economics, said the Q1 decline is "only the tip of the iceberg," while White House economic adviser Kevin Hassett warned this week that the second quarter could reflect a 20 to 30% decline - something that has not been seen since the 1930s Great Depression.
Many economists are now predicting growth in Q3, but that will be off of the collapse in Q2, not versus 2019, a comparison that will be very negative.

Just how bad it will get and if the the recovery will be U-, V- or W-shaped I have no idea, but I am doubting a V right now.
Ok, so the thin supply chain news this week was all about meat, as a number of processing facilities (some two dozen) have had to close due to worker infections - or workers just not showing up.
That led meat giant Tyson Foods to take the unusual step of buying full page ads last Sunday in the Washington Post, New York Times, and a local paper in the company's home state of Arkansas, coming in the form of a long letter from board chair John Tyson (See our Supply Chain Graphic of the Week.)

Tyson said closure of food-processing plants due to the coronavirus is "breaking" the supply chain - and that there would soon be shortages at retail.
That's not due to a lack of source material.
Tyson said farmers will be left without anywhere to sell livestock and "millions of animals - chickens, pigs and cattle - will be depopulated because of the closure of our processing facilities."
That is already happening big time. A chicken farm in Delaware was forced to kill 2 million (!) chickens because it had nowhere to send the birds and they were starting to get too many for the chicken houses there to hold them.
Meanwhile, the pork industry and agricultural regulators are discussing the prospect of euthanizing hundreds of thousands of pigs because many hog farmers have nowhere to ship their product. Options include finding empty buildings where hogs can be put down with carbon dioxide gas. What a world we now live in.

Against that incredible backdrop, the Trump administration announced this week it was using the Defense Production Act to order the meat factories to stay open, declaring them critical infrastructure.
But the order can't force workers to show up for their shifts - and determine the balance for consumers like me and you between keeping the meat flowing to shelves and not wanting it shipped from a plant full of sick people. As I reported last week, officials in Iowa City blamed a major virus outbreak in the area on infections from plant workers.
And workers and supporting labor groups are increasingly protesting the lack of adequate safety protections.
"Tensions are escalating at food plants between essential workers who feel pressure to stay on the job through the coronavirus pandemic and their employers, who are striving to maintain the country's food supply chain without interruption," the Wall Street Journal reported this week.
And it's far from only at meat plants.
For example, at a Mission Foods tortilla plant in Mountain Top, PA, so many workers stopped showing up that on a recent day less than half of the lines were running and the plant was operating at just 32% of capacity. A thin supply chain line indeed. At least 109 out of about 500 employees at the plant have tested positive, according to company notices reviewed by the Journal.
One positive bit of news on the thin supply chain front: like all manias, the mad toilet paper scramble may be coming to an end.

In most areas, toilet paper can now more regularly be found on retail shelves, and Patrick Penfield, a professor of supply chain management at Syracuse University, told Business Insider that large surplus of toilet paper was "absolutely going to happen," possibly in summer. He adds for some period, retail demand will fall dramatically, as consumers work off the home inventories.
Will manufacturers get those demand signals on a timely basis - or will the Bullwhip Effect take hold, as it usually does?
On the distribution side, workers at Amazon, Walmart, FedEx, Target, Instacart and more are planning a widespread walkout on Friday, seeking better health and safety standards as well as hazard pay while working during the coronavirus pandemic.
The demonstrations will also request protective and cleaning equipment and full disclosure on the number of infected cases in company facilities.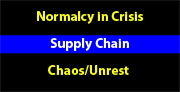 Two previous walkout attempts at Amazon and another one at Instacart failed badly, and I suspect this cross-company effort will see similar results. That said, if DC workers ever did get together to protest in a way that brought distribution at some facilities to a halt, that would really be a serious breach in the supply chain line. But that is highly unlikely, though I remain intrigued by the question of what the protocol is if DC associates are infected. Right now every company decides for themselves - with the focus on staying open.
In the trucking sector, the crisis is hitting carriers hard, especially small firms (the vast majority in terms of carrier population) and independent owner-operators. Loads are drying up, rates are plummeting, and the small guys generally have little capitol to tide them over - though larger carriers may soon be in financial trouble too.
The owner of one small carrier in Virginia last week said "Loads that would command $1,000 last month hauling food now have fallen to $300 or even less - below operating costs.
"Nobody can survive six months like this," he said. "How can I pay my guys, the payments on trucks, the insurance?"
The simple answer: he can't. The interesting question is how the potential loss of huge numbers of carriers and drivers now will play out if and when the economy - and freight volumes - at some point recover, with continued predictions even before the crisis of significant driver shortages down the road.
Think I will end it here - once again, I could have filled up two more such columns.
What are you thoughts on the "thin supply chain line?" Is it the right term for the times? Let us know your thought at the Feedback button below.