The Thin Supply Chain Line for April 23, 2020
Three weeks ago, I wrote a column titled "The Thin Supply Chain Line," which argued that we are seeing supply chains that for now are mostly managing to keep grocery store shelves filled with food and other products - with the exception of course of toilet paper.
But it is a complex process across numerous supply chain functions, from global sourcing to store replenishment, to keep that flow of goods happening - and right now the supply chain line is stretched very thin indeed, with many pressure points and risks.

So for a while in this weekly column I am going to report on the past week's news and developments in the thin supply chain line - because who can think of anything else right now?
GILMORE SAYS:
VW factory workers have been given a new employee manual with 100 changes in practices designed to minimize the risk of coronavirus infections.


WHAT DO YOU SAY?
I am going to start out this week with some thoughts on the virus and the broader economy, beginning with the rather odd scenario of the President pushing for "opening the economy back up," even as the coronavirus numbers stay high and in some areas are still on the way up.
Trump's push to relax lock-downs spurred governors in several states, from New York to Georgia, to relax (gradually) some restrictions, causing some healthcare professionals and others to warn the moves could erase the slow but (mostly) steady progress the country is making against the virus.
Why would the President take such a risk? My guess, based on intuition plus a slight bit of evidence, is that the Whitehouse is looking at internal predictions that if we go on much longer like this, the country (indeed the world) will fall into an economic abyss that would rival if not exceed that seen in the Great Depression. It's a scary thought.
In support of that claim, White House economic advisor Steve Moore said this week that "If we go past May 1st, we are going to so devastate our economy, that the costs of having our economy and our society shut down will be multiples greater than the threat of this virus."
He predicted job losses of some 50 million - 50 million! - as a result.
Not offering a full opinion, and I very badly do not want to get the virus, but at some point there is certainly some level of trade-off between health and finances - as we demonstrate every day with millions of us risking a drive to work.

We know some areas of the economy will never be the same - most notably in retail. JCPenney, Neiman-Marcus, and Lord & Taylor are all said to be on the verge of filing for bankruptcy. Many others will follow suit. Some will re-open; others will not.
An article this week on CNBC.com wondered if the department store model is simply dead. "We've just got to figure out a way to be relevant. ... We don't sell things people need, we sell things people want," Nordstrom's president said this week.

My friend Jim Barnes, CEO of consulting firm enVista, told me this week he expects total retail store space to shrink between 25-50% coming out of all this. But, he noted, the US has far more retail space per consumer than most other developed economies, so some of the closings will just get us to a more sustainable level. He notes well capitalized retailers with strong ecommerce infrastructures and customer service have the best chance to make it to the other side and ultimately thrive.
Last week, we reported on US ports being stuffed with containers, mostly the result of retailers with closed stores refusing or delaying their delivery and causing massive port congestion. It's just as bad in the UK in a different way - a survey of 3PLs there found 90% of them were already completely full of pallets. But the containers and pallets ordered weeks or months ago keep coming, and soon there will simply be no more room to store them. Not sure what happens then. Pallets in the streets?
With that cheery intro, more craziness in the meat supply chain, most noticeably packing plants. We reported last week on the indefinite closing of a giant Smithfield pork processing plant in South Dakota, after now more than 700 workers became infected with the virus.
This week, another large pork processing plant owned by Tyson was also shuttered. The plant was widely blamed for fueling a massive coronavirus outbreak in the Iowa City region. Tyson had kept the facility, its largest pork plant, open in recent days over the objections of alarmed local officials.
More than 180 infections have been linked to the plant and officials expect that number to dramatically rise. In addition to those who have tested positive for the virus, hundreds of workers had been staying home out of fear, and the plant had been running at reduced production.

But get this, before Tyson temporarily shut down the facility, the Iowa governor activated 250 National Guard personnel, in part to help with testing and contact tracing for workers at the Tyson plant and another in the state operated by National Beef Packing Co. That is really something.
Meanwhile, execs at the South Dakota Smithfield processing plant came out with a statement that workers weren't infecting each other at the factory. Rather, they said, the breakout of infections came because its migrant workers are "living in circumstances that are different than they are with your traditional American family."
That "different" lifestyle includes living in large groups in small quarters, with many plant workers residing in the same apartment buildings.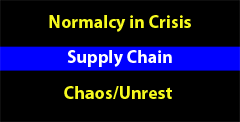 Smithfield critics noted that while the plant posted safety notices and flyers on bulletin boards and doors telling people that they should stay home if they feel sick, those notices were in English, while many of the mostly Hispanic workers there do not speak or read the language.
The company's failure to alert the entire workforce to the outbreak left hundreds of employees vulnerable to getting infected, employees told the web site BuzzFeed.com.
The head of Ohio's Pork Council said on a radio show this week that there are plenty of pigs - the issue is processing capacity and transportation delays. And those are indeed causing shortages - some Publix grocery stores, for example, are limiting pork purchases to two packages per cart.
Outside of meat processing, German auto giant Volkswagen opened some factories in Europe this week. Just who is going to buy those nice new cars right now I am not sure, but the openings came with some new virus-related rules and procedures - quite a number of them actually.
VW factory workers have been given a new employee manual with 100 changes in practices designed to minimize the risk of coronavirus infections.

The changes begin before workers leave their dwellings. Workers will be asked to take their temperatures from home each morning. To eliminate crowded changing rooms inside the plant, employees will have to put on their shop clothes at home before coming to work. Cafeterias will be closed, so workers will have to bring their own lunches, which they can eat at their workstation while practicing social distancing.
The real question in the end: Will these changes be permanent, or fade away as the virus threat at some point disappears? Anyone's guess for now.
Finally, my favorite news story of the week was a New York Times article profiling truck driver Ingrid Brown, who hauls mostly food product literally from coast to coast.
She is 58 years old, is battling skin cancer, but keeps on driving, despite many on the road challenges.
"We're going into this naked," Brown said in a phone interview with the Times, as she drove through Missouri. "We are running through a fire with a pair of gasoline pants on. That's what's happening. Drivers have no protection."
You can read our full story here: Truck Drivers Really are the New First Responders in the Virus Crisis Era

What are you thoughts on the "thin supply chain line?" Is it the right term for the times? Let us know your thought at the Feedback button below.