The Thin Supply Chain Line for April 10, 2020
Two weeks ago, I wrote a column titled "The Thin Supply Chain Line," which argued that right now we are seeing supply chains that for now are mostly managing to keep grocery store shelves filled with food and other products - with the exception of course of toilet paper.
But it is a complex process across numerous supply chain functions, from global sourcing to store replenishment, to keep that flow of goods happening - and right now the supply chain line is stretched very thin indeed, with many pressure points and risks.

So for a while in this weekly column I am going to report on the past week's news and developments in the thin supply chain line - because who can think of anything else right now?
GILMORE SAYS:
There was also news that Amazon would use video surveillance and supervisor monitoring inside FCs to make sure employees maintain mandated separation on the job.


WHAT DO YOU SAY?
Before I get to the direct thin supply chain news this week, the World Trade Organization just forecast that global trade volumes will contract this year somewhere between 13% and 32%, giving a wide range because so much about the economic impact of the virus is highly uncertain. Even at the low end, it would be slightly higher than the 12.5% drop in 2009, the worst year of the Great Recession.
Meanwhile, as reported also in our Supply Chain by the Numbers feature, research firm SeaIntelligence estimates the biggest international container ship carriers will see combined losses ranging from $800 million to $23 billion this year, as those trade volumes collapse. If the losses come in anywhere near the upper end of that range, the results will be catastrophic - many carrier bankruptcies, more mergers, etc.
With that intro, it is a complex and interdependent supply chain from farm to fork, and I pointed out last week the risks if the largely migrant farm worker population where to be hit hard with the virus - something that seems almost inevitable given close operating and living quarters most share, and other factors.
What happens when there's no one around to pick the apples, grapes and lettuce - or if such fruit and vegetables become an infection risk?
Here's another thin supply chain risk I admit never hit me - the challenges for livestock and chicken farmers to find feed for the animals, as some farms have been buying in extra large quantities to protect themselves.

"Keeping America's 95 million cows, 77 million pigs, and 9 billion chickens fed isn't as simple as it may seem," the Bloomberg article notes, adding "Farmers are worried their feed mills could close as employees get sick or that their slaughterhouses could slow production, forcing them to keep animals for longer. They're also concerned that a shortage of trucks, which are being waylaid to supply supermarkets, could make it harder for farm supplies to reach them."
I also noted last week the steps many meat processors are taking to protect workers from infection, with reports of high absenteeism and some protests by workers seeking stronger measures.
This week, the inevitable, as giant Tyson suspended operations at its Columbus Junction, Iowa, pork plant after more than two dozen workers contracted Covid-19 there.
JBS USA, another major meat processor, has stopped operations at its beef plant in Souderton, Pennsylvania with plans to reopen April 16. The company decided to close the facility after several members of the plant's management team stopped going to work because they were experiencing flu-like symptoms.
Later, reports that at least three workers had died from the virus between the two plants.
Meat processors Cargill, Sanderson Farms, and Perdue Farms have also reported infections. Smithfield Foods also has 80 cases at a facility in South Dakota.
Both Tyson and JBS say they have other facilities that can easily pick up the slack - but what happens if other plants must also close? What are the rules about how and when you open a plant that had affected workers?
Switching gears, loved this headline from the Washington Gazette: "Truckers are the New First Responders."
It notes a truck gets piglets to the farm to be fattened (along with grains to feed them), another driver to move the fattened pigs to the butcher, and a third one who gets the refrigerated meat to the store.
"A lot of drivers are very independent, but you won't find a group of people that loves to step up to the plate and answer the call in times of need that you will from truck drivers," said the CEO of large carrier KLLM.

Transport Topic, the American Trucking Associations' magazine, wrote a piece saying that keeping drivers healthy was the top priority of most carriers. I am sure that is true, but the support appears to be mostly around providing sanitizing sprays, plastic gloves, and wipes and paper towels - if they can get them.
I am not sure what else can be done, but that seems like not a great deal of protection. Many carriers and shippers are enabling no physical contact deliveries and pick-ups - protecting both drivers and dock workers.
The article, however, raised a thought I hadn't pondered before: what happens if a long-haul driver say from St. Louis takes a load to California, and starts to develop symptoms out there? My guess: he or she drives back to Missouri, if they can make it.
On the distribution side, lots of news around Amazon again this week. Another scheduled walkout at an Amazon fulfillment center in Staten Island, NY fizzled, but the media attention and maybe just sensible thinking relative to protecting FC workers from infections has led to changes at Amazon sites.
This week, Amazon piloted the use of a disinfectant fog starting at the same Staten Island FC with the walkouts, according to a report from Reuters.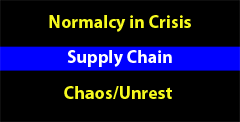 This fog approach is commonly used by airlines and hospitals for comprehensive disinfecting. Amazon has referenced "deep cleaning" at a few FCs after workers there were known to have been infected, though SCDigest has continued to ask exactly how you deep clean a 1 million+ square foot fulfillment center. Fog would seem to be the answer.
There was also news that Amazon would use video surveillance and supervisor monitoring inside FCs to make sure employees maintain mandated separation on the job.
Amazon said workers who deliberately violate social distancing guidelines will receive up to two warnings before, in some cases, being let go. The company's guidelines call for a distance between individuals of six feet - a standard that would seem to be very difficult to achieve in an FC with hundreds of employees, many of which are mobile workers.
The announcement is another measure by Amazon to keep its fulfillment centers functioning amid a huge spike in demand for food and many other consumer packaged goods. As indicative of the pressures it faces now, also news that Amazon was suspending its nascent program of handling parcel deliveries for its marketplace sellers, who normally do their own shipping with UPS, FedEx or the USPS.
Amazon needs all its human and vehicle resources focused, it appears, on its own delivery needs for now.
Then later in the week, reports that the Occupational Safety and Health Administration is investigating an Amazon FC in Hazleton, PA, following complaints from workers that the company is not doing enough to prevent the spread of Covid-19 at the facility. That's as much as I know on this one, but might OSHA come up with new standards?
Finally, a headline in the Washington Post said that "Grocery workers are beginning to die of coronavirus," reporting that "Major supermarket chains are beginning to report their first coronavirus-related employee deaths, leading to store closures and increasing anxiety among grocery workers as the pandemic intensifies across the country."
Again, what happens if that spreads?
The thin supply chain line continues to hold on, though with many risks, as I hope I have convinced you. I had enough material to write two other similar columns this week.
What are you thoughts on the "thin supply chain line?" Is it the right term for the times? Let us know your thought at the Feedback button below.