MODEX 2020 - and What would You have Done?

Well it was a strange few days in Atlanta at the 2020 MODEX trade show from MHI, with all kinds of interesting dynamics from multiple angles, which included the decision to let the event go on in the face of mass cancellations of events of all types both in the US and across the globe.
More on that below, but first as someone who attends many such conferences and events, this was actually the third one I have been to that was significantly impacted by external events. So I thought it might be worth spending just a bit of space to recount those situations.
In 1999, as the head of the supply chain practice at META Group, at the time the second largest IT analyst firm and ultimately acquired by Gartner, I attended SAP's Sapphire user conference at the Philadelphia Convention Center.
GILMORE SAYS:
That would have left MHI with no show profit and indeed losses on a show that brings in millions of dollars and is by far its primary source of revenue for the year.


WHAT DO YOU SAY?
Early in the week, things went along smooth enough, but Hurricane Floyd was barreling up the East Coast and smashed into Philadelphia early in the morning on the last day of the show.
It was really quite an experience - trying to pretend you were paying attention to conference presentations when the rain was coming down in torrents and winds swirling around at high speeds outside.
In the end, all flights out of Philadelphia were cancelled. By a miracle, I was able to rent a car one way from the Philadelphia airport to Pittsburgh, from which I could take a flight to my home in Dayton, OH.
I miraculously found a cab that took me to PHI, and from there made the treacherous drive east - obviously at that time before my now essential GPS. I think the rental counter gave me a map and some reasonable directions on how to get to 76 West.
Except those directions didn't include how to navigate closed roads, numerous trees down that partially blocked roads, rivulets also crossing roadways and more.

Some two hours later, I finally got past King of Prussia and on to 76 - and within maybe 20 miles westward the weather changed dramatically to a nice sunny late afternoon, and I cruised on over to the Steel City.

Forward nine years later to 2008. The annual CSCMP conference was being held in Denver - the same week of the largest single meltdown of the financial crisis. That very week, the Dow Jones Industrial Index dropped 800 points, a huge decline relative the value of the index at the time, closing below 10,000 for the first time since 2004.
I clearly remember interviewing then and current CSCMP CEO and friend Rick Blasgen about key conference themes, etc., when he made a comment along the lines that it was difficult to focus on the conference with Wall Street and our 401ks collapsing around us, with unclear (and it turned out devastating) impacts on the broader economy.
It was indeed very hard to concentrate on whatever the learnings were from the conference a financial debacle outside the hall.
Which brings me to the just concluded MODEX show. MODEX is the biannual show from MHI (the former Material Handling Institute of America, a trade association with corporate members from hardware, software and services companies), running every other year with the slightly larger ProMat show held in odd number years in Chicago.
Just a couple of weeks ago, everything looked rosy for MODEX, with a record number of almost 1000 exhibitors, another likely record of more than 30,000 attendees in the face of lots of demand for systems to improve distribution effectiveness, with a special interest on various forms of DC robotics,. As a result, vendor optimism in the sector correspondingly high.
That, of course, was when the coronavirus was still largely just in China.
Fast forward to the middle of last week. The virus is spreading rapidly in northern Italy, though the absolute numbers are still low. Cases and some deaths - primarily at a nursing home in the Seattle area - are reported in the US. Most troubling, a few of the cases involve victims contracting the virus without a clear link to travel to a heavily affected regions of the world or known contact with an infected person - so-called "community infection."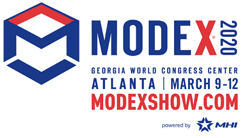 So you are MHI CEO George Prest, a good guy by the way, but now in a tough spot. Last Wednesday, Dematic, one of the largest and most prominent firms in the materials handling sector, announced it was pulling out of the show.
This even as many exhibitors, including Dematic, already starting to put up their booths, which can take several days for complex displays.
Shortly thereafter, MHI releases a statement saying the show will go on as planned. It notes a number of Chinese exhibitors would not be at the show, but in the end "We are proceeding as planned to hold a safe and successful MODEX 2020."
It goes on to say that "advance registration is well ahead of the 2018 show and we anticipate 30,000+ attendees. We continue to receive record registrations this week."
So was that the right call?
Several more large and smaller companies subsequently pulled out of the show, including Zebra and software firm Infor, but the vast majority of exhibitors were there as planned.
But let's just say most of them were probably overstaffed.
I don't know what the real numbers are, but by experienced estimate, I think something like 40% of the expected 30,000 predicted actually made it. Many, many companies, especially large retailers such as Target and Walmart, had implemented travel bans that prohibited going to any shows.
It was an odd environment, with many warnings around about shaking hands, but some folks you met shaking anyways (I usually went along with the gesture), some going for fist or elbow bumps, others offering only a nod of the head and that's it.
Some vendors said the so-called "quality" of the attendees was high, on the theory that only companies with real needs and projects took the risk, with "tire kickers" largely staying home.
There is probably some truth in that, but clearly many quality attendees also did not make it to Atlanta. There were some areas of the sprawling exhibit hall that clearly saw very low traffic throughout the show.
So let's just ponder the dynamics MHI faced. I don't know, but think it likely MHI could have evoked the "force majeure" provision of its contract to get its money for renting the space back from the World Congress Center. But then MHI would have to give back all the fees vendors paid to be at the show (which wouldn't cover all the other costs vendors would have spent to get their booth to Atlanta, sunk marketing and travel costs, etc.).
But that would have left MHI with no show profit and indeed losses on a show that brings in millions of dollars and is by far its primary source of revenue for the year.
Again, the decision was made to put on a show, which turned out to be a half show for exhibitors, but probably actually a good one for those who did attend, as vendors had lots of time for long discussions. It may turn out to be the last major trade show in the US for some time.
I heard a well-placed rumor that insurance on the show or lack thereof also was a factor here, but that is unsubstantiated true may not be true.
So it was a very strange few days in Atlanta. Lots of amazing robots for distribution - but for many of us, it was difficult to keep our focus on the technology and not on the virus outside and maybe inside.
So did MHI do the right thing in a tough situation? Would love your thoughts.

Did you attend MODEX? What are your thoughts? Do you thnk MHI did the right thing? Let us know your thought at the Feedback section below.