Trade Wars and the Supply Chain Part 2

Last week, I offered some thoughts on the state of the current trade wars, mostly between the US and China but with others in the mix, in a topic that always raises some controversy because it is inherently political. (See Trade Wars and the Supply Chain.)
It also makes for some strange bedfellows, such very liberal Ohio Senator Sherrod Brown basically in support of the tariffs on Chinese imports imposed by the nominally conservative administration of Donald Trump.
I reviewed that the US deficit in goods trade with China, which set a new record as usual at over $400 billion in 2018, now totaling $4.7 trillion cumulatively since 2000. China uses all that dough to build infrastructure, buy US treasury bonds, and dare I say expand its military.

GILMORE SAYS:
While there are some signs of a US (indeed global) economic slowdown, so far the impact on the US economy has been modest at best.


WHAT DO YOU SAY?
Some updates from last week: the move to start adding tariffs to all US imports from Mexico is off for now, as Mexico has apparently made commitments to slow the flow of Central American refugees across the country and to the US border.

And new analysis from a financial firm finds that the tariffs may indeed be hitting China where it hurts - in its pocketbook.
Enodo Economics says real Chinese GDP growth in Q1 was just 2%. That compares to the much higher 5.6% number officially reported by the central government.
China's official Xinhua News reported that the supposed 5.6% growth was "propelled by the country's fiscal stimulus as well as energetic reform and opening-up." But Diana Choyleva of Enodo says plunging Chinese exports are now threatening jobs and the economy there - partly if not substantially the result of US tariffs.
Enodo calculates that China has seen virtually zero real growth of exports since President Trump took office and exports suffered a -2% decline in the first quarter.
Will economic struggles, which the Chinese government always worries will lead to social unrest, bring China to the bargaining table - or push into a more antagonistic posture (see controversy over fake islands in the South China Sea)?
The New York Times (Ben Casselman) recently published an excellent piece noting the tariffs are already having a significant impact on supply sourcing and manufacturing location decisions.
Cited was the example of Portland-based ControlTek, an electronics manufacturer, which is taking many steps to protect itself, a smaller company example of a "a strategic shift that has been repeated in boardrooms and executive suites around the world in recent weeks."
ControlTek, for example, is rewriting contract language to make it easier to pass the cost of tariffs on to its customers. It's shifting sourcing out of China where possible, and redesigning products to avoid Chinese components where it isn't.
As the conflict drags on, there are signs it is beginning to reshape the global economy in fundamental ways, the Times says.
Though I shared an example of Stanley Black & Decker moving production of some Craftsman brand tools from China back to Texas, the tariffs have not yet compelled businesses to return production to the US, where labor and other costs remain much higher than in many countries, in any meaningful way.

But that doesn't mean companies aren't looking to diversify away from China. That notion is supported by a recent survey of more than 200 corporate executives by the consulting firm Bain, in which 42% said they expected to get materials from a different region in the next year, and 25% said they were redirecting investments out of China.

That trend may accelerate. Most companies probably thought initially that the posturing would blow over soon enough, with some agreement to end the tariff wars certain to emerge.
Instead, the tensions (and tariffs) are rising - not a good sign.
The Times article cited GoPro, the rugged mobile camera maker, which announced this month that it was shifting some production from China to Mexico. Universal Electronics, a manufacturer of remote controls, announced a similar move late last year. And Varex Imaging, a Utah-based maker of X-ray equipment, said this month that it was working to "redirect our supply chain away from China" in response to the tariffs.

Whether for good or ill, changes are afoot. And "wait and see" is increasingly an unsustainable strategy.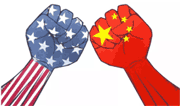 Many companies didn't even realize they would be hit hard. First, remember Chinese manufacturers don't pay the tariffs, despite President Trump making it sound that way at times. Importers pay the tariffs on the imported goods. The net effect is to make Chinese goods more expensive, but it is US companies that really foot the bill in the short term.

Second, the aforementioned ControlTek was one of many companies that when the first round of tariffs went into effect last year knew the location of their suppliers - but not from which county those suppliers actually sourced the components.

And it doesn't look good for any near term resolution.

The LA Times (Don Lee) reports that when a group of US economists and trade experts with long-standing experience in China recently traveled to Beijing, they expected their usual friendly technical give-and-take with Chinese government officials.
Instead, a member of the Chinese Politburo harangued them for almost an hour, describing the US-China relationship as a "clash of civilizations" and boasting that China's government-controlled system was far superior to the "Mediterranean culture" of the West.
Yikes.
"In China we have an economic competitor, we have an ideological competitor, one that really does seek a kind of global reach, that many of us didn't expect a couple of decades ago," says Kiron Skinner, the State Department's director of policy planning. "And I think it's also striking that this is the first time that we will have a great-power competitor that is not Caucasian," versus the Cold War contention with the Soviet Union.

The conflict now goes beyond just the escalation of tariffs, the LA Times says. It notes the communist party's propaganda organ has dusted off old patriotic films of the Korean War, when the Chinese army pushed back American forces advancing northward, stoking growing anti-US sentiment in country.

There still some windows of hope. The best of those is the economic summit of major nations at the end of June in Osaka, Japan. Trump and Chinese President Xi Jinping are scheduled to attend the meeting of Group of 20 leaders. Private trade discussions are expected - but not guaranteed.
And neither leader may back down even if the talks are held.

While there are some signs of a US (indeed global) economic slowdown, so far the impact on the US economy has been modest at best.

"We will find out soon if the economy was strong enough to withstand this," says Torsten Slok, chief economist for Deutsche Bank.
So we may indeed be at a major supply chain and economic inflection point, as I suggested last week. One, breaking China's near 20 year run as "factory to the world" - and another that could send the US economy tumbling after 10 years of growth.

What's your opinion on the trade wars? Long term impact or minor blip in the end? What did you think? Let us know your thought at the Feedback button below.