Will Amazon Logistics Eat the World?

There are I think some legitimate concerns about Amazon's dominance of the ecommerce sector, with a growing number of calls for it to - somehow - be broken up.
As just one on many examples, in October New York Post columnist Maureen Callahan wrote a piece pleading for action to "Break up Amazon before it does any more damage to America," for a laundry list of alleged sins.
That, of course, echoes calls in the early 2000s for Walmart to be broken up as it was putting about all the mom and pop retailers out of business, emptying out local downtown business zones, and ceaselessly grabbing share from its larger retail competitors.

GILMORE SAYS:
Amazon listed "companies that provide fulfillment and logistics services for themselves or for third parties" in a list of "current and potential competitors."
IDC

WHAT DO YOU SAY?
But then Walmart's growth slowed significantly, and the calls for the break up soon disappeared.

To an extent that slow down is also happening with Amazon. On-line sales in 2018 grew at just 13%, a growth number most companies would salivated over but way down from the 20-30% increase we're used to seeing, as Amazon finally seems to be impacted by the law of large numbers.
That said, in absolute terms that 13% resulted in total on-line sales of $122.7 billion, which would make it the second largest US retailer, without including its Whole Foods and other physical store sales. But we will note Walmart's US ecommerce sales were up 43% in its just ended quarter, though off a much smaller base than Amazon.
All of which is prelude to a question: will we see similar concerns a few years from now over Amazon's growing power in the logistics market?
Amazon is appears to have ambitions in logistics along many vectors.
Despite repeated denials that it was building various logistics capabilities - including global logistics and small parcel delivery - a series of recent reports from various media sources say otherwise.
For example Amazon downplayed its aims in global logistics after a report from Bloomberg in 2016 said it was building major capabilities in this area. But USA Today recently reported that Amazon shipped nearly 5 million cartons from China to the US in 2018, and that it is building an end-to-end capability to act as an integrated freight forwarder and connect Chinese manufacturers to end customers in first US and then Europe.
While for now those growing capabilities are being applied only for goods being sold on Amazon.com, there is speculation those services could be offered generally to Chinese manufacturers and US importers, which could roil the existing market.
Next, despite more repeated denials it was entering the parcel delivery business in any meaningful way, early in 2018 Amazon announced its Delivery Service Partners or DSP program, in which local entrepreneurs lease as many as 40 Amazon branded delivery vans and run routes delivering Amazon orders in their markets, This rapidly growing program clearly is taking some final mile deliveries away from the US Post Office, which delivers the greatest number of Amazon orders, and FedEx and UPS.
Then not many weeks ago, the Wall Street Journal reported that Amazon was using lower cost fees special fees or eliminating them altogether versus those usually assessed by FedEx and UPS for fuel usage, residential delivery, peak season delivery, and more to entice its Marketplace sellers, which sell through Amazon.com but often handle their own shipping, to ship through Amazon instead.
Then there are questions about what Amazon is really doing in air freight. I regularly see Amazon cargo planes taking off or landing as I drive into or out of the Cincinnati airport, where Amazon is constructing a multi-billion air freight hub, which it said when it was announced was just to handle some peak season volume surges. Sure.
Over the weekend, an Amazon cargo plane crashed new Houston, killing the three pilots aboard. What freight was it moving?
Recently, the analysts at Wolfe Research estimated that Amazon is already handling 26% of its own air freight
Amazon Air has planes at 21 airports and is planning on opening regional hubs in Fort Worth and Wilmington, Ohio and will expand one in Rockford, Illinois. In addition, the company is opening that air hub at the Cincinnati airport in 2021, where it will have a capacity for at least 100 planes.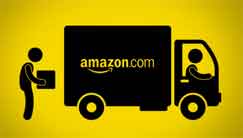 Then a headline this week in Transport Topics - the magazine of the American Trucking Associations - said "Amazon.com Insourcing Roils Freight Industry." That headline coming because Amazon's "role in the shuttering of New England Motor Freight and the "body blow" dealt to XPO Logistics is raising alarms for trucking and logistics firms that do business with, or compete against" Amazon.
Major LTL carrier New England Motor Freight went bankrupt largely due to money-losing agreements it had signed with Amazon and other retailers. XPO Logistics just reported that revenue from its largest customer - universally thought to be Amazon - would fall dramatically from $900 million in 2018 to just $300 million this year, as it appears Amazon is taking the "postal injection" business it was outsourcing to XPO back in house.

"For most observers, the decision to terminate that much business simply confirms the long-held expectation that Amazon is ready to go head-to-head with for-hire freight carriers and third-party logistics companies and to handle more of its shipping needs in house," Transport Topics commented.
"I have argued since 2013 that Amazon was going to become a 3PL," Brittain Ladd, a veteran logistics industry consultant who worked recently at Amazon, said to Transport Topics.
"When I joined Amazon, my focus was on creating capabilities for Amazon to become a 3PL," Ladd said. "Fast-forward to 2019 and I believe it should be clear to everyone that Amazon has created a new service offering: global logistics."
And then of course, for many years Amazon has offered its Fulfillment by Amazon service, in which it acts as a 3PL, storing, picking and shipping goods for merchants on its site.
About 50% of Amazon marketplace sellers use FBA, according to a new report from Armstrong and Associates. The report says ecommerce makes up 7% of US 3PL revenue, and further that Armstrong estimates Amazon is acting like a 3PL for 12% of all US business-to-consumer ecommerce shipments currently.
That would seem to offer large opportunities for Amazon share of fulfillment services for those companies, or to take ownership of Marketplace sellers' parcel shipping, either directly on its own trucks or just by bringing parcels into its network, where its scale might result in lower costs than those sellers shipping on their own.
As just one more data point: in a 10-K filing with the SEC earlier this month for the first time Amazon listed "companies that provide fulfillment and logistics services for themselves or for third parties" in a list of "current and potential competitors."

What to make of all that?

Global logistics, air freight, direct parcel delivery, ecommerce fulfillment - whether you're a freight forwarder, parcel carrier, a 3PL, maybe even truckload carrier - Amazon may be coming for you. And what the impact will be for other shippers is a great unknown.

Any reaction to these IDC predictions? What resonates with you? What are some of your 2019 supply chain predictions? Let us know your thought at the Feedback section below.