A Supply Chain Christmas Wish List for 2018

For the past many years, for my last First Thoughts column of the year I have generally been oscillating between my versions of "A Supply Chain Christmas Carol" and "Twas the Night Before a Supply Chain Christmas," updated as appropriate from year to year.

Occasionally I also throw in a supply chain Christmas list that I hope Santa might deliver in the coming year. So I decided to offer that list again here in 2018, with a couple of holdovers from the 2016 list, because frankly Santa still hasn't come through (maybe I am on the naughty list?). It is a short list, but think would have a major impact if Santa could somehow fill up my supply chain stocking.

GILMORE SAYS:
You don't have to go to many events to figure out who the frequent contributor companies are.


WHAT DO YOU SAY?
Would love to hear an item or two on your supply chain wish list as well. So here we go:
I wish that Amazon doesn't take over the world.
We are avid Amazon shoppers here, and like so many addicted to Prime. Last week, I ordered something on a Sunday, and it just shows up on Tuesday - for free. What a world.
But Amazon's growth and dominance is obviously a bit frightening, and the advantage of its incredible fulfillment network, already being augmented with its own planes, trains and automobiles (and drones) may be such competitive barrier no one can compete - unless you use Fulfilled by Amazon.
What's the answer? No idea, but even more huge changes are coming to the retail (and consumer goods) landscape. Amazon may put Santa himself out of business.
I wish that MAPI - the Manufacturing Alliance and others are right that 3D printing and what MAPI called "digital distribution" (think Amazon) will in fact transform the US manufacturing landscape and really bring production back to US soil, in a way that the reshoring move has at best modestly accomplished, and do from a market-driven perspective, not tariffs and trade wars.
I wish we had more recognized supply chain thought leaders. Quick, if I asked you to name the top thought leaders in supply chain right now, whom would you cite? It's not easy, is it? Isn't something not quite right with that?
In many disciplines, for example IT, there are many recognized thought leaders who regularly are the keynote speakers at major industry events. I don't think supply chain has ever reached that level of star power, but I think 15 years or so ago we did have more recognized supply chain pundits.
What's the issue? I am not completely sure. A once healthy corps of thought leading academics seems to not have been replaced with a new cohort of equal thought leadership, i.e., a Tom Mentzer of University of Tennessee passes away and no one seems to move into the void (agree or disagree?). Supply chain executives, with very few exceptions, either don't wish to or are largely prohibited by their companies from being regular public face (we need more Reuben Slones). I wish we could more regularly hear what those execs are thinking.
The supply chain practice leaders of major consulting firms, for many out in front of supply chain trends and opportunities, have now largely gone underground - I actually know who very few of them even are, and that didn't use to be the case.
As an example, who currently heads Accenture's or Deloitte's giant supply chain practices? I don't know, and doubt most of you do either, compared to say the years when say the late Bill Copacino was consistently providing thought leadership when he was in that role. My friend Jim Tompkins is still thought leading, but he has a lot of business irons in the fire right now and seems to have slowed down a bit on the thought leadership side.
There has been consolidation among industry analyst firms, reducing the pool and competition, while it seems that among those still standing the systems no longer really develop "stars" in the same way they used to. And it seems to me technology vendors aren't producing thought leaders the way they use to either (think Alan Dabbiere at Manhattan Associates, or Sanjiv Sidhu at i2, in their days).
On a somewhat related note, I wish a lot more supply chain academic research would be truly useful. We have a lot of really smart supply chain and logistics academics, and I know many of them personally. But far too few of them are using those talents to produce research that is of practical use to supply chain professionals. It is often almost unreadable except to other academics, if then. There is the CSCMP Journal of Business Logistics, for example. Is that of any real value to the practioner? Wish it was more so, along with other academic outlets and research.
I will note that 2016 CSCMP Distinguished Service Award winner Chris Caplice of MIT offered similar thoughts in his brief acceptance speech.
Yes, I understand this is far from unique to supply chain, and indeed is probably the status in virtually every academic discipline. I also get the whole "public or perish" thing in academia.
However, at many if not most supply chain departments an academic would actually get more credit for tenure or promotion for some abstruse paper in a journal none of us recognize or would want to read than for an article on supply chain that was published in the Harvard Business Review. This is crazy.
I discussed this topic with the late legend Dr. Don Bowersox of Michigan State a number of years ago, and he told he knew of one excellent academic who wasn't hired at a prestigious supply chain program because his research was deemed too "applied" - meaning practical.
We can do better, can't we? We are collectively losing so much opportunity.
I wish that more companies contributed presentations and case studies at industry conferences. Here is the reality: there is a clear 80-20 rule here, in which a small percentage of total companies wind up carrying the majority of the industry load.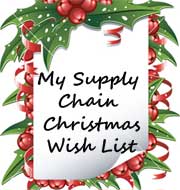 Of course, I get the issues with opening the supply chain kimono, and companies are understandably reluctant to share what they believe are competitive advantages. But let me in on a little secret: employees change jobs, vendors and consultants talk, etc. Your competitors already know what you are doing. It's the rest of is that need enlightenment.
You don't have to go to many events to figure out who the frequent contributor companies are. From my perspective, in recent years those include Caterpillar, Intel, Pepsico, Mondelez International, HP, Johnson & Johnson, and a handful of other over performers (who else?). If you have a company to point out for their regular contributions or want to toot your own horn, please let me know.
We all owe these frequent contributors a debt of gratitude, and we really couldn't have these conferences without them. We need more companies in the supply chain presentation boat.
I wish supply chain media and conferences focused more attention on the supply chain needs and opportunities for small and medium sized companies. For a variety of reasons, the publications and the conferences tend to focus on the large, well-known companies, due to that name recognition.
But the reality is there are many times more small and medium sized companies than there are Fortune 500 firms, and collectively (including SCDigest) we don't in my opinion do enough to serve them.
In talking about this with a good and well-known friend a few years ago, he noted that big company supply chain challenges are usually just a lot more interesting than those faced by smaller firms. I agree with that, but at the same time, how those challenges were solved by large companies are often not relevant to SMBs.
Do you agree that articles and events need more balance to address the supply chains of small and medium size businesses? This is something SCDigest at least can address in some way, and I am working on some plans to do so.
On that note, a Merry Christmas or other salutation of choice to all SCDigest readers. Lots in store for 2019. We're off for two weeks for this newsletter, but the home page will be active with news, and we will be back the first week of January with our 2018 supply chain review.
Look for Jim Stephens and I doing Twas a Night before a Supply Chain Christmas this Monday on our Supply Chain Video news. Happy Holidays!
What do you think of Gilmore's Christmas list? What is on your list? Let us know your thoughts at the Feedback button below.