Trip Report - CSCMP Edge 2018 in Nashville Part 3

Milking the CSCMP Edge 2018 conference two weeks ago in Nashville, I am back with one final installment of my trip reports, this one with a bit of a twist - my thoughts on how the fine conference might be improved a bit. See earlier part 1 and part 2.

First, let's catch up on one thing I haven't had time to summarize that. For a number of years now CSCMP has held a supply chain innovation award competition at the conference. Based on case study submissions earlier in the year, five finalists for the award were selected to present their innovations to a panel of judges in a series of presentations in a separate innovation award track.

GILMORE SAYS:
I freely admit my recommendations are free of all the constraints and other issues that real conference planners need to grapple with.


WHAT DO YOU SAY?
The judges selected as the winner a new analytic system for supplier management and risk mitigation using AI and machine learning from Intel, which has made the final round for other innovations in previous years.

The Intel presentation was the only one of the innovation award track sessions I attended, and it was quite good, though I was concerned it may have been a bit too deep for the panel of judges. Greatly simplified, as presented by David Bayba and Mani Janakiram, Intel has built a procurement dashboard that uses cognitive computing, AI and machine learning to combine and synthesize a wide range of data, from both internal and external sources, structure and unstructured.

Those sources include traditional procurement systems, data from audits Intel conducts with its suppliers, translated news feeds from publications around the world, Twitter feeds and many more.

The dashboard provides all kinds of insight, with warnings about various risk factors by supplier, region, etc. The system is not so much geared for managing large suppliers to Intel - buyers are naturally mostly on top of those companies - but rather than many smaller suppliers for which there is less visibility, characterized by few buyers handling lots of suppliers.

One attendee said his company tried something similar, and that the issue wound up being too many "false negatives" - alerts that turned out to not be real concerns, leading buyers to stop looking at them.

Intel said it had also experienced this issue, but was able to overcome it by working closely with buyers to tweak the algorithms and using machine learning to understand normal "signal" and then identify risk factors that go beyond the usual noise.

Examples of other dashboard functionality include identifying additional suppliers similar to existing ones and alerts for suppliers that may be likely to breech Intel's supplier code of conduct. In a limited rollout, the system has led to savings of $30 million through better negotiations, and freed up 20% of buyers' time. Very deep, but very good.

Switching gears, the conference - as with others - has become much more panel-oriented in recent years. By my count, out of 114 breakout sessions, 47 were panels.

While attending two very good panels at this year's conference, in general I am not a fan. Panel discussions are often interesting, but not insightful, in my opinion. The best presentations either cover how a company specifically addressed a supply chain problem or opportunity, or present a new way of thinking about a given issue. Panels generally just cover high level thoughts on a variety of topics that indicates how others are thinking, but rarely show a path for what you should consider doing in your companies.

Clearly, not everyone agrees with my thinking. I will also note, as I have done before, that another factor is that it is generally much easier for a supply chain manager or executive to get the OK to participate in a panel discussion on general issues say in transportation than it is to get permission to detail how the company is saving money in transportation in a focused presentation. That's just a reality.

As I went back and reviewed all the breakout tracks, I frankly wondered why I didn't go to the session on "A Quest to Profitability and Value, Using Segmentation and Analytics?" with Clorox's Mark Hersch, or "Sourcing and the Value Chain - The Competitive Advantage," by Johnson & Johnson's VP of procurement Joe Agresta, all by himself. That's getting it done.

Of course, no conference can draw attendees if there aren't companies willing to share their stories or perspectives in presentations or panels, and for many years now SCDigest has tracked what companies participate in sessions one way or the other.

As released in our OnTarget newsletter earlier this week, at this year's conference, Johnson & Johnson led the way with one presentation and three panel discussions for a total of four contributions.

Intel was next with three presentations - most delivered once again as in previous years with no consultant or technology vendor as part of the mix. Good for Intel.

Morton Salt, Bacardi, McDonald's, Mondelez, Nike, ThyssenKrupp, Under Armour, Arcade Beauty, Coca-Cola, DuBois Chemicals, Kimberly-Clark, L'Oreal, and Walmart each had two total participations in a presentation and/or panel. (Note: we do not track participation by vendors, 3PLs, consultants or academics, as they usually benefit from participation.)

There were then dozens of companies that had a single presentation or panel. In total, by my count there were 75 companies participating in one or more sessions, up from 50 in 2017. Why the rise? Not sure, but my guess the growth in panel sessions is the key factor, since you might have as many as five companies participating, versus just one or two in a presentation session.

But there's more - we track company participation over time too. As shown in the graphic below, over the last three conferences, Intel leads the way, with seven presentations and one panel for a total of eight. J&J and Coco-Cola are next with seven total participations over three years, and Mondelez, Walmart, and Nike are next with five each.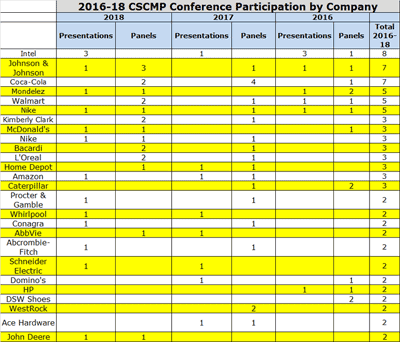 See Full Image

All told, 26 companies had at least two participations over the three years. We attendees owe them a debt of thanks for making the conference possible.
With that, I will end with my thoughts on how to make the conference better - something I haven't done for a few years. CSCMP CEO Rick Blasgen told me the "conference of the future" committee has been folded into the annual conference planning committee, a move that I am not sure is the best approach, but we will all see.

As always I enjoyed the conference again this year, but feel that the three day agenda should be rethought a bit. It has stayed the same for many, many years now, and I think it is time for a modest refresh. There is always inertia in such matters - no different than my reluctance to go through a web site refresh as we do every few years but not often enough, or throwing away an old but comfortable couch.

First, we need more supply chain execs as main stages presenters. That happened with a keynote panel on the first day, which was only OK in execution but a commendable attempt to change things up.

Going along with that is the need for more supply chain thought leadership in the general sessions. As just one example, MIT's Yossi Sheffi did a breakout session on his excellent book "Balancing Green" - he could easily have been a keynoter.

Room for expanded keynotes might be found by moving some of the CSCMP administrative stuff (incoming board chain, young leaders award, several more) to a luncheon session(s). That would mean not having lunch for at least one day in the Supply Chain Exchange trade show area, but I think the exhibitors would agree that lunch time delivers relatively little traffic. There might even be benefit to the exhibitors from reducing open hours to get more traffic concentration.

As I have noted in the past, I am also not a fan of the change a few years ago to 75 minute educational sessions. The last 15-30 minutes simply drags on too long, and the extended times reduce the number of sessions scheduled for each day.

A return to 45 minute sessions would open another daily slot, which I would use to schedule just maybe three high-powered sessions that would therefore have hundreds of attendees, not dozens. For example, the excellent carrier CEO panel I attended had a full house of maybe 100+. As one of three choices, maybe that number is 500 - which is the kind of audience it deserved to enjoy.

I admit my recommendations are free of all the constraints and other issues that real conference planners need to grapple with. But those are my thoughts - I would love to hear your conference ideas.

But changes or not I was happy enough, and will certainly be back at CSCMP EDGE 2019 in Anaheim.

Did you go to CSCMP 2018? If not, why not? If yes, what are your thoughts on the conference? Any reaction to Gilmore's ideas for improvement? Let us know your thoughts at the Feedback section below.