Supply Chain Technology Leaders vs Laggards

Just usually one week per year. SCDigest editor Dan Gilmore turns over the powerful First Thoughts podium to an guest contributor. This time, it is friend of SCDigest Rich Sherman, senior fellow at the Supply Chain Centre of Excellence at Tata Consultancy and long time supply chain analyst, who has taken this turn for SCDigest a few times before. Below starts his column, on the impact of digitization on companies and supply chain ecosyems.
Déjà vu All Over Again!

When Dan asked if I would like to write a guest column, I asked him what topic he would like me to write about. The response was, "I don't know; what have you been thinking about lately?" My immediate response was about looking at demand planning from the new forecasting lens opened up from the availability of new sources of causal data. The new data enables planners to leverage cognitive analytics and machine learning for pattern recognition to create new insights into why the statistical forecasts were wrong.
And, how that capability opened a new lens to more accurate predictive analytics based on what's happening now and in the future versus statistical analysis of historical data the produces hysterical results. The "leaders" are advancing their analytic maturity, improving planning accuracy, and adopting technology to facilitate better planning collaboration cross functionally inside the organization as well as within their supplier/customer ecosystem.
GILMORE SAYS:

We all agreed that today's technology innovation isn't all that dissimilar to the innovation of the past. It's basically Déjà vu all over again.


WHAT DO YOU SAY?
The laggards, on the other hand, bemoan and accept that the forecast is always wrong and continue to operate in silos inefficiently at great cost... the first of many common pitfalls in supply chain planning that are holding companies back from improved performance.

So I had thought to write about the pitfalls in supply chain planning and the transformation in organizational thinking, structure, and technology that is required to overcome the pitfalls and leverage the abundance of new data and advanced analytics to dramatically improve financial and operating performance.

As many of you who know me, the leader versus laggard behavior has always been fascinating to me. According to my friends at APQC, for the past 20+ years, leaders across industries have enjoyed more than a 2-1 cost advantage over their median competitors performance and frequently a 5-1 advantage over the laggards. It's been a conundrum to me.

As we know by Moore's Law, over the past several decades, technological innovation doubles and the cost is cut in half every two years. While the speed of technology innovation is that of the hare, the speed of technology adoption is more like the turtle. And, with the cost falling much faster than the perceived value, some will argue that the turtle is winning.

I beg to differ. The leaders are adopting the technology as fast it becomes available. Usually, through pilots and trials, the leaders start paving the path early to outpace the competition. The turtles eventually are forced to adopt or fall off the road and pay a greater price as the value is now well documented. So, why is it that leaders are leveraging the increased technology capabilities while the laggards keep crawling along?

In my experience, especially on the topic of advanced analytics and the new lens looking at planning, laggards look at new technologies through the lens of the "as is." They evaluate the "capabilities" of the emerging technologies and how they may improve performance in the short term. As analyst hype curves demonstrate, emerging technologies rarely provide immediate disruption or short term ROI and the laggards don't waste their time any further. Technology innovation is most frequently challenged to identify the monetization of the technological output.

Leaders, on the other hand, look at the technology innovation through the lens of the "to be." They evaluate the "opportunities" that the technology innovation offers. And, the cost is low as the technology company is trying to establish proofs of concept and market beach heads. As luck would have it, as I was thinking about the column, I had the "opportunity" to catch up with my early consulting mentor, Bob Sabath of Sabath Consulting, and my current colleague at TCS, Dom Champa. Dom had worked with Bob when they were at AT Kearney. We chatted about my hypotheses. We all agreed that today's technology innovation isn't all that dissimilar to the innovation of the past. It's basically Déjà vu all over again.

We laughed about going "digital". We've been going digital for the past 30 years. It's just that then we called it data processing. Cloud computing? We called it a service bureau. What we've learned over the years, focusing in on identifying the "as is" and defining the "to be" for clients, that to leverage technology innovation is to look at the possibilities. Back in the mid-90s, people looked at mobility as a wireless phone. We looked at it as an untethered personal network system node. Not only could we communicate by voice, the device was a computer, a data collection device, a location based service device (GPS), a multi-mode communication device, etc. Mobility would provide the platform to untether workers and be the basis for the democratization of commerce.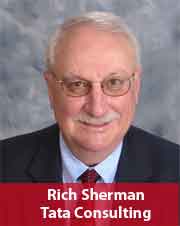 Did you ever think your wallet would be designed to shield the RFID chips on your credit cards from identity theft? Did you think that we could correlate weather patterns, event participation patterns, and social media topic trend patterns to create forecast insights? Did you think mobility, GPS, and the Internet of Things would be monitoring your location and behavior to enable personalized ads pushed to your devices? And, that companies can use these new insights to connect organizational and functional silos to improve financial and operating performance? How about drones delivering products and collecting inventory information? Are you prepared for commercial autonomous vehicles - they're coming around on the corner as they get off the Interstate?

My point is that technology innovation, like change, is inevitable; opportunity, competitive advantage and growth are optional. The leaders get it; and, they're not waiting for their competition to figure it out. They think in terms of their market ecosystem versus their supply "chain." We are in a connected age and innovation and change ripple through the ecosystem and infrastructure at the speed of data causing tidal waves of disruption.

However, the disruption often isn't noticed until the ecosystem is engulfed. For example, the "Amazon effect" took more than ten years to truly disrupt the retail ecosystem. How many companies have emerged from eCommerce opportunity and how many companies are failing by the inability to respond in time?

Compute power, data storage, and bandwidth are no longer the constraints to technology innovation and adoption that they once were... technology innovation will be simultaneously productive and disruptive as they now impact ecosystems and infrastructure, not just functions and organizations. With ecosystem change, business models change. Are you evaluating the opportunities that blockchain will offer to you? Or, will you become engulfed and drown before you can comply with the infrastructure changes to doing business in a blockchain?

The leaders are transforming their organization and technology infrastructures to compete in the new market ecosystems that emerging and converging technologies are creating. They looking at the opportunities, not just the capabilities, that emerging technologies have the potential to create and are developing strategies and conducting pilots to assess the disruptive impact that they may bring. It doesn't have to be hard. It just has to be done.

And, if you want to know more about looking at the common pitfalls to supply chain planning and the new lens to look at demand, give me a shout.


What is your reaction to Sherman's column on leaders vs laggards? Let us know your thoughts at the Feedback button or section below.