A Look at Interesting Logistics Trends

Back in 2016, DHL released a report under what it called its logistics "trend radar," which took an interesting look at trends related to logistics.
It caught my eye in part because it introduced a few terms or concepts that were new to me, and I follow this stuff for a living.

GILMORE SAYS:

The intersection between the need to remain competitive while at the same time increasing sustainability has triggered growth in 'fair and responsible logistics'.


WHAT DO YOU SAY?
DHL is back with a new Trend Radar Report for 2018/2019, and it is again a fine piece of work, introducing some new concepts from the previous report, removing some that were on the last version (I guess they are no longer trends?).

The report, for example, notes that "one trend [from the last report] that never truly arrived was de-stressing the supply chain through tactical slowdowns to operate more sustainability."


All told again providing an thought provoking read, which I am going to summarize here.
The key graphic, shown below, is what leads to use of the term "radar" for the DHL analysis. It shows a series of business and social trends related to logistics (such as "fresh chain") and also key logistics technology trends (such as augmented reality), plotted based on how rapidly they are likely to have a real impact, and whether that impact will be disruptive or incremental. There are about 30 trends across both categories.
It's an interesting take, as shown below.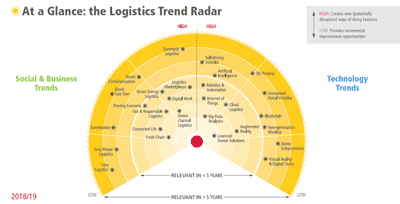 Source: DHL

See Full Image
I am going to take the easy route this week and simply summarize some of the less familiar trends, largely borrowing from the report, starting with a few social and business trends. You can find yourself where each is placed on the radar graphic.

Batch Size One: Increasing consumer demand for personalization could lead to the mass production of highly customized goods, resulting in decentralized 'batch size one' production. Manufacturers can leverage new technologies and business models to bring the production process as close to the consumer as possible and reduce lead times.
Connected Life: Through the continued adoption of mobile and wearable devices and, more recently, smart home devices, the 'always-on, always-connected' lifestyle of consumers offers numerous opportunities for logistics optimization. Secured, real-time access to the consumer's ecosystem of connected devices can enable a variety of innovative pick-up and delivery services.
Fair & Responsible Logistics: The intersection between the need to remain competitive while at the same time increasing sustainability has triggered growth in 'fair and responsible logistics'. Logistics providers can meet both demands by providing new services that generate revenue while also improving the welfare of society and protecting the environment. Key application areas focus on circular logistics concepts and facilitating fair access, production, and trade.
Fresh Chain: Online shopping of everything from groceries to pharmaceuticals is driving growth in the fulfillment and delivery of temperature-controlled goods through standard networks. This in turn creates new challenges to pick, package and deliver single shipments with temperature integrity. To enable this new fresh chain of single shipments, companies will need to develop and implement special processes, innovative cold chain packaging, fast networks, and optimized infrastructure.
Gray Power Logistics: As global populations continue to age at a rapid rate, grey power logistics - the logistics for an aging society - will be required to meet the challenges of this demographic shift, particularly the provision of new services such as home delivery of medicines. This will involve integrating logistics with medical and preventative care networks to provide new services for the elderly.
Servitization: Servitization is the process of transforming traditional manufacturing strategies to focus on delivering product-enabled service models. By moving from a product-based to a services-based business model, servitization creates strategic and closer links to the customer while also providing valuable insights into product usage which may not be visible today. To enable servitization concepts, logistics will be critical in ensuring product uptime and efficiency.
Sharing Economy: The societal shift from ownership to asset sharing has been one of the most groundbreaking trends in recent years. Everything from underutilized parking spaces to heavy industrial equipment can now be shared via digital platforms. Logistics providers can help facilitate these networks and can also participate in sharing platforms to fully utilize logistics networks and assets, achieving new levels of efficiency and value creation.
Very interesting. Now for some of the less common trends on the logistics technology side.
Augmented Reality: Blurring the lines between the digital and physical worlds, augmented reality (AR) will provide new perspectives in logistics planning, process execution, and transportation. By adding virtual layers of contextual information onto a heads-up display or other digital device, AR empowers workers by providing the right information at the right time and in the right place.
Bionic Enhancement (Lee Majors where are you?): Bionic enhancement technologies such as advanced wearables and exoskeletons have the potential to expand the boundaries of current physical barriers. Smart clothing, bionic arms, and even futuristic brain-computer interfaces can support the logistics workforce, especially older workers, in areas such as training, communication, process execution, and optimization. Most importantly, they can also minimize health and safety risks in the supply chain.
Cloud Logistics: Ideal for complex, volatile environments, cloud computing enables a variety of new 'logistics-as-a-service' (LaaS)-based business models. Logistics providers can activate and deactivate customizable, modular cloud services on demand using a pay-per-use approach. This allows highly scalable service and management capabilities without requiring the traditional development, setup, and maintenance costs of own IT infrastructure.
Low-cost Sensor Solutions: Sensor technologies that were originally developed for consumer electronics such as wearables, smartphones, and even gaming consoles enable exciting new applications within the logistics industry. These low-cost sensor solutions can digitally enhance cumbersome manual logistics activities. Dimensioning, quality control, and visualization are some examples of applications bringing new levels of intelligence, safety, and efficiency to logistics operations.
Virtual Reality & Digital Twins: Virtual reality (VR) technology, commercially popularized through video games, has since evolved for use in manufacturing, distribution, and supply chains. By enabling users to design, simulate, and evaluate environments in 3D, logistics providers can make better-informed decisions for optimizing material flows and monitoring processes. Digital twins of logistics operations can further unlock supply chain optimization.
There is a lot more, but you get the idea. The full report goes into all of these trends in more detail - 55 pages worth.
Nice work by DHL. You can download the full report with registration from the DHL site.

Any reaction to this list of logistics-related trends? What is missing? Let us know your thoughts at the Feedback button below.