In Search of a Quadruple-A Supply Chain?

All the way back now in 2004, Stanford's Dr. Hau Lee wrote a classic Harvard Business Review article titled "The Triple-A Supply Chain."
Well cited at the time, I think it is a relevant today as it was now almost 15 years later.
Lee said that the article was based on in-depth study of the supply chains of more than 60 companies from around the globe.

GILMORE SAYS:

"The best supply chains identify structural shifts, sometimes before they occur, by capturing the latest data, filtering out noise, and tracking key patterns," Lee said.


WHAT DO YOU SAY?
"All those companies seek to operate at greater speed and cost-effectiveness - the popular grails of supply chain management," Lee wrote. "Of course, companies' quests changed with the industrial cycle. When business was booming, executives concentrated on maximizing speed, and when the economy headed south, firms desperately tried to minimize supply chain costs."

But then Dr. Lee offered this provocative statement:
"Companies whose supply chains became more efficient and cost-effective didn't gain a substantial advantage over rivals." In fact, Lee says that often, the supply chain performance of those companies deteriorated.

Why? Because efficient, low-cost supply chains are unable to respond to unexpected changes in supply and demand.


I found this thought worth pondering: "Efficient supply chains often become uncompetitive because they don't adapt to changes in the structure of markets."

Lee, of course, isn't against supply chain efficiency. He simply said it is not enough to deliver any sort of real or lasting competitive advantage.

Instead, Lee says that what matters more are three other attributes - the "triple-A's" of agility, adaptability, and alignment. While I could argue that efficiency and speed are often wrapped into each dimension, let's look at each one of these in turn:

Agility: It's almost becoming a platitude that the environment and supply and demand are becoming more dynamic and volatile.

Many companies, Lee said, play off speed against cost, but the winners respond both quickly and cost efficiently.

Of course, this is especially true for the increasing number of industries experiencing increasingly shortened product lifecycles, where slowness of response versus rivals can deliver an often fatal blow to the product line or even the entire company.

Lee equates "agility" with being able to respond rapidly to changes in supply, demand, market conditions, etc. It is, in a sense, similar to the notion of "sense and respond" that is increasingly driving the strategies of supply chain leaders. It is also analogous to what I call "micro" supply chain agility.

So how do you gain agility? Lee offered six principles:

1. Improve connections with partners to share changes in supply and demand more quickly (harking back to his seminal work previously on "the Bullwhip Effect");

2. Improve collaboration with suppliers on product design;

3. Increase use of postponement strategies to delay adding value or differentiation as late as possible in the supply chain process;

4. "Bulk up" a bit more on small, inexpensive components that often cause supply chain bottlenecks;

5. Build more flexibility into logistics systems that can react to disruptions, using third parties as appropriate;

6. Build a small team that is skilled in enacting contingency and back-up plans.

All those are good recommendations to this day.

Adaptability: Agility can be thought of as relating to fairly short-time horizons. Adaptability, on the other hand, has a more strategic orientation.

Leading companies "keep adapting their supply chain networks so they can adjust to changing needs [and I would add "strategies"]," Lee writes. "Adaptation can be tough, but it's critical in developing a supply chain that delivers a sustainable advantage."

In addition to short-term fluctuations to supply, demand and product lifecycles, markets themselves are constantly changing, and more rapidly than before, especially with the global economy. The supply chain strategies and networks that once served the company well can soon become obsolete as the market shifts occur.

"The best supply chains identify structural shifts, sometimes before they occur, by capturing the latest data, filtering out noise, and tracking key patterns," Lee said.

Of course, as I referenced last week on my column on my visit to network design provider LLamasoft, this thinking - while in part I have earlier term "macro" agility - has become much more widespread than it was in 2004.

Keys to getting there, Lee says:

• Monitor global supply chain economics more closely
• Outsource more where you can, as outsourcing can allow more rapid adaptation
• Make sure the supply chain impact on new product design is well understood
• Build different supply chains for specific market and product characteristics (now called chain segmentation)

And, I would add, build a core competence in network modeling and design.

Alignment: Perhaps the toughest dimension.

"Great firms take care to align the interests of all the firms in their supply chain with their own," Lee wrote. "If any company's interests differ from those of the other organizations in the supply chain, its actions will not maximize the chain's performance."

That can happen even within a company, of course. Lee says that in one point in the 1990s, HP's chip division went on a very low inventory strategy, which lengthened lead times. That impacted even its own internal customer, the printer division. As a result, the printer division kept high inventories as a buffer, when it would have been less expensive for HP as a whole to keep more chip inventory than the more expensive printers.

Of course, getting this cross supply chain alignment is not easy. S&OP or Integrated Business Planning (IBP) are processes to get there, and much more widely deployed - especially deployed well - than in 2004.

But just last year at the CSCMP conference, consultant Robert Marchenko and Dr. Thomas Goldsby of Ohio State led a session that said there were huge hidden profits available to companies right now that could be unlocked through better alignment.

So, how are the challenges of alignment overcome? First, you start with alignment of information, "so that all companies in the supply chain have equal access to forecasts, sales data, and plans."

Second, the channel master needs to more clearly define supply chain "identities" - in other words, making very clear the roles and responsibilities of each partner in a way that minimizes conflict.

Third, set up the relationships so that when any one company tries to "maximize returns, they also maximize the supply chain's total performance." Companies must try to understand and predict how partners will react given current incentives, and make changes to get better alignment to overall supply chain goals.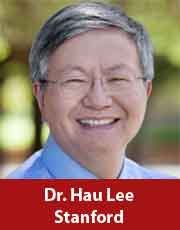 And get a solid IBP process, I would add.

Looking back now, is it true that those companies which focused primarily on supply chain efficiency don't gain any real competitive advantage over time and may even under-perform in the long term?

I am not sure, frankly, and a going to look around to see if there is research on this. But I will note in the age of Amazon, speed and efficiency are highly in vogue - though Amazon also great agility and adaptability.

I like the Triple-A framework of agility, adaptability, and alignment, but may have taken a slightly different approach to discussing each. Will save that for another day.


But re-reading this article left me thinking, is it time for a fourth A? Been wracking by brain for another one. "Analytics" popped into my mind - that is clearly something of a megatrend, and will increasingly be a factor in supply chain success, if my analytics are better than your analytics. Analytics are also changing the nature of supply chain planning.

I might add something on risk management, far more important today than in 2004, really a new skill in supply chain. But I can't think of any appropriate A word. Anyone out there with an idea?

Visibility is also an essential element of supply chain strength, as is talent development. But I lack A terms for these as well.
What else might be added?

So for now we'll leave it as a triple-A supply chain framework - but understand the landscape has expanded significantly over the last 15 years.
How do you think the Triple-A supply chain stacks up all these years later? Should we add other A's? Let us know your thoughts at the Feedback button below.