I am just back from two good days this week at the annual conference of the Warehouse Education and Research Council (WERC) at the Charlotte convention center.
If you haven't been to one of these event, WERC's conference is of a decent size - about 900 attendees - but it maintains a relaxed, boutique sort of feel, with many of its members very passionate about organization and its missions.
As the name implies, the event focuses on 4-wall distribution center matters like no other conference really does, but there are other subjects covered as well.

GILMORE SAYS:

WERC 2019 will be a short drive down I-70 from me in the great logistics town of Columbus, OH.


WHAT DO YOU SAY?
There is generally a decent amount of content on managing/improving 3PL selection and relationships, and where else are you going to get a session on "Solve Back and Shoulder Injuries in the Warehouse," as we had this year.

WERC tries to pack an awful lot into a short amount of time and given the number of attendees it attracts, with several keynote presentations, an aggressive number of breakout sessions each day, broad use of discussion-focused "peer to peer" sessions on focused topics (they are hit or miss in my experience), relatively new educational "Ted Talks" on day 1 around a handful of topics, several opportunities as always for distribution center site visits nearby, and more.

If you are disappointed in a WERC conference it won't be from a lack of options.

There was a change this year, with the usual committee of 10 or so members selecting presentations topics and session now supplemented with a member panel that also provided input.

Whether that led to improvement in the sessions I can't say. In general, I have been very satisfied with WERC content, and that was true again here in 2018. That said, most years I attend at least a couple of sessions at WERC that are what I would call truly outstanding presentations that make my list of top presentations of the year.

Did not find any of those this time, though that may have just been bad luck in terms of what I chose to attend.

So let's get to some of the highlights.

I have learned it is almost an iron law that any presentation that purports to discuss the application of Lean to distribution center operations does not really get into any real discussion of what is truly different about Lean DCs.

That was true again here in a decent enough presentation on gaining a competitive edge in distribution through Lean, presented by Aaron Lord
and Lissette Contreras of accessory and apparel maker Michael Kors, and consultant Alan Noss of Lean Quest.

The big takeaway for me here was just how long this process takes. The goal, Lord said, was to create a continuous improvement culture in the DC and foster the development of problems solvers at every level, but especially with floor level supervisors and hourly associates.

In took a little more than two years just to get the program organized and everyone from management on down trained on Lean principles, processes and tools, but Lord noted if you aren't really well prepared a Lean program will lead to failure.

I would say the presentation spent too much time on Lean basics ("House of Lean," etc.) and not therefore as much on the details of the implementation, especially as the majority of attendees worked for companies that have already started Lean programs and likely knew the basics.

I am not a Lean expert, but it seems to me at a very high level, there are two aspects to Lean - first the continuous improvement improvement/Kaizen foundation, and then the principles of how Lean processes are supposed to work (continuous flow, no batching, pull-driven, etc.).

This presentation focused almost exclusively on the Kaizen side, and how Michael Kors is seeing real improvements at last from such practices in its main US DC. As to the Lean process adoption, Lord said continuous flow is not really applicable in distribution, but that you can adopt some principles of pull-based operations, but without providing any detail.

So once again on that specific subject I came away with little additional insight. For example, it would seem to me that Lean would push a company away from traditional batch-oriented wave-based order picking to so-called "waveless picking" - but I am not sure, and have NEVER heard anyone address this or in fact anything like it in a Lean DC presentation.

That chippy comment aside, this was a solid enough effort, as success in the end (e.g., a 43% improvement in an unspecified area of order picking) has other Kors DCs asking for the program. One takeaway: if it had it over again, Kors would have trained its 400 core hourly associates later in the process.

Samar Saiy and Chad Claude of DHL also delivered a solid effort on tools that can be applied to help with the high cost of efulfillment. The reality, they said, is that few companies have a current WMS that really supports the new requirements of efulfillment, and even many current WMS's don't either. You can look to so-called Warehouse Execution Systems, they said, but those can be expensive.

An alternative: use some analytics and other tools to cut the gap between what you have and what you need. So, to an extent this was a commercial for what DHL can do for you, though to be very clear it didn't come across that way at all and I believe there is some real value in thinking about what tools you might deploy from whatever source they are bought or built.

Those tools include: heat maps to visualize pick and replenishment activity in forward pick locations and make adjustments accordingly; something DHL calls velocity coding, which takes history and actual demand to forecast SKU and SKU-cubic movements to improve slotting decisions, especially for dynamic slotting; SKU correlation, again to improve slotting by understanding what products are often ordered together; an order grouping tool that can reduce picking travel time by making smarter picking batches; and carton optimization to calculate how many and what size boxes are optimal for an upcoming period to reduce shipping costs (see our Graphic of the Week).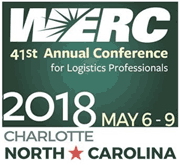 It was good presentation, providing education, for example, on what slotting approaches are best for what environments.

Labor in the DC is an increasingly important issue, almost a crisis in some markets, so a session by Brian Devine of temp worker firm Prologistex was not unsurprisingly very well attended.

Devine had all kinds of data, most shockingly of which was how over more than a decade, until just recently, DC hourly labor rates simply stagnated, while the cost of living rose substantially. Why the law of supply and demand didn't work better for workers in this period when demand for warehouse workers rose steadily I am not quite sure. However, that has started to change rapidly over the last few years, as wage rates have risen much faster than the CPI.

This should really just be viewed as a move back to historical norms, Devine said.

With unemployment at about 4% nationally, that means almost all the good candidate workers already have a job, Devine noted. Today, if you are paying at mid-level or below local rates, your choice is really going to be amongst poor candidates. And it takes at least $1.00 per hour more to get someone to move.

Among a number of pieces of good advice from Devine, have some empathy for your DC workers for goodness sake. One company that ran a first shift that started at 7 AM announced a new start time of 5:30 during peak season - resulting in chaos as workers had issues with transportation, day care, school transport, etc.

And be smart about your attendance policies. One company made DC workers come in for 23 straight days, and dinged workers attendance scores for missing a day or being late during that period the same as during normal schedules.

Devine, interestingly, is also not a big fan of DC incentive programs - in part because many workers just don't have another gear to use to exceed the standard, and the reward is usually too small and delayed for those that do.

There was much more but I am out of space. Solid event as usual for WERC, and I will say from an overall structure and environment this was the best CEO Mike Mikitka and team have put together.

If you are interested in improving distribution performance, it's a good conference to learn what others are doing. WERC 2019 will be a short drive down I-70 from me in the great logistics town of Columbus, OH. Hope to see you there.

Any reaction to this WERC conference summary? Were you there? What did you think? Let us know your thought at the Feedback section below.