Supply Chain Predictions for 2018 from Gartner and IDC

Over recent weeks, we've run highlights of the excellent supply chain predictions from our virtual panel of supply chain gurus. You will find those hereand here.
We also summarized one set of predictions from the analysts at Gartner, found here.

I am here with one final column summarizing additional 2018 supply chain predictions from Gartner and fellow analyst firm IDC Manufacturing Insights.
GILMORE SAYS:

I will note there are a number of different types of robots for distribution which can be classified into 4-5 main categories, which I promise to do sometime soon.




WHAT DO YOU SAY?
Along with offering a series of more general supply chain predictions, the analyst are Gartner again this year offered a set of prognostications specifically for chief supply chain officers (and supply chain executives in general, by extension).
Let's start with this: Gartner says that supply chain leaders estimate that the percentage of revenue driven at their companies by digital business offerings will grow on average from 38% today to 55% within the next two years.

Now of course, that is most relevant if we understand what "driven by digital business" means, and unfortunately that is not really defined. Is it primarily related to orders coming in from the web mobile?
Not sure, but Gartner does offer some interesting examples. One of those is when a business transforms from selling a product with a traditional warranty and service contract to selling it as a consumption-based service, usually in conjunction with Internet of Things monitoring.
In some cases, Gartner notes, this means hardware is essentially free, as it is included for use in the price of the digital offering. In these instances, the focus is on managing the equipment once installed as well as accounting for cost of maintenance/upgrades and, ultimately, repurposing of that hardware after the contract for services is up or the hardware is returned for replacement.
As a result of this and other possibilities, "Supply chain operating models must shift their focus from physical product manufacturing and delivery to integrated physical and digital offerings as the revenue mix moves more toward digital," Gartner says.

This is a huge opportunity for CSCOs, Gartner adds, observing that "CSCOs that plan and execute supply chain roadmaps that include the capabilities required to support digital business will raise the stature of their organizations and themselves. They will become enablers of growth."

As I have written before, who really owns these digital offerings (supply chain, IT, marketing) is tricky, and may involve joint offering ownership across two or more of these functions to make it work - or embrace a whole new cross functional model.

Gartner also predicts that supply chain leaders will be driving other organizational changes, predicting that "By 2023, 30% of companies in Gartner's Supply Chain Top 25 will pursue a flatter supply chain planning organization where the roles of a traditional planner and supply chain manager are combined."

I personally think the point Garter is trying to make would have been better delivered by not connecting it to its top 25 list, but that's a minor complaint.

Gartner believes that aggressively adopting intelligent process automation (often using AI) can result in flattening the planning organization, combining the role of the traditional frontline planner (often a firefighting role) with the middle manager.

When you dig down into what Gartner is saying here, it is that computers will simply by able to do a lot of things that people do today, as we have been hearing from many quarters for several years now.

Gartner, for example, cites the case of a leading industrial manufacturer currently uses machine learning and optimization to automate demand forecasting and inventory optimization decisions. In addition to I assume reducing costs by getting rid of some of the staff that used to do this work, Gartner says the company also improved service levels and reduced in inventory.

The machines are coming for all our jobs, I'm afraid. Gartner says that "As intelligent process automation proliferates, planners that used to be consumed with operational responsibilities will now have more bandwidth for higher-order tasks and initiatives."

Of course, that's what they always say. My guess is that many of them will also simply be let go, as Gartner late notes as well, saying new roles in the company will need to be created for many of those whose current jobs are automated away.

We also like to review the predictions each year from Simon Ellis and the analysts at IDC, which provides its partially overlapping views for supply chain generally and also for manufacturing.
IDC begins by predicting that "2018 will be a year of transition for the supply chain as old, analog processes give way to the new, digital ones," and mirrors many of the observations also made by rival Gartner, as noted above.

Among its 10 supply chain predictions, IDC says that "By 2019, robots will be in use in 50% of fulfillment centers, resulting in gains of up 30% and helping drive down the cost of operations and offset an increasing shortage of labor."

In fact, IDC says that "Deploying these devices [mobile robots] in the fulfillment center can be looked at as "low-hanging fruit." That is a very different perspective than we have traditionally had for DC automation.

IDC then says that the reason for labeling DC robotics as low-hanging fruit is the fact that one of the biggest sources of waste in the fulfillment process is travel time.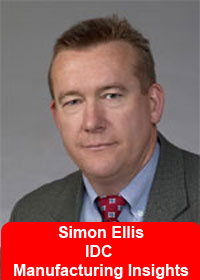 "Traditionally, humans walk throughout the fulfillment center to various pick locations when they are picking an order. The walking from location to location is wasted movement that can be eliminated by the deployment of mobile robots that will take up this step in the process, which allows humans to reduce the amount of physical exertion," IDC says. What's more, the use of robots in the fulfillment process frees up a significant amount of time that would otherwise be spent walking to allow fulfillment center labor to take on new job functions within the process.

Cost reduction is one driver of this interest in robotics in distribution, but IDC notes that the trouble companies are having finding DC labor is just as important.

I will note there are a number of different types of robots for distribution which can be classified into 4-5 main categories, which I promise to do sometime soon.

Another IDC 2018 prediction is this one: "Smart postponement techniques and additive (3D) manufacturing will have been deployed by one-third of manufacturers by 2020, thus reducing delivery latency by up to 50%."
I am interested in this because I am still a bit on the fence regarding the ability of 3D printing to upend traditional processes outside of extremely slow moving parts due to cost per unit issues - but then I also remind myself that as a digital technology, 3D printing should be evolving rapidly roughly according to Moore's law.

IDC recognizes the potential cost issues with 3D printing, but says that "with increased demand for higher levels of uniqueness and the [growing] ability to cost effectively manufacture individualized products, manufacturing organizations are in a position to rethink, redesign, and retool their operation to become more flexible and still meet accelerated demands on fulfillment" without placement of inventory all over the network.
IDC'S advice: "Rethink the art of the possible." The approach to product design and manufacturing "are being drastically altered as 3D printing enables organizations to build products in ways that traditional manufacturing simply cannot."
All good stuff.
I of course have only scratch the surface of all the predictions these fine analysts offered. Will summarize some more of the manufacturing-specific predictions from IDC in our OnTarget newsletter next week.

Any reaction to these predictions from Gartner and IDC? What are some of your 2018 supply chain predictions? Let us know your thoughts at the Feedback button below.