Trip Report - Tompkins Emerging Technology Center

Dr. Jim Tompkins has certainly been among the most impactful figures in logistics and supply chain over the last now almost 40 years. His firm - originally Tompkins Associates, now Tompkins International - was more responsible than anyone for helping to create the market for Warehouse Management Systems (WMS) in the late 1980s through the 1990s.
That was a long time ago - but Jim is hardly done innovating.
I am just back from a dog and pony show of sorts at the Tompkins Emerging Technology Center (ETC) just a few miles from the Orlando airport. It was basically a structured open house with presentations and an ETC tour held in morning and afternoon sessions over two days, with some 120 attendees in total - a good number for this type of thing.
GILMORE SAYS:

The 3PL provides the space, and runs the facility. But for ecommerce fulfillment, those facilities will be designed by Tompkins, and feature new age robots to support expensive piece picking.




WHAT DO YOU SAY?
The center was first opened in 2002 at a location close to the current site, then it was moved into its new location in 2007. I was actually there at the original opening as chief marketing officer at the time at WMS company RedPrairie, which had a Tompkins partnership.
As any company that has tried such a thing can tell you, such demo centers are not easy to maintain and most importantly keep current, and I really don't know how good a job Tompkins has done with its ETC over the years. The ETC has primarily focused on four-wall distribution technologies from its inception.
What I do know is that the 11,000 square-foot ETC has been interestingly refreshed with a whole new slate of technologies, many of them from Tompkins itself, as the company pursues a number of interesting initiatives, to put it mildly.
At the center of those initiatives it something called MonarchFx. Not sure where the name came from, but the idea sprang into Tompkins' head in 2012, when after pondering deeply about supply chain while on vacation he came to the realization that Amazon was simply going to take over the world, in large measure as a function of its logistics.
With its Prime service, Amazon has created the expectation for two-day, largely free shipping for on-line orders. And of course, it is moving to same-day and/or almost instant delivery for some items in some urban markets.
At the event, Jim Tompkins told an interesting anecdote that nicely sums up the current scenario. The CEO of a mid-sized apparel company was directed by the board to make free two-day shipping available for the 2017 Christmas season for orders across the US. The company operates with a single distribution center in the Atlanta area.
The numbers were crunched, and it was estimated that the cost to the company to do this would be $26 million. Its annual profit was expected, without the program, to be about $54 million. In other words, profits would be cut in half. The program was scuttled for 2017.
But of course that doesn't stop Amazon from building more fulfillment centers, postal sorting centers and more. So what is this apparel company - and thousands of others like it - to do?
Hence, the Tompkins vision for MonarchFx. The company, owned by Tompkins International, is creating a series of distribution facilities across the US that it hopes will allow retailers and brand companies to achieve rapid, low-cost distribution with very low investment.
Oh, this is just a 3PL offering your saying. Well, yes and no. It is actually a somewhat complicated assembly of a variety of technology and service providers - including other 3PLs. So, MonarchFx picks the markets it wants to offer service in, and finds a 3PL partner to work with (right now, three such partners: NFI, DHL and Kenco). The plan is for MonarchFx to first open a facility soon in the Los Angeles area, followed by Columbus, Dallas, Atlanta and New Jersey (not certain of the sequence, but these first five are expected to open in 2018). Dozens of additional facilities are in the long range plan.
The 3PL provides the space, and runs the facility. But for ecommerce fulfillment, those facilities will be designed by Tompkins, and feature new age robots to support expensive piece picking.
As was announced about this time last year at the ProMat show in Chicago, Tompkins is the exclusive North American distributor for robot technology from a Chinese company called Lab Z. The story is a Chinese businessman was frustrated by late delivery of an on-line order. He went the local parcel hub and found lots of chaos, with thousands of parcels not really being tracked in the facility.
So he went home and created the concept for the T-sort robotic system. These are small robots, about two-feet long, and carrying a tray. There is a technology for piece picking quite popular in retail and soft goods called tilt tray sorters that have been around for some 30 years. With this approach, hundreds of trays circulate in a loop. Trays stop and are dispensed in front of workers, who place an item on the tray. After receiving the item, the tray is pushed back onto the track, from where it travels to later "tilt" to release the product, typically down a chute and into a tote or carton. When an order is complete, the tote/carton is taken to packing/shipping and replaced with an empty. All this is typically driven by bar code scanning.
That explanation was needed because the T-sort system is basically a mobile tilt tray sorter. The little robots travel flexibly on tables (different configurations, and snapped together like Lego blocks) and "pull over," if you will, to a spot where an operator has SKUs for orders. An item is placed onto the robot tray and then pushed back onto the table, where it moves to a tote/carton and delivers the picked product. The system can then also be used to deliver packed cartons/bags to the right shipping lane. (See photo below).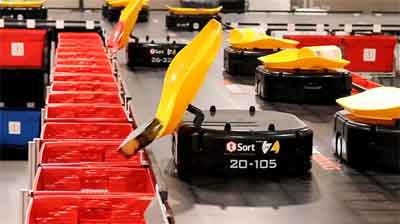 These speedy robots travel at about two meters per second, by the way.
Tompkins would claim a number of benefits of this approach versus traditional tilt trays - and I agree. The physical footprint is maybe 20% or less for T-sort, for example. It costs much less. It is flexible and scalable - you can start with a given number robots, and add tables and robots over time, or during peak seasons.
And this is truly portable DC automation - maybe the first ever. Tompkins says it is working with one major retailer that wants to use the system in the back room at night to pick/pack ecommerce orders, then fold it up and store it to the side during the day time. Apparently, this can be done. Another company wants to use the system for picking some of the time, and also move some of it over to the receiving area for inbound sortation for other parts of the day.
There other players in the MonarchFx mix. Though the core controls of the robot system come from Lab Z, Tompkins' own Warehouse Execution System provides most of the smarts. MonarchFx will use the WMS and Distributed Order Management (DOM) system from Softeon, a company with which Tompkins has had a number of successes at joint customers in the ecommerce area. There will be a partner for returns management, and someone for actual parcel delivery, though local contractors/regional parcel carriers may also be used.
At the ETC, there were also partners that can add additional automation that connects to the T-sort system, such as a very interesting robotic piece picking technology to replace the human induction from a company called RightHand Robotics, and the latest in human-less picking using A-frame technology from SI Systems.
Also featured at the event was yet another company Tompkins has created called SensorThink. The idea is to bring all the data from a DC - from materials handling systems to HVAC - in one place, sometimes using Internet of Things technology, other times just through basic integration.
I am still a little bit of a skeptic on this idea, awaiting more information, but will say the anecdote that one potential customer saying he wanted to be able to look at one place "on the health of my building" did strike a chord with me.
There is lots more, but I am out of space. Will have additional reporting and some video clips on our Supply Chain Video News broadcast next Monday, so take a look for that.
As a side note, Tompkins is also marketing this T-sort system to other companies outside of MonarchFx, even to other 3PLs, some of which were at the open house - as long as it the technology is used for a single customer. Want to create a MonarchFx competitor? Isn't going to happen.

What do you think of this MonarchFx concept - or the T-sort robots? Let us know your thought at the Feedback button below.