Supply Chain Predictions for 2018 from Gartner

Over the last two weeks, we've run highlights of the excellent supply chain predictions from our virtual panel of supply chain gurus. You will find those here and here.

And if you would prefer to see some of these guru predictions in video form (these are really good), that is right here.
GILMORE SAYS:

Gartner says "AMRs will transform warehouse operations over the coming years as they become truly autonomous and intelligent."




WHAT DO YOU SAY?
Now, as I do every year, I will spend two weeks summarizing the 2018 supply chain predictions from leading analysts, notably Gartner and IDC.

So we'll start this week with Gartner's "predicts" for supply chain operations.
Gartner starts with a simple observation: "Supply chain operations must adopt new business models to compete in an increasingly complex and volatile world. Supply chain leaders must identify where to innovate and invest in new processes and technologies to remain competitive."

Most of us can probably agree with that – the question (which never changes) is how to do that most effectively.
As a prelude to its predictions, Gartner highlights some data from the survey/study it conducts annually with SCDigest, in part noting that when asked in the study if they consider supply chain technology a source of competitive advantage, 65% of respondents said Yes.
However, an overwhelming majority of 88% of innovative, early supply chain adopters of technology see it as a key source of advantage, versus only 45% of conservative technology adopters do. (See graphic below.)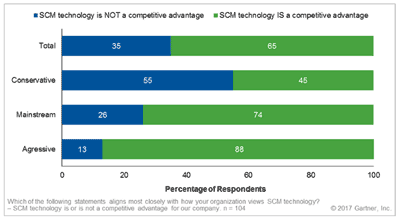 As an aside, I think the notion that supply chain technology cannot deliver competitive advantage is simply absurd – I only have to review my decades of compiling stories of companies that have achieved significant gains from technology, or observe Amazon today. However, I will agree that some companies don't see it that way – hence it becomes a self-fulfilling prophecy.
With that into, I will summarize several of the Gartner predictions from a slew of contributing analysts, those being: Dwight Klappich, William McNeill, David Gonzalez, Simon Jacobson, Alex Pradhan, Andrew Stevens, Laurel Lippay, and Simon Bailey.
Let's start with this one: By 2021, one in 10 warehouse workers in established economies will be replaced by autonomous mobile robots (AMRs), Gartner says. 

We all know the robots are coming, the question is just how fast. Gartner begins by noting that the interest in DC robots stems more from challenges finding warehouse workers in the US, Europe and Japan than the interest in cutting labor costs.
By AMR, Gartner is referring specifically to the rapidly evolving next-generation automated guided vehicles (AGVs), as I will note traditional AGVs have never really gained much presence in distribution centers versus manufacturing, especially in the automobile sector.
Gartner says AMRs will take automation to the next level by adding intelligence, guidance and sensory awareness to historically "dumb" AGVs, allowing AMRs to operate independently and around humans. Of course, I will note robotics makers such as Seegrid and others have been doing this for several years.
AMRs address the historic limitations of traditional AGVs, Gartner says, making them better suited to and more cost-effective for complex warehouses, adding that "as AMRs continue to evolve, gaining more features such as lift capabilities, they will be cost-effective ways to supplement or replace human capital in warehouses of varying size and complexity."
Expect rapid gains in the technology, Garter says, predicting that "AMRs will transform warehouse operations over the coming years as they become truly autonomous and intelligent. Costs and complexities will continue to come down, which will open up the market to even more companies."
What's more, Gartner says that "While AMRs are rapidly evolving technologies, they are real, and even some conservative organizations could at a minimum experiment with them today. The cost of an individual AMR is modest compared with other forms of automation, so companies should acquire test units to "play" with if they aren't yet ready for wholesale adoption."
I will note that such robots are available from new specialists such as Locus Robotics and Fetch Robotics, as well as many traditional AGV providers, with some still oriented to moving pallets, some to assist in the piece picking process.
Another prediction from Gartner, along a very dissimilar vector, is this: By 2021, three out of five factory-level artificial intelligence initiatives in large global companies will stall due to inadequate skill sets - and immature technologies.
Is AI going to take over the world? Maybe not as fast as many seem to think, Gartner says – at least on the factory floor.
AI can simply been seen as a subset of larger initiatives such as the digital factory/industry 4.0, though the rising interest in advanced analytics has pushed AI front and center for smart manufacturing, Gartner says.
While AI on the factory floor can be applied say to develop self-learning robots, AI-based systems that are more cognitive in nature (e.g., mirroring or improving upon human thought processing) will require new skills and talents to be developed in order for them to be successful, Gartner believes.
Gartner is long term bullish, saying that "Artificial intelligence will change entire production processes and how factories are managed. The promise of hyper-flexible production lines that are self-learning and self-adjusting has allure."
That's hard to argue with.

However, don't assume that "the machines are ready to take over," Gartner says, noting that AI transcends both traditional mechanical and IT skills.
"This unique blend of subject matter expertise and data management lacks in abundance and will create a "talent trap." This trap will constrain the operationalization and scale of many factory AI products, ultimately curtailing them," Gartner interestingly predicts.

Gartner does not believe overcoming these digital skills constraints in manufacturing can be solved by "just hiring data scientists." In fact, Gartner says that even when generalist data science skill sets are available, making the most of them can be a challenge, due in part from a lack of domain expertise and the complexity of heterogeneous factory systems.

What are manufacturers to do? One recommendation from Gartner is to nurture mentoring programs where current subject matter experts partner/train/learn from younger, data-savvy employees so there is knowledge transference.

Additionally, manufacturers should develop knowledge management systems that maximize human potential. This, Gartner says "includes developing a dialogue between human and machine, encouraging machines to be proactive, and focusing on "why." This will help machines capture and convert expert knowledge."

Not sure I fully get that last one, but I will assume Gartner is correct. I may ask Gartner for more detail on just what that last point means.

Finally, I will take a quick look at this prediction from Gartner: Blockchain is also not quite ready to take over the supply chain world either.

In fact, through 2020, 90% of all supply chain blockchain projects will still be proof-of-concept initiatives, Gartner predicts – which would certainly be bad news for IBM, which is making an aggressive blockchain bet - if accurate.

While noting the long-term promise of the concept, "Supply chain blockchain technology is not fully developed, is largely untested and requires early adopters to accept significant increased levels of operational and financial risk," Gartner says, adding that the vendor landscape in this area is also immature.

Wow – that is sure different from the blockchain hype machine.

Gartner sites other barriers to blockchain – and I had not thought of this one – including the fact that international finance (along with other application areas) will not be adopt blockchain without the right organizations and authorities approving and regulating its use.

But that doesn't mean companies should sit back and do nothing. Gartner recommends, for example, that companies join industry working groups and consortia where like-minded companies are exploring blockchain pilots, with a view to starting discussions around an ecosystem of trading partners.
An example of a group worth joining is the Blockchain in Trucking Alliance (BiTA), Gartner says, though I took a quick look there and for now almost all the members are carriers, with very few shippers.

And I like this recommendation from Gartner, since I have said something much like it myself.
"Evaluate the impact of traditional technology solutions," Gartner says, as "Blockchain is not a panacea and may not be the best solution to solve your supply chain business problem."

Good stuff from Gartner. Next week I will be back with some more predictions from Gartner specifically for chief supply chain officers, and some other predicts from the analyst at IDC.


Any reaction to these predictions from Gartner? What are some of your 2018 supply chain predictions? Let us know your thought at the Feedback button below.