Supply Chain Predictions from Our Guru Panel 2016

Well, I really did it this year. One again I have asked a virtual panel of supply chain gurus for their predictions for 2016 - an admittedly almost impossible task. Most get around that impossibility by focusing more on trends than true predictions (though we have a few of those too).


Many of our prognosticators this year have done this for SCDigest before, as I keep asking the good ones back. But I received so many excellent and well thought out responses that even summarizing some highlights from all of them here will be a real challenge, trying to fit 10 pounds of predictions into the proverbial 5-pound bag.


But I will do my best, and we will publish their full text predictions in various forms over the next couple of weeks. So here we go:
GILMORE SAYS:
"What's your take on our guru predictions? Which ones ring most true? What predictions for 2016 would you add?"
WHAT DO YOU SAY?
I am going to start with my good friend Gene Tyndall of Tompkins International, who again focuses on what he sees will be the key supply chain themes for 2016.


One of the trends Tyndall sees is a real people and the talent shortage in the supply chain.


"We see several companies struggling with senior level expertise, as so many baby boomers have retired or are in the final stages of their careers," Tyndall says. "This problem is largely a generational issue, but it is also the fact that demand exceeds supply. As companies have expanded globally, and evolved into multi-channels, the talent needs and requirements have increased."
He sees efforts to champion women in supply chain and perhaps increase their numbers as one partial solution to this issue.


Tyndall also sees enhanced distribution strategies near the top of the supply chain priority list in 2016, with new requirements for e-fulfillment operations getting most of the attention, but so too will uses of automation generally and robots specifically, especially in container loading and unloading, some also in order picking.


However, he notes that the opening of the new Panama Canal in 2016 will also intensify the need for large-scale distribution facilities.


Our friend Mike Regan of TranZact Technologies is back again to offer some salient observations, but with a bit of a "black hat" view this year - yet one very much worth noting. He warns your job may be at risk.


"With the economy likely remaining soft, C-level executives will demand that transportation and supply chain professionals turn over every stone in order to reduce costs. And if the cost cuts are not deep enough, or if your C-level executives conclude that someone else can deliver more savings - you could be replaced or eliminated." Make cuts or be cut, he warns.


However, here we run into a bit of a rub. "How will you reduce freight costs when the carriers are looking for higher rates to cover increases in their operating costs [notably rapidly rising driver pay and increased costs from regulation]?" Regan says the answer is much more likely to come from process improvement than maintaining, let alone reducing, truck rates.


He adds that "I have rarely seen as many senior level transportation and supply chain executives let go as I did in the latter half of 2015." Yikes!


Our expert columnist Marc Wulfraat of consulting firm MWPVL International is a man of many talents, and in addition to numerous other areas of expertise he has developed a niche of being perhaps the industry's foremost observer of Amazon.com.


He notes that Amazon quietly rolled out no less than 43 smaller urban distribution facilities (Prime Now hubs and Fresh Delivery stations) in the US last year, with the goal to enable delivery to a customer's doorstep in 60 minutes or less. It also opened up four university bookstores and entered into the world of retail brick and mortar.


"Rest assured that this is just the tip of the iceberg, as the company is only getting started on its national quick response assault," Wulfraat says. "Amazon's main weakness is that it doesn't have any stores for people to shop at but they are quickly working on eliminating this barrier."


Noting Amazon's investment and activity in building its own freight capabilities, including air shipments and its own parcel delivery fleet, Wulfraat believes that "If you thought that Amazon was a game changer in 2015, hold onto your hat. The company has built an impenetrable moat that cannot be replicated by any other company."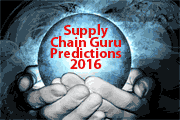 We asked another of our expert columnists. Dr. Michael Watson of Northwestern University and OpEx Analytics, for some predictions on supply chain network design and use of analytics.


Among his observations were that "Modeling will become more collaborative," as "Cloud-based technology now makes it easier to have different people in the organization work on the input files and explore the results."


He also thinks "Machine learning will help you understand your data and automate the modeling building," enabling companies to gain deeper insights into the data, and find inconsistencies and other problem areas. More on machine learning soon from SCDigest.


David Schneider of David K. Schneider & Associates says that for 2016, "It all comes down to the price of oil."


Contrary to what we normally might see, low oil prices are going to undercut industrial growth in the US. That's because "Oil exploitation, drilling and infrastructure all drove much of the industrial growth post-2010. But now, the shale oil producers can cut just so much cost before they have to fold, and we are going to see many fold in the first half of 2016."


He notes that the low price of oil is changing the economics between rail and truck freight transport.


"Some shippers are now seeing an advantage of moving freight out of containers in port and trucking to inland destination rather than intermodal moves," Schneider notes, adding that "The railroads are going to have a hard year."


We also asked Chris Sawchuk, who heads up the procurement practice for The Hackett Group, to highlight what he sees for supply management in 2016, and he starts with some hard numbers.


"Our research shows that procurement executives are expecting small increases in staffing (2.2%) and operating budget (1.1%) in 2016," Sawchuk says. "At the same time, these companies are expecting revenue to increase by 3.7% thus resulting in improving productivity. Staff is expected to grow more than budgets in 2016, which indicates slightly lower new labor costs."

He adds that Hackett's research shows that procurement executives identified performance shortfalls in four key areas: becoming a trusted advisor to the business; increasing spend influence; increasing agility; and tapping supplier innovation. "These are among the most important areas for procurement in 2016, yet there is clearly a need for procurement to improve their ability to address each of them," Sawchuk observes.

Long time supply chain consultant Dr. Chris Gopal, who now spends the majority of his time at the Drucker School of Management at Claremont University, sent a number of supply chain trends he sees for 2016, one of which is that "New developments in manufacturing technologies and automation will change the cost, risk and customer dynamics of the supply chain." These new technologies include additive manufacturing, "manufacturing 4.0, [connectivity]" and intelligent robots.

"These are radically changing the old "economies of scale" cost curves and structures, enabling lot sizes of one, leading to final operations facilities close to the customer (and away from risky areas), and involving customers in the design and fulfillment processes," Gopal observes, adding that "a likely outcome could be the reduction in outsourcing as labor content drops and the design-manufacturing process becomes a core competency."

He also expects that "increasing economic and geo-political uncertainties (China, fuel and transportation costs, government regulations, terrorism, to name a few) will increase the visibility of risk and the strategies and structure to mitigate it," as "Risk will be defined as more than major geo-political and natural disaster events that disrupt supply."

Finally, Dr. Christopher Norek of Chain Connectors warned that shippers should "Prepare for possible dimensionalized pricing in LTL - not announced yet, but the big carriers are installing the scanning equipment to handle this." He says that small and medium size business without transportation expertise need to be aware and understand how their pricing might change, as one SMB company told Norek that LTL dimensionalized pricing could increase their rates upwards of 25%.


Great stuff - full text of all this coming soon. Predictions from leading analysts next week. Would love to hear some of yours.

What's your take on our guru predictions? Which ones ring most true? What predictions for 2016 would you add? Let us know your thoughts at the Feedback button below.