Results of Gartner-SCDigest Supply Chain Study 2015


For eight years now SCDigest has partnered up with the analysts at Gartner on a supply chain study based on a survey of our readership.
Always a good read, the presentation highlighting the findings was just released last month at the Gartner Supply Chain Executive Conference in Phoenix, with the research led as usual by Garner's Dwight Klappich and Chad Eschinger.
These days, a lot of what Gartner does is connected in some ways to an ever-growing list of "maturity models," the first of which was a core supply chain framework, or more accurately a "Demand Driven Value Network " maturity model.
GILMORE SAYS:
"The problem, meeting attendees said, was that while that is all well and good, it is too hard to measure results on that strategic/growth side of the equation."


WHAT DO YOU SAY?
Released several years ago, the original model had four levels, but now has expanded to five. The basic concept has been spun out to similar maturity models for Sales & Operations Planning, Logistics and I believe a few more areas.


That maturity model is important for this year's Gartner-SCDigest research because survey respondents were asked to self-rate themselves as being in one of those five levels, and then many of the responses were analyzed based on that segmentation.

If you aren't familiar with that DDVN model, the five levels are: Level 1 - React (business unit focused, often misaligned or siloed objectives); Level 2 - Anticipate (some supply chain functional performance improvements over Level 1); Level 3 - Integrate (integrated, cross functional supply chain decision-making); Level 4 - Collaborate (profitable demand-driven fulfillment through internal and some external collaboration); and Level 5 - Orchestrate (profitable shared value creation through innovation across internal/external networks).
Gartner will tell you very few if any companies are really at level 5. For this year's survey purpose, one company placed itself at that level out of some 400 total. Here is a graphic of the maturity levels across different attributes if you are interested: Gartner's Demand Driven Maturity Model. In this survey, 20% said they were Level 1, 44% Level 2, 31% Level 3 and 5% Level 4.


The study analysis exists now basically just as a powerpoint presentation. Over the next few months, a series of Gartner research notes based on the data will be generated by various analysts.


The focus of this year's report pivoted more strongly towards supply chain IT versus operations, which Klappich said had become a bit boring over the years, and that change makes a big difference in the analysis.


Getting a little ahead of myself, I liked Gartner's breakdown of the relationship between the supply chain organization and IT as being in one of four modes, ranging from "strategic" collaboration at one end and "contentious" at the other. In the two in-between categories, Gartner nicely calls out one category it calls "project-focused," meaning IT is sort of like an internal service for hire - and there are still a lot of companies where that is how it continues to work.


Which led to the graphic below, which compares what Gartner says is the old supply chain IT model to a new more enlightened one. In the old model, IT is mostly focused on "delivery" of technology, on-time and on-budget. In the new model, the focus transitions first to adoption, not just delivery, but more importantly business outcomes created from the new technology, not the usual IT metrics.
I believe this is spot on.


Early on in the presentation, Gartner offers this chart, which shows the share of IT spend going to different types of projects by how respondents classified their companies in the DDVN maturity model.
As can be seen, higher maturity companies spend far greater share of their IT money on programs related to growing the company and transformational efforts than do less mature ones, which spend much higher percentages on just maintaining/running the business and traditional cost focused projects.


I had a short but interesting discussion with Garner's Eschinger on this, and he repeated the analogy used in the report of a black hole out in space, which in supply chain terms he says are very tactical, cost-focused initiates. Meaning, for many companies, no matter how hard they try to more balance those projects with ones more focused on innovation and growth, the gravitational pull of lower costs keeps pulling most resources back into that kind of work.


This is actually kind of an important point, and one worth pondering for a second. A discussion related to this arose during a presentation I made to JDA Software's Demand Optimization Council meeting in late April on supply chains strategy, where I made the point that a supply chain strategy needs to well align with a company's overall strategy for growth and innovation.


The problem, meeting attendees said, was that while that is all well and good, it is too hard to measure results on that strategic/growth side of the equation. So you are left with something that is pretty easy to measure these days, and that is cost. So there you are. More on this someday soon.


Wrapping up Gartner report highlights, the chart below summarizes results from a series of questions that offered respondents a binary set of choices. So, for example, 73% believe their companies need more supply chain analytics, while just 27% say what they have now is sufficient. Does more agile supply chain software actually add complexity, I suppose on the belief all that tweaking and reconfiguring over time is a lot harder than just sticking with what you've got? Anyways, 33% think so, the survey found.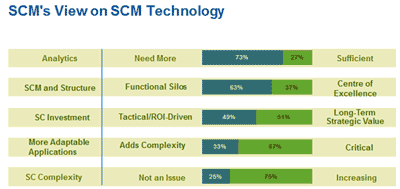 Ok, I am out of room. My recommendation to Gartner is they bring back some of the more operations focused data and observations next year. Will appreciate your help in November when we start this up for 2016.


Any reaction to the highlights of the 2015 Gartner supply chain study? Where do you come down on supply chain IT spend for core cost reduction versus growth and innovation? Let us know your thoughts at the Feedback button or section below.