The Year in Supply Chain 2013


It was as always an interesting year in supply chain for 2013 - but aren't they all these days?
This week, I will summarize what I feel are the most important key themes and trends of the supply chain year that was. Next week in our OnTarget newsletter, we'll publish our popular timeline of key events over the past year. In two weeks (after a pause for a summary of next week's National Retail Federation conference) I will be back for a review of the year in charts and graphs.
So let's get right to it, starting with the really big picture.
The economy underlying our supply chains remained about the same in 2013, with positive but modest growth reflecting the "new normal", though with some signs of strength as we closed the year. Q3 US GDP was up a strong 4.1%, according to the latest revision in late

December, up from a 2.5% rate in Q2 and just 1.1% in Q1. However, expectations for Q4 are back to a more modest 2% growth rate, and the full year number should be just a little above that same 2% level.

GILMORE SAYS:
"The horse meat scandal led grocery chain Sainsbury's to say it would do expensive DNA testing on all incoming meat shipments, and us to say that in the future, it won't just be about food safety, but also food integrity"

WHAT DO YOU SAY?
The Euro zone troubles continued on, with total growth expected to be flat or down a bit for the full year, with the current fear now being deflation, or falling prices, which the central banks there are working hard to avoid, as consumer and business demand remains weak.

China is expected to post official full year GDP growth of 7.6%, the lowest since 1999. But many feel the official numbers are tilted to the upside of reality. Japan's stock market at last took off after an aggressive US-style quantitative easing program was launched, but whether the economy there will rally after years of stagnation is unclear.

The world overall became a more risky place, with continued troubles in the Middle East (Iran nuke concerns, a coup in Egypt, Syrian civil war) that as always could escalate to something more at any time. Perhaps more troubling were growing tensions - and clear Chinese aggressiveness - over disputes with Japan, the Philippines, South Korea and more over control of various tiny islands, parts of the Pacific ocean, and even airspace. This is real potential trouble.

On core supply chain, the e-fulfillment wars certainly occupied center stage for most of 2013, with Amazon.com leading the charge, with its plans or tests for a roll out of its on-line grocery business, co-locating mini-fulfillment centers inside some customer DCs, expansion of its locker service, Sunday deliveries in some markets, the now famous research into using drones for delivery, plans for a "center aisle" grocery offering to take on warehouse clubs, and more - in one year.

Meanwhile, Macy's rolled out store based e-fulfillment capabilities while Walmart aggressively piloted the same concept. eBay announced tests around a same day fulfillment service with a broad group of retail partners, among other announcements this year. Google also started testing the delivery service waters. Retailers and manufacturers are investing big money to avoid being "Amazoned." (My friend Jim Tompkins may have invented that term.)

Also very big news this year was the US energy boom, led by fracking techniques to produce both oil and natural gas, leading to economic surges in parts of the country such as North Dakota. US reliance on foreign energy sources is dropping rapidly, with real energy independence clearly now a clear possibility.

In 2013, the US actually passed Russia to be number 1 in the world in total oil and gas production, a transformation very few saw coming even a few years ago.

That domestic energy boom strongly contributed to the view that US manufacturing really is making something of a comeback. The US has very low natural gas prices compared to most of the rest of the world, leading a resurgence of sorts in gas intensive industries, such as chemicals and metals. The first new US-based fertilizer plant in 20 years is being constructed in Iowa, based on low nat gas prices.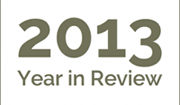 Meanwhile, Walmart held a major event looking for suppliers which make their products in America (talk about "retro" - remember its failed "made in the America" campaign of 20 years ago?), while the US is even seeing a return of some textile and apparel mills, among other anecdotes. This trend hasn't really showed up much yet in the aggregate numbers, but the news was still encouraging.

Commodity prices continued to take a beating, as the long commodity price surge that had companies around the world concerned with growing input costs for years is seemingly over for now. The Dow Jones-UBS Commodity Index, for example, fell 9.6% in 2013, the third consecutive annual loss for the measure. Slowing demand from China in the past few years is a key factor.

Oil prices, however, remained basically flat, ending the year at about the same $95 level for West Texas Crude as began the year. But with a few exceptions input cost pressures are low right now.

In April, the collapse of a building in Bangladesh that housed several apparel factories killed more than 1100 workers, and along with earlier fires there and in Pakistan exposed the tangled and murky supply chain networks in the apparel and textile sectors. This was in fact a real eye opener - tons of sub-contracting going on by direct suppliers to big retailers and brands because they could not meet volume commitments on their own, and the retailers either were unaware or I believe simply looked the other way until the tragedies.

Competing plans to help Bangladeshi suppliers were announced by Euro and US retailers and brand companies (the Euro plan was more generous), and companies such as Walmart toughened supplier policies relative to sub-contracting and other practices, though I think the issues are hardly solved.

Use of Cloud-based supply chain software seemed to really gain critical mass in 2013, with SAP, Oracle and JDA among others announcing major initiatives, and seemingly every new software entrant offering Cloud- based solutions. Cloud gained traction even in such areas as supply chain planning and Warehouse Management, where progress had been slow. The corner is being turned.

The feared Hours of Service changes for US truck drivers survived a court challenge and went into effect July 1, but as a few brave souls had predicted, the impact seems to be well below the levels some feared, and really felt only on long haul, cross country routes.

While some had estimated a mid to upper single digit hit to productivity, most carriers are saying the aggregate impact is in the low single digits, and the issue had really faded from prominence as the year ended.

Finally, earlier in the year came the at times humorous but in reality serious issue of horse meat being substituted for what consumers thought to be beef in hamburgers on UK grocery cases all the way to Ikea frozen meat balls.

The led grocery chain Sainsbury's to say it would do expensive DNA testing on all incoming meat shipments, and us to say that in the future, it won't just be about food safety, but also food integrity.

As usual, it was an interesting and challenging year in the supply chain. I expect more of the same in 2014. Look for the event timeline in OnTarget next Wednesday.

If I missed any key themes or story lines for 2013, let me know.
Any key trends or themes or storyline you think were key in 2013? Let us know your thoughts at the Feedback button or section below