A Decade of Supply Chain Mega-Changes Part 2


A couple of weeks ago, as part of our year-long semi-celebration of the ten years of Supply Chain Digest, I offered the top 10 changes in the supply chain over the last decade. Well, five of the ten actually. I thought it could be done in one column, but I rambled on long enough that as usual I had to break it into parts 1 and 2.


The first five mega-changes in my list were as follows:

Technology Vendor Consolidation: Merger mania has led to a lot fewer choices to consider, unfortunate from my view.
GILMORE SAYS:
"You simply didn't hear about companies announcing major "supply chain transformations" and promising huge benefits from the effort back then - today it is almost commonplace."

WHAT DO YOU SAY?
Dramatically Improved Software Quality: The huge reduction in supply chain software bugs over ten years is really a sea-change, and great for users.

RFID's Supply Chain Collapse: 2003-04 was the apex of RFID mania. Walmart's massive compliance program was just getting going, money pouring into RFID technology, etc. There was a massive collapse by 2009 that no one envisioned in those early days, when the talk was all about "tipping points."

Searching for Growth in Emerging Markets: Ten years ago, there was still plenty of growth in developed economies. Not so much anymore. Now, the play is all about capturing emerging market growth - with huge supply chain implications.

Risk Management Moves Way Up the Supply Chain Priority List: Risk management was just emerging as a major supply chain focus in 2003. Now, after the Japan earthquake tsunami and more, it's near the top of the priority heap - and greatly complicates supply chain strategy.


More commentary on those five here in part 1: A Decade of Supply Chain Mega-Changes


Now, for the next five in my list:

The Rise of Green Supply Chain Practice: This is the most obvious of the 10 mega-changes. in 2003, green supply chain and sustainability were barely if at all on the radar screen. But both gained significant momentum shortly thereafter, powerfully (though by no means solely) led by Walmart's then CEO Lee Scott when he moved this to the top of its corporate agenda. Soaring oil prices in the 2005-2008 period fueled the flames.

In 2009, Walmart announced plans for its supplier sustainability index, a major milestone in the industry. It may be a lot more about cost savings than a true commitment to sustainability in many cases, but what does that matter? The horse is way out of the barn, and is now one of the major drivers of supply chain practice.

Omni-Channel and the Amazon Factor: E-commerce was big news in the late 1990s, now clearly seen as before its time. By 2003, e-commerce was reviving, but slowly.

But it took off not long after that, as the notion of "omni-channel" took hold, generally meaning "buy anywhere, fulfill anywhere," or something along those lines.

E-commerce growth, depending on your source, continues to rise 15% or so year over year, and obviously much faster in certain product categories. But the number of categories immune to the e-commerce tsunami is shrinking. I was at a major regional grocery chain recently whose number 1 priority is building e-commerce capabilities.

And that is no doubt because Amazon announced a major assault on the grocery sector with its new Amazon Fresh service. Add to that MRO supplies, same day delivery, Sunday delivery, now drone-base fulfillment in the works - Amazon is an innovation machine.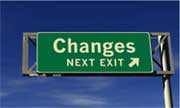 Amazon's growth has fallen of late from 40% per year to "just" the mid-20 percentages. That is coming out of many retailers' hides. There are consultants warning about being "Amazoned."

Add to that the huge shift off manufacturers going consumer direct on-line as well, and all the logistics challenges that entails - this is a mega-change indeed.


Focus on Supply Chain Finance: A decade ago, supply chain leaders frankly were not all that in tune with how supply chain could really drive shareholder value beyond reducing costs.


It was over the next few years that we started to hear presentations about the need for supply chain managers to "speak the language of business," notably one I saw in 2004 from now CSCMP CEO Rick Blasgen when he was then at Conagra, as well as many others over the next few years. My friend Gene Tyndall, for example, has been making this same appeal for many a long time.

That thinking has had an extraordinary impact, most noticeably on the recognition of how supply chain performance impacts free cash flow, a key driver of shareholder value. Just recently, Daniel Myers EVP of integrated supply chain for food giant Mondalez (split off from Kraft), led a shareholder presentation that focused extensively on the cash flow benefits from the company's supply chain transformation strategy, expected to deliver $1 billion in incremental cash flow when complete.

This was all exacerbated during the great recession, when dramatic supply chain changes literally provided enough cash to keep many companies from going bankrupt.

Now a number of companies have people with the title of VP of supply chain finance to clearly connect the supply chain to shareholder value.

We're not all the way there, but the progress over the past 10 years has been dramatic, if at times somewhat behind the scenes.

Supply Chain Now in the Boardroom: This is admittedly tied at the hip to the previous mega-change relative to supply chain finance, but I think deserves its own shout out. A decade ago, most corporate boards simply didn't get supply chain, maybe in part because as noted above supply chain often couldn't articulate its value in terms that the board could relate to.

Now, supply chain, especially the risk element, is a common topic at board meetings. Companies are placing supply chain talent on to their boards, such as Conagra recently adding former Ford supply management executive Tony Brown to its board.

You simply didn't hear about companies announcing major "supply chain transformations" and promising huge benefits from the effort back then - today it is almost commonplace.

Experience in supply chain is now recognized as a solid credential for the CEO role, ala Apple's Tim Cook.

Tremendous Advances in Distribution Center Automation: Ten years ago, distribution center automation was to a certain extent on the outs, with technologies such as automated guided vehicles (AGVs) and automated storage and retrieval systems (AS/RS) definitely on a downward slide, viewed as too inflexible.

The basic paradigm of pick-to-belt and downstream sortation hadn't changed much in 15 years (even if speeds kept steadily advancing).

What a difference we've seen in recent years. Go a to ProMat or Modex show these days - you will see a wide array of different and new automation technologies for distribution, led by the Europeans, who for a variety of reasons (labor costs, space constraints), jumped on this bandwagon much earlier than the US.

The robots are coming. Amazon.com spent $770 million to buy robotic picking firm Kiva Systems, for reasons that aren't yet fully clear, though I now suspect were smart ones. Substantial progress on the controls side of things is the big driver of robotic advances. Automated case picking (ACP) is on the rise.

DC automation is on a roll right now, and vastly different than a decade ago.

So that' my list. Whether you agree or disagree, I'd love to hear your reaction.

Any thoughts on the largest supply chain trends of the past decade? What would you add or delete? Let us know your thoughts at the Feedback section below.