Is some or much of the history of supply chain management being lost forever?

That may sound like a needlessly dramatic statement, but I am not so sure.

Let me give you an example: several years ago, when we created our "Top 10 Supply Chain Innovations of All-Time," I decided that the creation of the first transportation load control center (LCC) was a good contender for the list.

My request to readers is this: if you have some supply chain history at your firms that you would like to see saved for a long time, please contact me.

---

Several years prior to that, Jim Carr of PPG had told me that almost 30 years ago, PPG had become the second or third company in the US to create an LCC, after 3M, which had been the first. Now if Carr didn't tell me that story in passing, the history is probably lost. Fortunately, he did.

So now I needed to find someone who knew the 3M side of things - and this happened back in the early 1980s. I started with several calls/emails into 3M's PR team to see if by any chance some of this history was preserved there. I couldn't even get a response after multiple attempts.

So I reached out to Paul Husby, who had been VP of supply chain services at 3M in the early 2000s, and I had met him along the way. Husby didn't know the story at all, but said he would search around a bit and try to find someone who did.

He kept at it off and on - and many thanks to him for the effort. Two to three months later, he found a couple of people who looked like good candidates, but they didn't know the story either. But if I remember correctly, one of those people said he might know someone who was there, and sure enough, I eventually got a contact who was directly involved.

That source said a manager named Roy Mayeske came up with the idea. A central group in St. Paul planned the loads for more than 30 ship sites, with requirements and planned shipments being sent back and forth by phone calls and early forms of the fax machine.

My contact added that the 3M LCC used software originally built for carrier Schneider National, and that somehow 3M turned it around to work for a shipper. But just a few weeks ago Descartes Systems CEO Art Mesher, who was in the Twin Cities area at the time, said I didn't have it quite right. He said a company back then called Optimal Decision Sciences first built the software for Schneider, then used that as something of a base for the 3M project.

And now you know. My point just being that this story has now been captured for a long time, and hopefully forever. I am glad to have played a key part in that. Otherwise, the story of the first LCC would have almost certainly been lost.

And ironically, the reason I received an update on the 3M story from Mesher was because I had contacted him regarding the origins of his famous "The V's of Supply Chain: Visibility, Variability, and Velocity" when he was an analyst at Gartner. This is one of the most iconic and influential supply chain pieces of all time, to this very day.

But I have tried several times to see if Gartner has an electronic copy of the piece or pieces. So far, I have struck out there. Mesher, however, said he might have a hard copy of something in his files, and sure enough he came up with a scanned-in, somewhat beat up copy of a conference presentation on the 3 V's, which I now have and which we now make available to SCDigest readers: The 3 V's of Supply Chain.

Once again, I feel like we have recorded something for posterity here electronically that amazingly may have simply disappeared from our supply chain history. (As an aside, one thing I have found is that using Google to search for things from a long while back is often simply not very useful.)

And to keep the story going here, the reason I contacted Mesher is to get some specifics about the 3 V's for a supply chain timeline video we created for the 50th anniversary of CSCMP's founding, as the National Council of Physical Distribution Management (NCPDM), in 1963.

The video was played to start day 2 of the annual CSCMP conference in Denver two weeks ago, and highlights 50 years of supply chain progress. It was very well received at the conference, and if I may say so is really very cool. You can view it at the link below.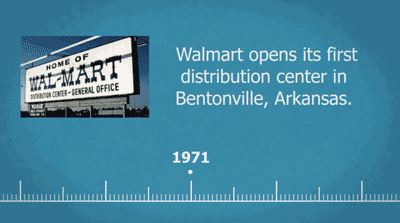 If anyone would like a copy of this video, please email me at the Feedback button below.

Along the way, I have found many other examples of this "lost history" theme. In the video, the item about the first real-time WMS at a JC Penney DC near Los Angeles in 1975 came from my friend John Hill, now of St. Onge, then president of a WMS pioneer called Logisticon. That fork truck image is actually of one of the vehicles at Penney outfitted with a real-time radio frequency terminal connected to the WMS - what a breakthrough. Hill said unbelievably the system included a wireless label printer virtually tethered to the RF terminal.

One more: I found in building the video that the most recent "State of Logistics" report, started by the late Bob Delaney of then Cass Logistics in 1988, that can be found today is from 1996, and that was only found through some extra effort for me by John Pickering of what is now Cass Information Systems.

So, it may be a quixotic effort, or maybe to some just not worth the time, but I want to see this history preserved. Hence, I am starting the "Supply Chain History Project."

It is an admittedly vague concept right now, but I can promise it will involve a web site that will archive in some way as much of the history as we can find over time. (I will note that consulting firm Muther & Associates created awhile back a sort of timeline of operational improvements that contains a lot of good info - you can find it here: Muther Timeline. It is a little unwieldy on the web - I have a nice hardcopy fold-out version that is more useful.)

More details on this soon. I am happy for a partner, if there are any universities or other organizations that want to get involved.

My request to readers is this: if you have some supply chain history at your firms that you would like to see saved for posterity, please contact me. Ditto for important stories that may be lost when someone retires, or documents that will wind up in a physical or electronic waste can of some kind that should be saved. Supply chain inventions and innovations - you get the idea.
Let me know. Send it in. If it's important or interesting, we will do something with it - and make sure it isn't lost.

You will see reminders about this from time to time over the years. Let me know your thoughts on this effort.

What do you think of the idea for the Supply Chain History Project? Is it a worthwhile effort? Let us know your thoughts at the Feedback button below.